NBI Renewal Online — In today's era, with the internet connection at our fingertips, we can just go online and do the things we once had to physically do before. The process of applying for an NBI Clearance is no different. You don't need to leave your house just to renew NBI Clearance as you can do it yourself at the comforts of your home.
NBI has made it easier for the applicants who wants to renew their NBI Clearances by providing the NBI Renewal Online portal. The option to renew your NBI online was implemented few years ago and since then, many have taken part in this convenience. In fact, there are (around) hundreds of thousands of applicants who have chosen to sign up for an NBI Renewal Online service just last year.
You may be interested in reading

NBI Clearance Online Application for 2022
The process of NBI Renewal Online isn't complicated in any way. All you have to do is to follow the instructions given in this tutorial and you'll be done!
Step by Step Tutorial for NBI Renewal Online
NBI Renewal Online Table of Contents
NBI Renewal Online Website
Go to the official website of NBI Renewal Online by typing in to your browser's address bar, clearance.nbi.gov.ph and press enter.
You'll arrive at this page where any applicant of NBI Clearance (Clearance NBI.GOV.COM.PH) can apply.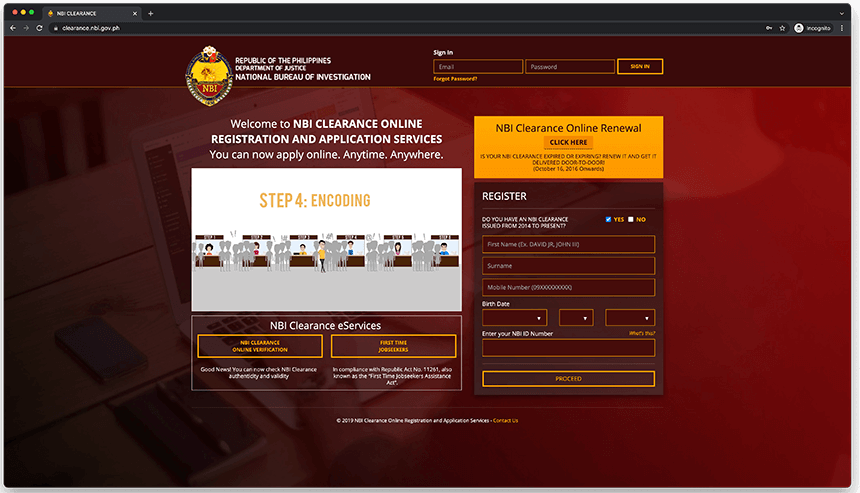 NBI Renewal Online Process
To start our NBI Renewal Online process, we need to locate this section (image shown below) that mentions the NBI Clearance Online Renewal.
Find the button that says "CLICK HERE" to proceed with the process.

NBI Renewal Online Application Form
Click the button and it will open the NBI Renewal Online Application Form, fill it out accordingly.
The form will asks us to provide the following details before allowing us to submit our renewal application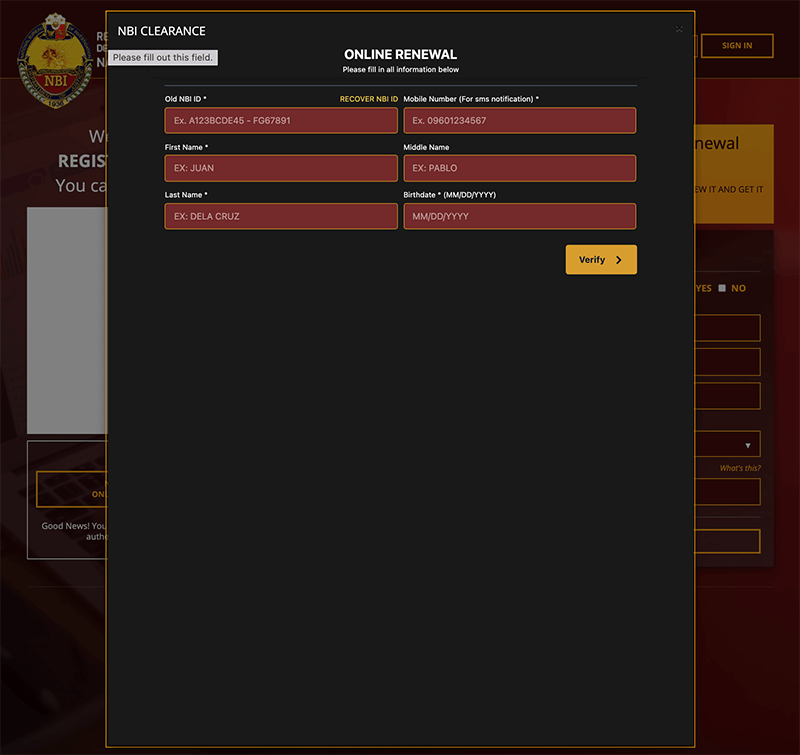 The Fill out the NBI Renewal Online Form including your Old NBI ID Number.
Your NBI ID Number can be easily be found in your printed NBI Clearance.
Verification Process
The next steps would be the verification option. You can choose which one you prefer:
Mother's Information
Mobile Number used during registration
email address used during registration
Pick a verification option that you are comfortable with.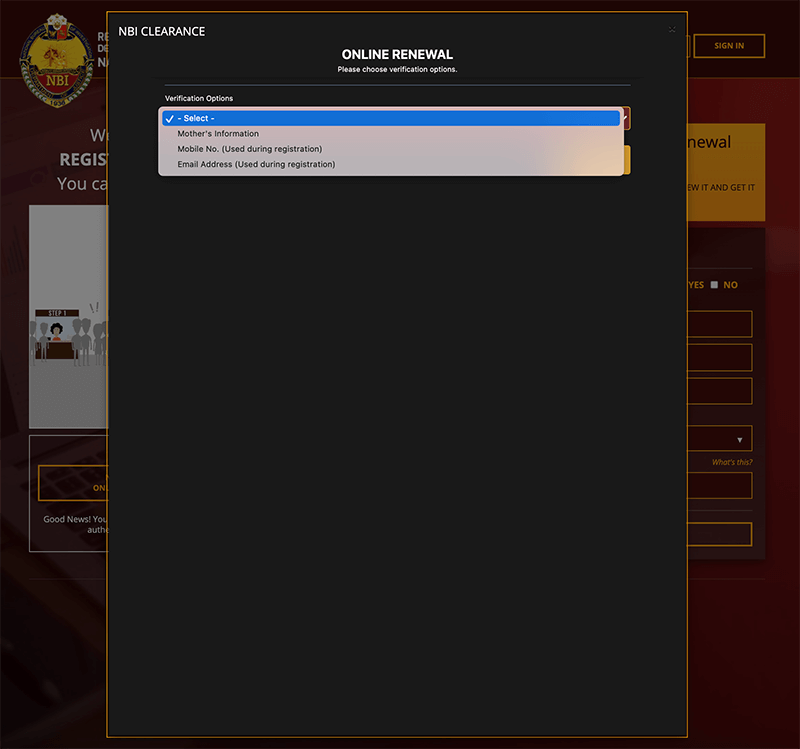 The easiest method is the Mother's Information where you are required to fill out your mother's maiden name and her birth place.
Press the "Verify" button to continue.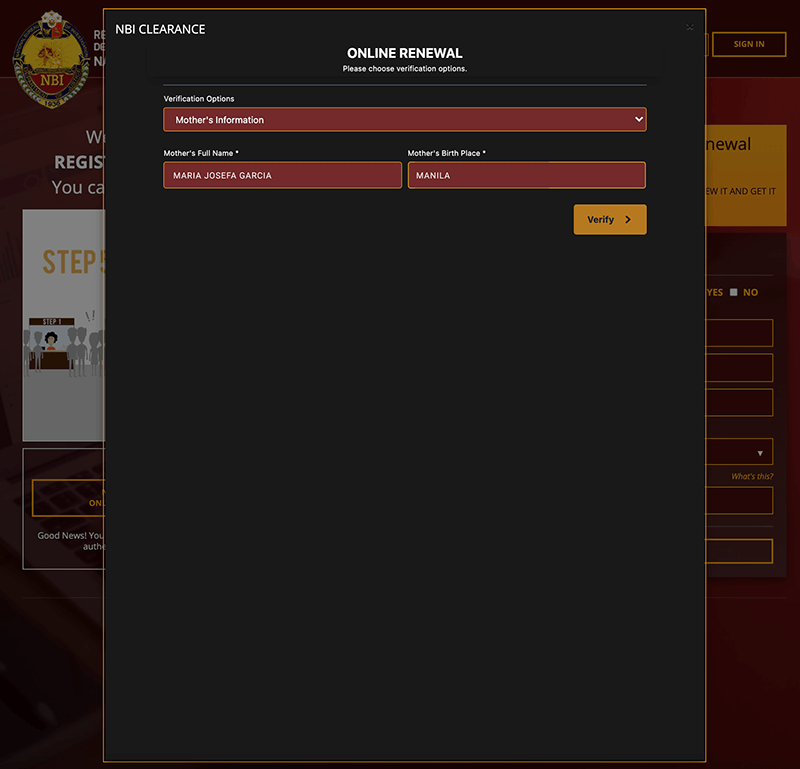 Payment of NBI Clearance Fee
Right after the verification, you will be directed to the Payment Options page.
Choose from the several 3rd Party service provider which is the most convenient to you. We always recommend GCash because of the hassle free experience we had when we used it previous on our NBI Clearance renewal.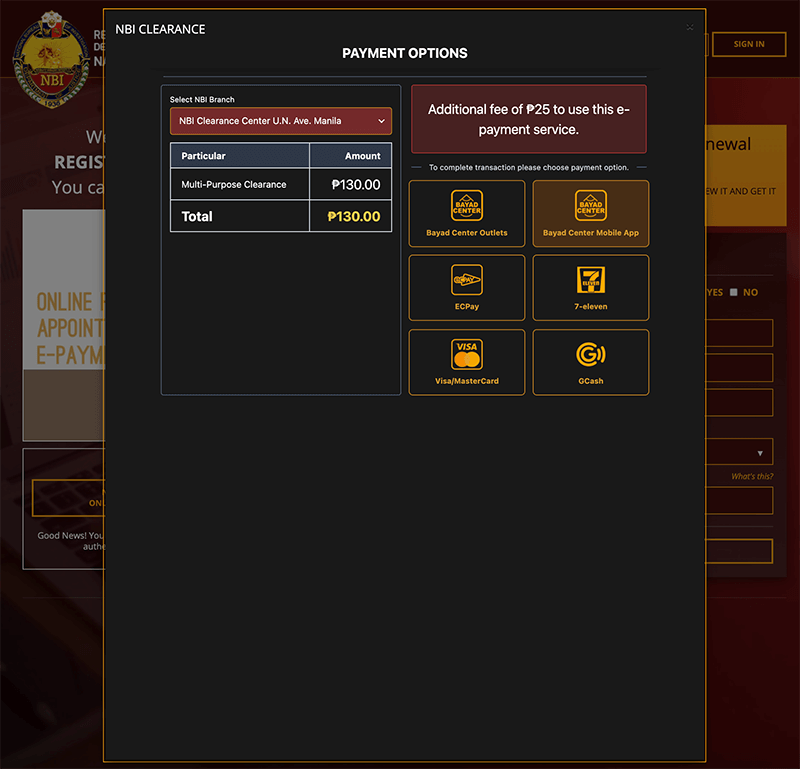 To select GCash, just press the logo!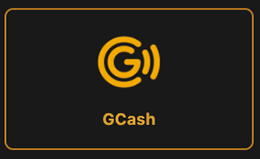 The website will now start to process your payment, but before it do that, it will show a straight forward summary on what will happen when you click the Proceed to Payment.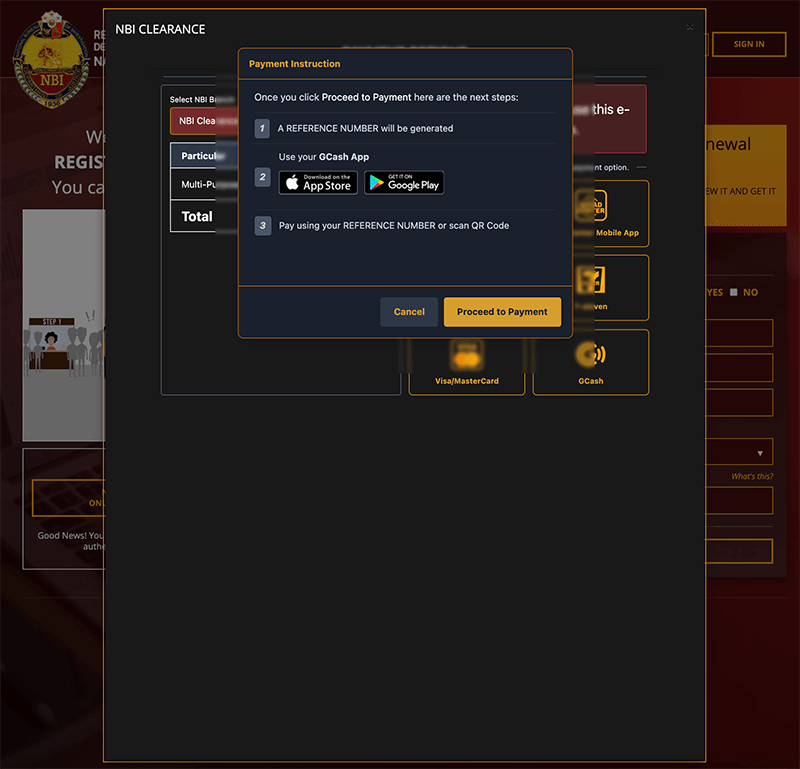 The message simple, it simply says:
A reference number will be generated.
Use your GCash App when paying for your NBI Clearance Fee
Pay using the issued reference number.
When you are ready, press the "Proceed to Payment" button.
A pop out window will be displayed. It shows you the generated NBI Renewal Online Reference Number. Take note of this. I recommend you take a screenshot or write it in a piece of paper because you will use it during payment.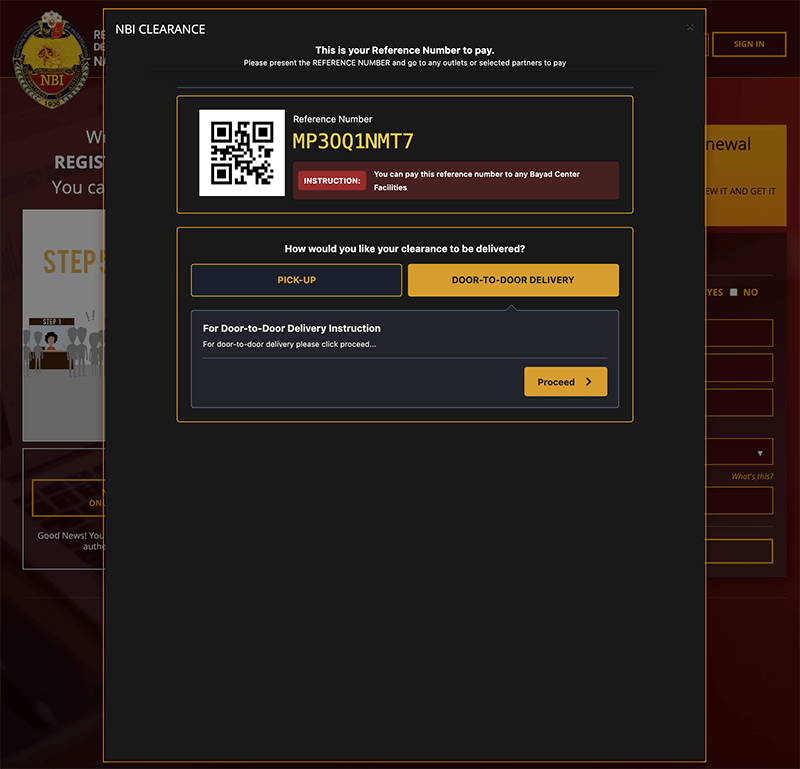 In this tutorial, we will use the door-to-door delivery service and totally ignore the pick-up option. We prefer to use the delivery service because of the convenience it brings to the applicants.
Before proceeding, I want you to pause for a moment and leave your desktop/laptop for a while and switch to your mobile phones where your GCASH app is installed.
Make sure to not close the NBI Clearance window (image above), you will return to that same page later on.
Payment of NBI Clearance Fee in GCash
Let's make this quick! Open your GCash Application and log in to your account.
Right after logging in, go to "Pay Bills" section.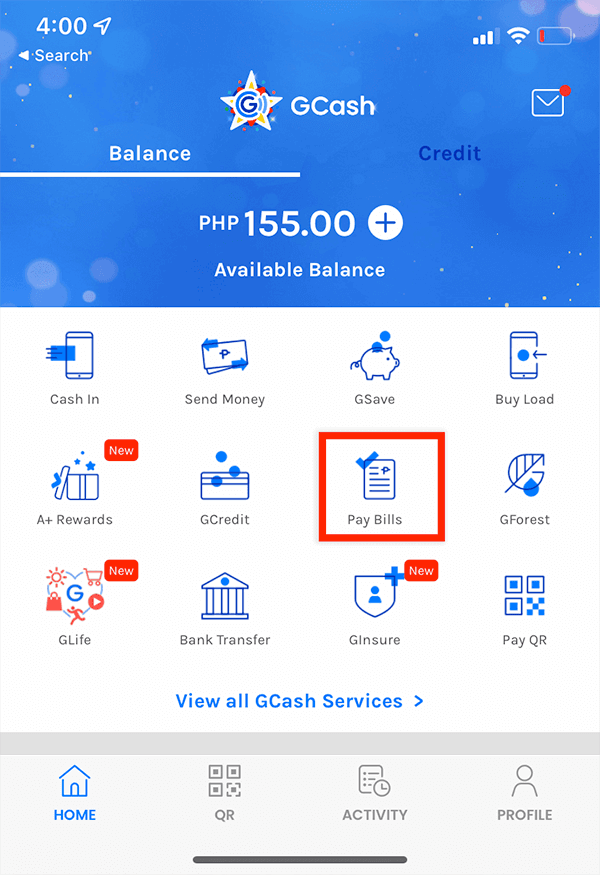 Using the Search functionality, search for "NBI" in the Billers. The logo of NBI will show up, select by pressing it.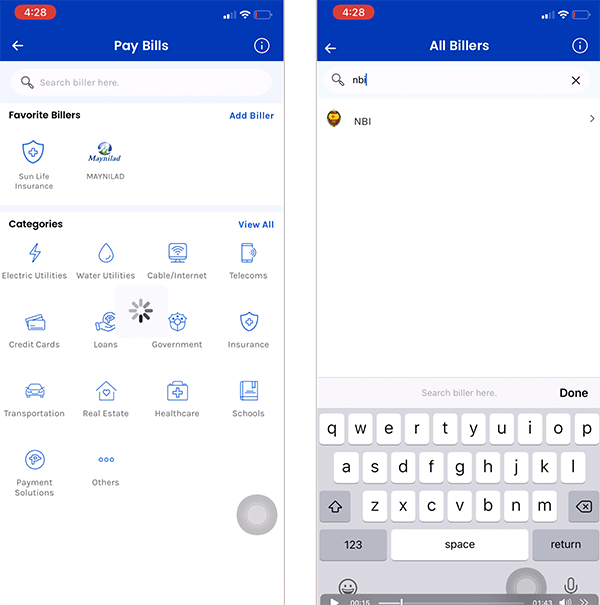 Now let's pay that NBI Clearance Fee. Enter all the required information. Remember the generated NBI Clearance Reference Number? Yes, you will now use it. Type it in the space provided along with your Contact Number and the Amount (P155.00).
Press the "Next" text link at the upper right side of your screen. Double check all the information to make sure all are correct before submitting.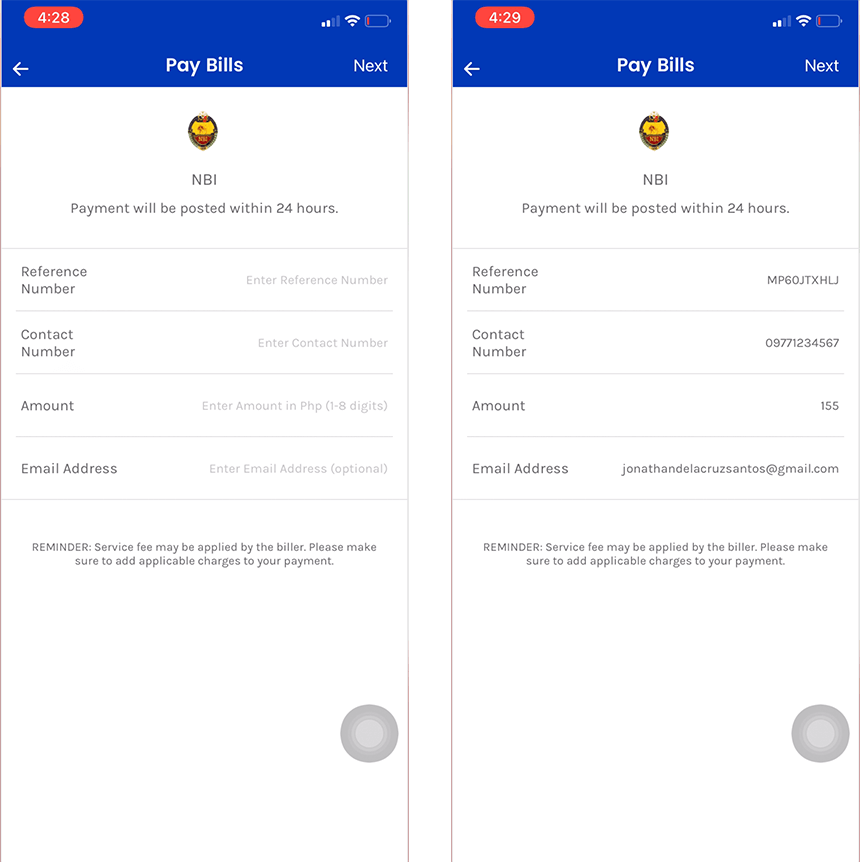 Make sure to save the GCash Payment Receipt for your NBI Clearance Fee. You will need this in the future.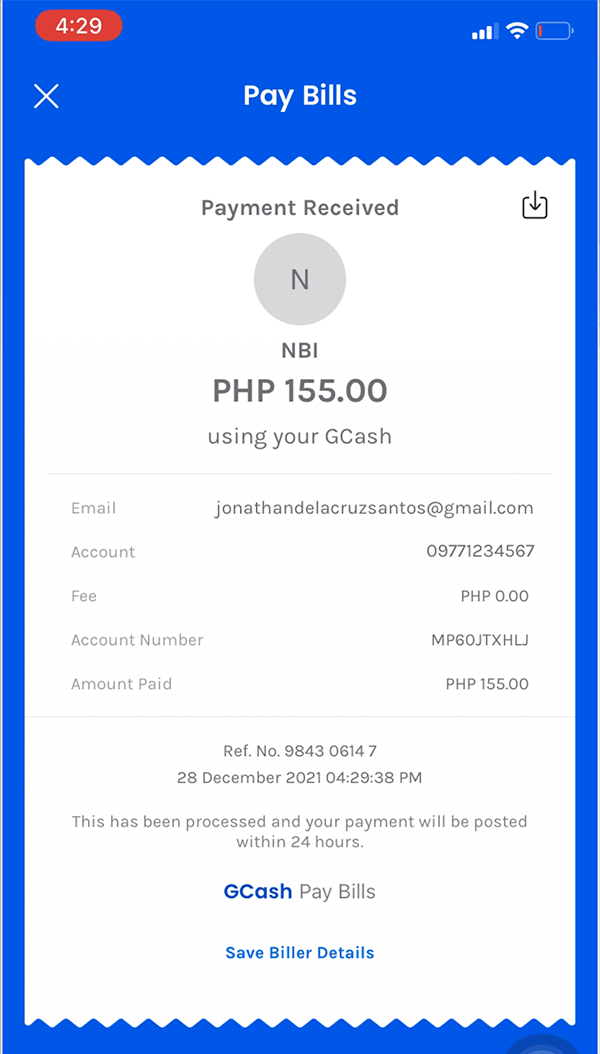 You are done with your mobile phone / GCash App, we will now return to the website where we are going to process the Door to door delivery of our NBI Clearance.
NBI Clearance Door To Door Delivery Service
In the same page before we moved to our mobile phones (see image below), select the button "DOOR-TO-DOOR DELIVERY" and press the "Proceed" button.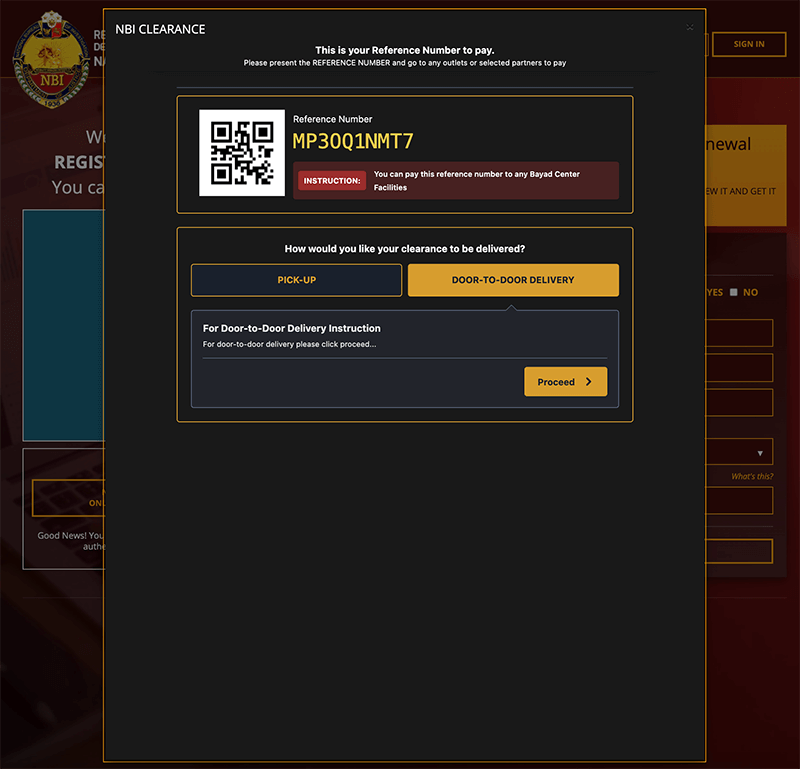 A small window will pop out again. Read the contents of that window. If you are done, press the "I Agree" button to proceed.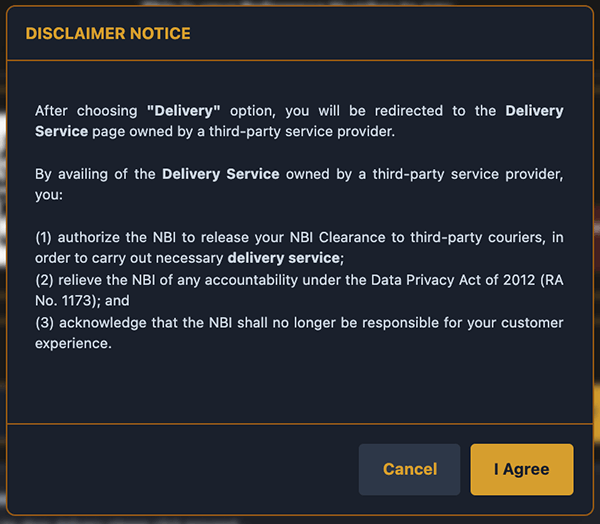 You are now directed to the official page of DeliveryBox PH. It is the official third party service provider who handles the door to door delivery service of your NBI Clearance.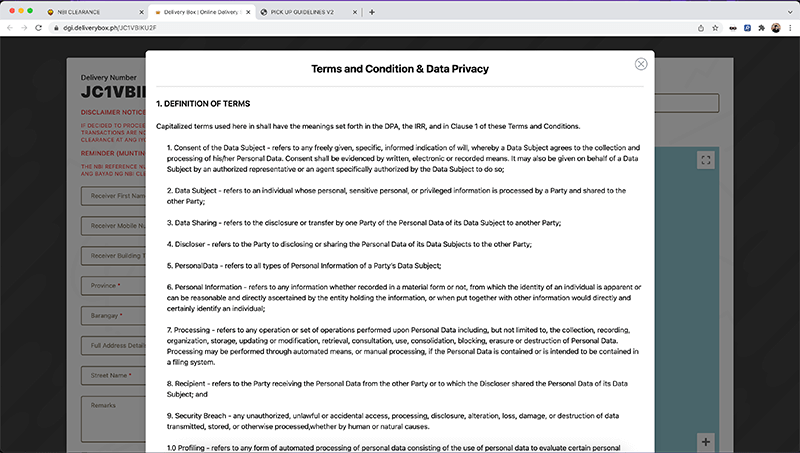 Just press the button to proceed. DeliveryBox PH will inform you of the corresponding Delivery Fees.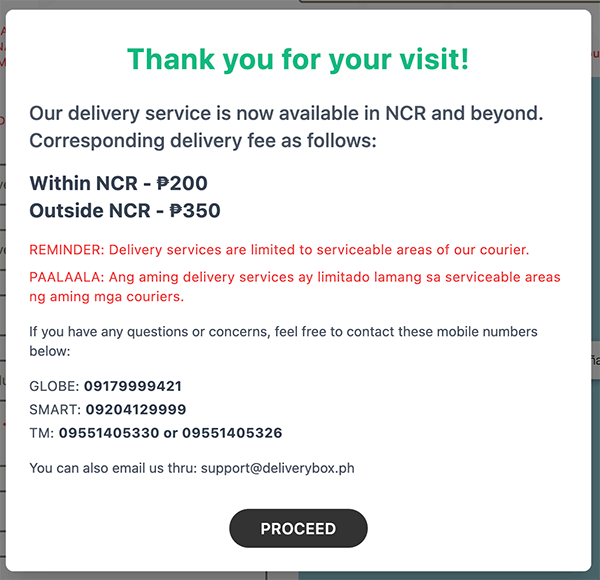 The NBI Clearance Delivery Fees are as follows:
Within NCR – P200.00
Outside NCR P350.00
Press the "Proceed" button.
To book the Delivery Fee of your NBI Clearance, you have to fill out the form provided.
Enter the Complete name of the Receiver of you NBI Clearance, Mobile Number and the correct address.
You are also required to "pin" your delivery location. Just use the search box and type in the place or the nearest landmark to your delivery address.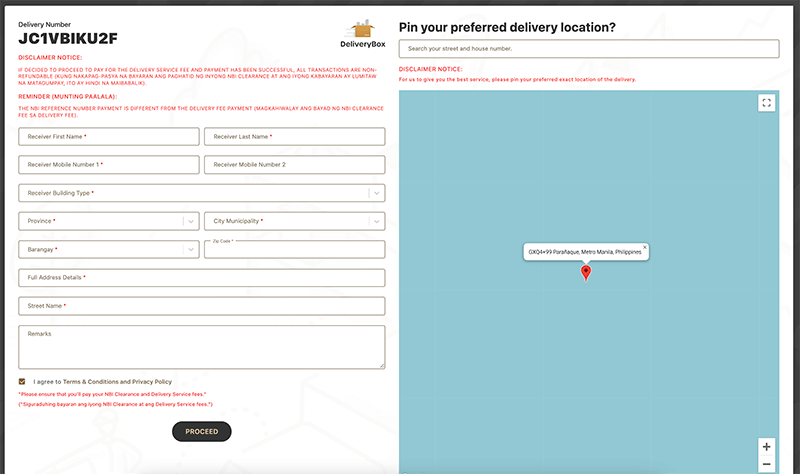 Press the "Proceed" button to move to the payment of your delivery service transaction.
Payment of NBI Renewal Online Delivery Fee
Again, you will be presented with several payment methods. To use GCash to pay your NBI Clearance Delivery Fee, just press the "eWallets" logo and select GCASH.
Note: Make sure that your GCash account have enough cash balance.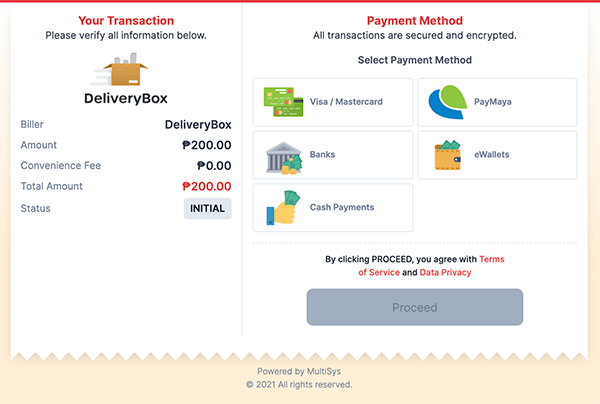 It will redirect your browser to the GCash payments portal. Enter your GCash Mobile number in the space provided.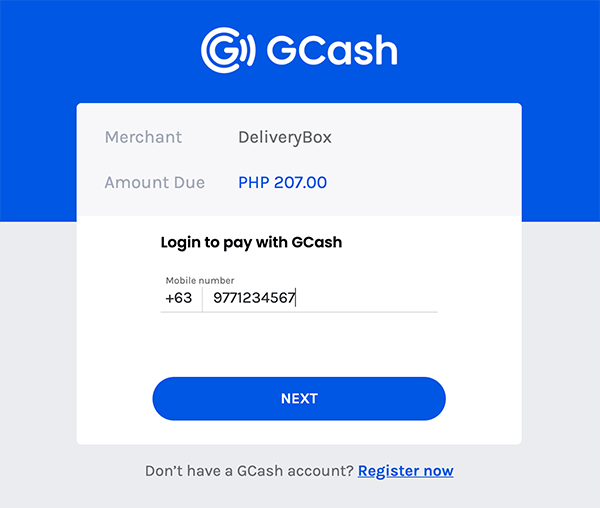 Now, GCash will send an OTP in your registered mobile number. Enter it correctly.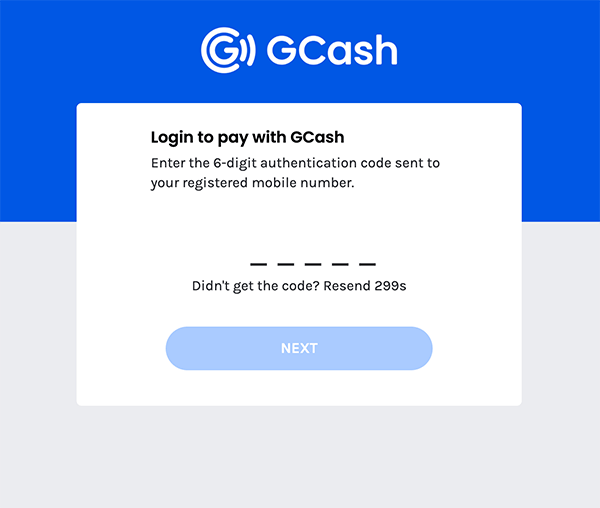 After entering the OTP, GCash will automatically deduct the delivery fee to your GCash Balance.
You will receive a confirmation text informing you of the payment you've just made.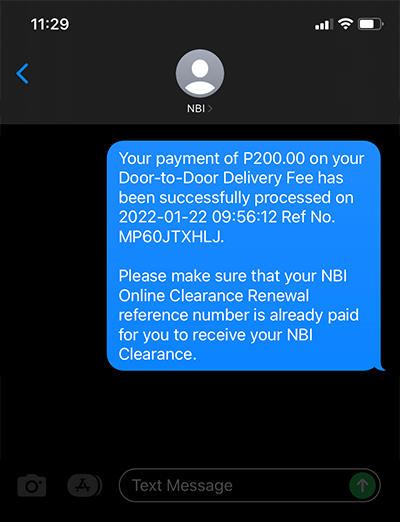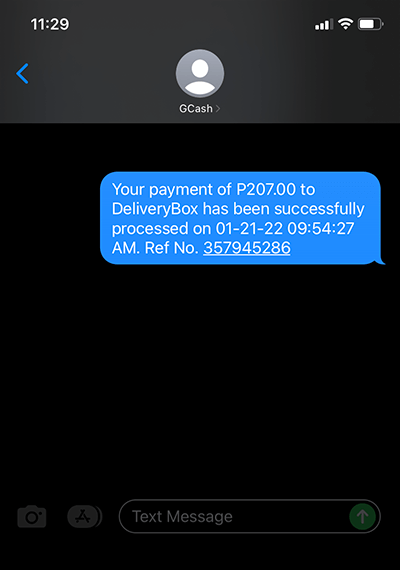 Send Email to NBI and Courier
The next step is to send an email to releasing@nbi.gov.ph and support@deliverybox.ph.
Copy and paste the text below and type your name.
AUTHORIZATION AND CONSENT/WAIVER I am authorizing courier DeliveryBox.ph to claim and receive my NBI Clearance Certificate, UNSEALED, in my behalf; I hereby give my consent to the NBI to release my UNSEALED Clearance Certificate to my designated Courier; and Lastly, I hereby release the NBI, its employees, contractors, and processors, from any liability under R.A. 10173, or the Data Privacy Act of 2012.

COMPLETE NAME: JUAN DELA CRUZ (sample only, write your complete name here)

NBI REFERENCE NUMBER: MPAB12345678 (sample only, write your correct NBI Reference Number here.)
At the bottom of your email, attach the screenshots of your GCash Payment for your NBI Clearance Application and Delivery Fee.
NBI Renewal Online Conclusion
There are a plenty of advantages that you can get from doing your NBI renewal online such as: the most convenient and hassle free method, save time, save money and you get to be at ease while doing it. Things have changed; times have turned better. You don't need to worry about going to the NBI Branches to do your NBI Renewal. Everything is made possible by NBI Renewal Online!