NBI Clearance Renewal — NBI Renewal is a process where in the applicant have a desire to possess another copy of a new NBI Clearance. The reason may be either the previous NBI Clearance is already expired or the applicant just want to have another copy of his or her NBI Clearance.
The NBI Renewal is easily done thru the use of the NBI Clearance website. The NBI Renewal Online can be done in just a few minutes since the applicant already done the https://clearance.nbi.gov.ph/ sign up or have an account already.
How To Apply for an NBI Clearance Renewal (Step by Step Guide)
The entire NBI Online Application process starts by visiting the website https://clearance.nbi.gov.ph. From your desktop or mobile browser, type in the web url we have mentioned or just click this link (https://clearance.nbi.gov.ph) so you'll automatically redirected to the website.
Please note, in typing the nbi clearance web url or address nbi.clearance.gov.ph is incorrect and inactive. The correct address is https://clearance.nbi.gov.ph/ so don't get confused! This is the correct website to do your NBI Online Registration.
You'll land on this webpage. I'm sure you're quite familiar with this page.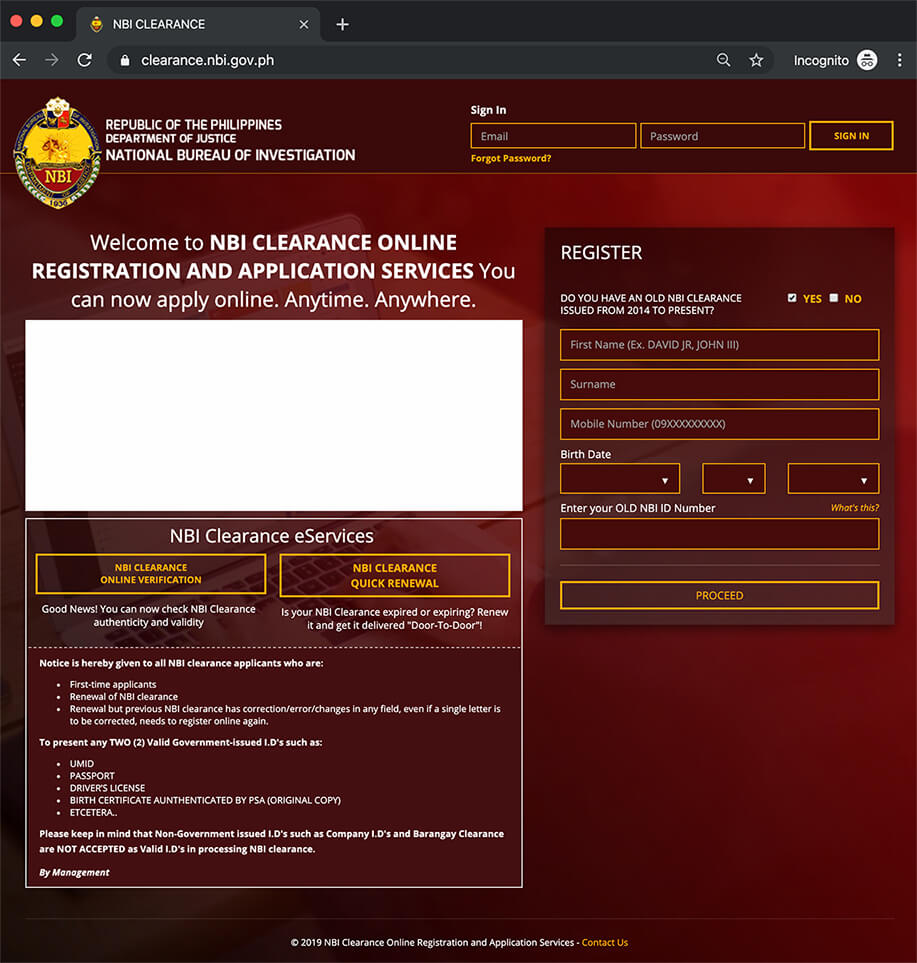 Log in to your NBI Online Account
This tutorial is about your NBI Renewal so I assumed that you already have an NBI CLEARANCE ONLINE Account, right?
We're expecting that you're done with the registration previously so we're go straight to the log in.
If not, then you have to register an account with NBI online. You may read our related article aboit it: NBI ONLINE REGISTRATION.
The log in or sign in section can be easily found at the upper right portion of the website. If you're using your mobile phone, you can see it immediately at the top.

Enter correctly your registered email address and your password. Click the sign in button to proceed.
If you forgot your password, you can use the "Forgot Password" feature. An auto-generated reset password link will be sent to your email address. Just click the link provided in the email and you'll be able to reset your password.
If, for some reason, you forgot your password and can't access or open your email address then you're quite in a little bit of trouble. There's no way you can retrieve both!
The only work around to this kind of situation is to register a new account with nbi clearance. If you forgotten how to do it, here's our guide xxx
Once you finished logging in to your account, it's time to go to the next step!
Verify Your Personal Information
After successful signing in to your account, your main dashboard will be displayed to your screen.
Your NBI Clearance Online Application Form will be shown.
Take time to check all the personal information that you have entered previously for possible errors.
If you found incorrect details, you can easily correct it by clicking the button that says "EDIT APPLICATION".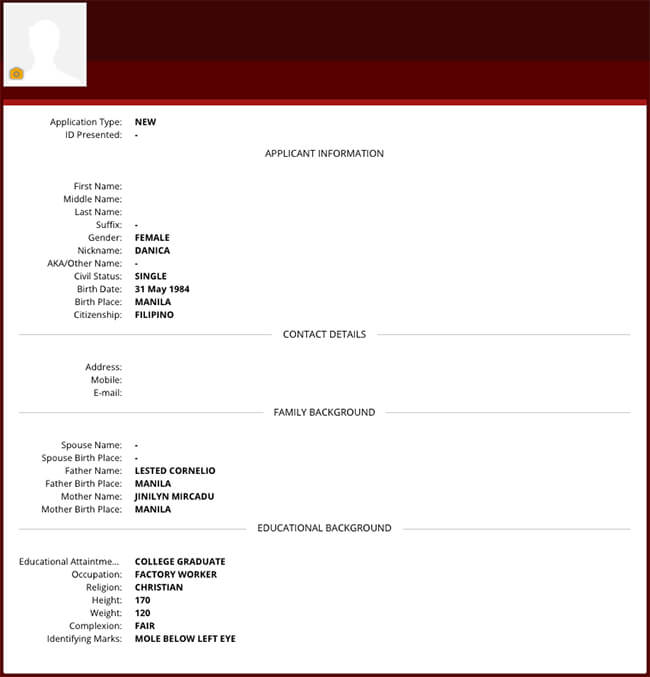 Click the APPLY button to start your NBI Clearance Appointment Schedule.

The next steps will be scheduling your appointment in your selected NBI Clearance Branches and your preferred time and date.
Schedule an Appointment
As mentioned, you will be scheduling your NBI Appointment in your selected time and date as well as where you're going to process it.
To set an NBI Online Appointment, Pick an NBI Clearance Branch, Time and Date from the screen displayed below.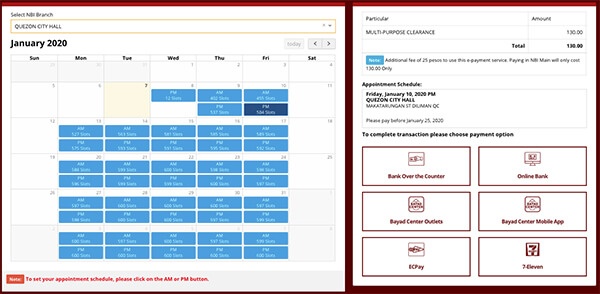 You may use the arrow up button to show all the available NBI branches. For this example, we will choose the Quezon City Hall branch of NBI Clearance Center.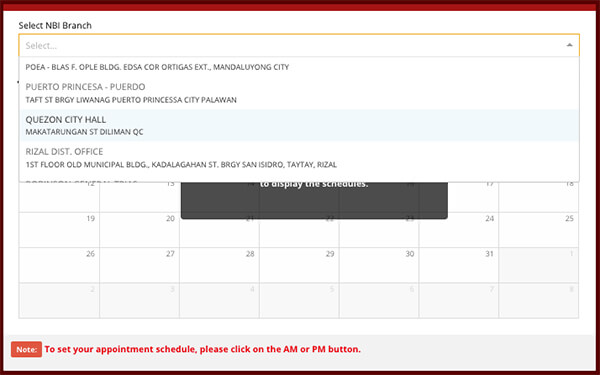 We've finished the location where we're going to process our NBI Clearance. The next step will be selecting our preferred time and date. Just click the blue boxes respective to the date you preferred.
In the example below, we chose January 25, 2020 and PM. You can choose whatever you want.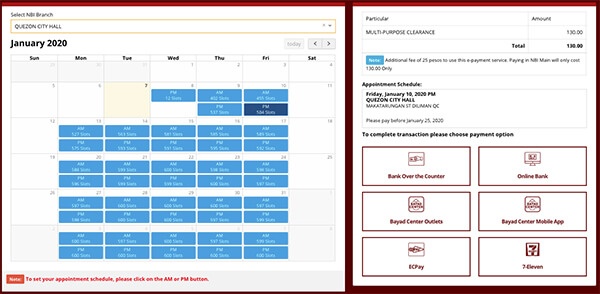 NBI Clearance Renewal Fee Payment
After the selection of your schedule, its time to select the most convenient Payment option for you.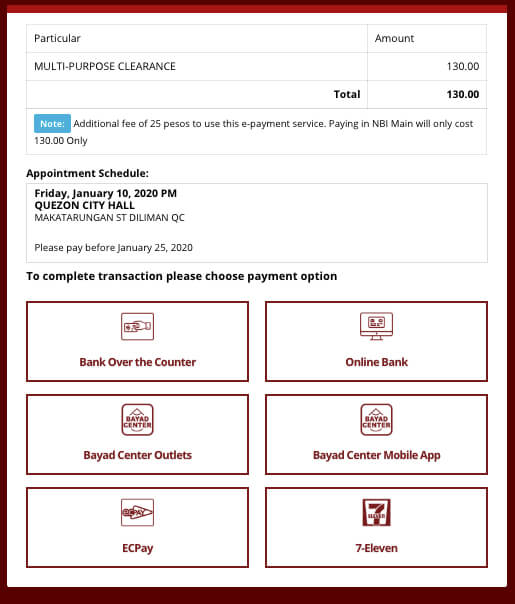 There are six (6) payment option available in paying your NBI Clearance Fee and these are the following:
Bayad Center Outlets
Bayad Center Mobile App
ECPay
Bank Over the Counter
Online Bank
We usually recommend to pay your NBI Clearance Fee in any 7-Eleven with Cliqq booth because its convenient and hassle free. Plus, 7-Eleven Stores are scattered all over Metro Manila. you can easily find one within your neighborhood and pay it.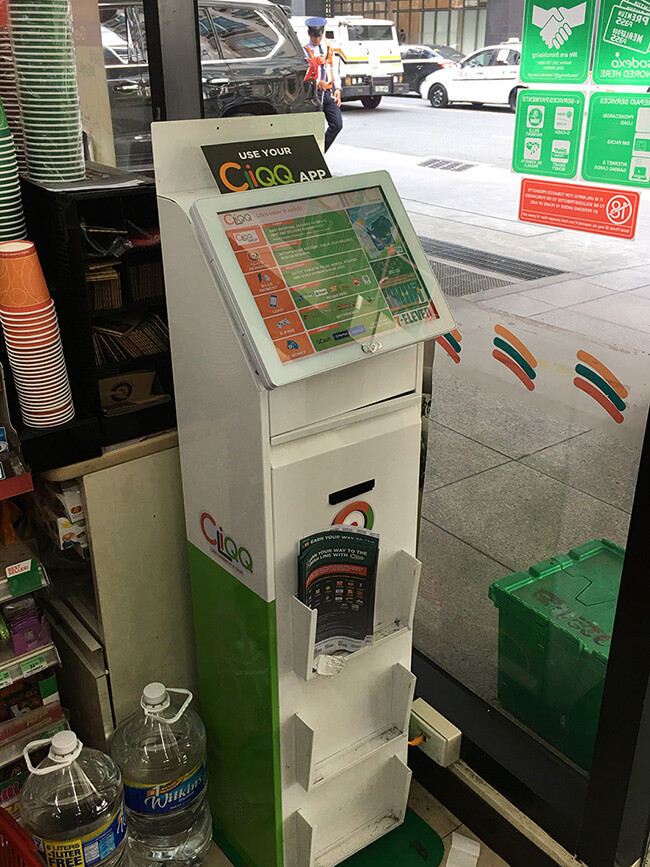 Anyway, its your call what to choose. My second best option is using Bayad Center for payment of NBI Clearance Fee.
We have come to the last step which requires you to process your NBI Renewal on site.
Processing Your NBI Renewal
When processing your NBI Clearance Renewal, the same steps or procedure will be followed just like applying for the first time. Since we have discuss this previously, we will be brief on this part and straight forward.
Here are the steps in NBI Online Renewal when you arrive at your selected NBI Clearance Branch.
When you arrived at the NBI Clearance Branch, directly go to the Encoding Area where your Photo, Finger print (biometrics) and signature will be taken.
Have your Photo Taken, its very easy. Just look at the camera!
Finger printing or biometrics – the NBI Clearance Personnel will be assist you on doing this.
Have your signature! It's like the normal way but this time its not in paper. They have the device where your signature will be captured!
Verify and Check your personal information for possible errors. Make sure you do this because it will be permanent on your printed NBI Clearance.
The NBI Clearance Personnel will ask you to proceed to the Printing Section or return some other day. If you are asked to go to the Printing Section, then you're in luck! You will receive your NBI Clearance immediately.
If you are asked to return on a specified date, that means you have a HIT and further verification will be done. Don't worry, its fine. They just need to do a verification because its either you have a namesake.
CONCLUSION on NBI Clearance Renewal
As you have noticed, NBI Renewal Online is easy since (I've been mentioning this several times) you or the applicant has an NBI Clearance Online account already. All He or She have to do is log in to their account, schedule an appointment, pay the fees and process the NBI Clearance on site. That's it!
The process takes at least 15 to 30 minutes of our time if we're going to do the process from the start up to the payment of the fees.
It is also worth mentioning that those we discussed above are mandatory. Absence of an appointment or walk in for NBI Clearance Application are not accommodated when you arrived at the branch.
If you're going to ask us, is this faster? I would probably say YES. That's because a step from the entire process was eliminated. The step of signing up for a new account and filling all the personal details are is completely removed.
So if you already have an existing NBI Online Clearance Account, we highly recommended that you just renew it instead of signing up for another account.