This post is updated as of January 1, 2021. This NBI Clearance 2021 Tutorial guide will cover the entire process on how an applicant will be be able to apply for a new NBI Clearance for the year 2021.
AUTHOR'S NOTE: Hello NBI Clearance Online Applicants! We are aware that this post is quite old so we have decided to update this tutorial. You can see the updated guide on how to apply for an NBI Clearance Online in 2023 here.
NBI Clearance Online as the name suggest is a type of a Government issued clearance provided by the National Bureau of Investigation (NBI) that verifies the person's identity and criminal historical background which can be obtained thru NBI Clearance Online Website.
Having an NBI Clearance plays a vital role in job employment in the Philippines. Majority of the employers requires its new employee to submit their latest copy of this document.
NBI Clearance also serves as a valid Identification Document which most establishments asks to its customers. From Banks, airports, credit card companies and others. The said document is accepted.
The actual and printed NBI Clearance displays or shows the owner's personal information such as their complete full name, current address, date and place of birth. this way, any person who holds this aforementioned document can prove his or her identity and also serves as a quick background check of the owner's criminal history.
Before we dive in to our topic, I just want to let you know that we have written a guide about the NBI Renewal in 7 Easy Steps. You might find it helpful in renewing your NBI Clearance.
NBI Clearance Purposes
NBI Clearance can be use in different transactions. It doesn't focus only as an employment requirement, in fact, it serves several purposes and these are the following:
A. Proof of Identity
Where as we mentioned before, the said document will serve as a valid identification document of the owner which is recognized by various establishments and Government Agencies.
It can also be use as a valid ID requirement when getting or applying for SSS Membership, Driver's License, Professional Licenses and other government document any Filipino wants to apply.
B. Local Employment
As we are saying previously, most of all the companies located in the Philippines requires their new employees to apply for a new NBI Clearance so the employer can easily verify the identity of the applicant as well as its criminal history.
This way, the employers are confident that they will hire a person with no outstanding or existing criminal case which prevents the employers future troubles.
C. Modification of Legal Documents
For some unknown reasons, our legal documents such as Birth Certificate or Marriage Certificates contains erroneous entries such as incorrect name, gender, birth place or any personal information found in those documents. But through the use of NBI Clearance, the applicant can now request for the correction of it by presenting his or her NBI Clearance as an additional documentary requirement requested by any Government Office who facilitate these kinds of correction.
Travel Purposes
When planning to travel abroad either for vacation or for work, Embassies of other countries requires you to submit a latest NBI Clearance before they issue you a travel or working visa.
Embassy such as USA, Japan and other European countries are very strict as to who they allow to enter their country in terms of criminal history. If you have an existing or outstanding criminal case and it reflects in your NBI Clearance, chances are you won't get to enter their country. Your VISA application will be instantly be denied.
Again, the sole purpose of this is just to provide the Embassy a background check of the visa applicant who wants to enter their country. But sometimes, Embassy ignores the NBI Clearance and allow people to have their entry visa.
Where to Apply NBI Clearance
I'm sure every one is struggling on where to apply NBI Clearance, right?
Don't worry! We will list down all the NBI Clearance Branches available so it will be easy and convenient for you to secure one. But for now, we will list down the available branches in Metro Manila, NCR.
A separate article will be provided later on for the complete list of NBI Clearance Branches or NBI Clearance Centers in the Philippines where any legitimate applicant can apply.
NBI CLEARANCE BRANCHES
NBI Clearance Center
Main Office, UN Ave., Manila
LRT NorthMall, Caloocan City
LRT Caloocan Mall, Rizal Avenue Extension, Caloocan City
Quezon City Hall
Makatarungan Street, Diliman Quezon City
Muntinlupa City
2nd Floor, Star Mall Alabang, Muntinlupa City
Las Pinas City
SM Center Point, Las Pinas City
Marilao Municipal Hall, Bulacan
Beside PNP Station, Marilao Bulacan
Montalban City Hall
Ground floor, Municipal Hall, Montalban Rizal
NBI Mandaluyong
Shaw Center Mall, 360 Shaw Boulevard cor 9 De Febrero, Addition Hills, Mandaluyong City
Valenzuela Town Center
Valenzuela Town Center, Valenzuela City
Berma Mall, Paranaque
Berma Mall, Paranaque City
Marikina Riverbanks
84 A Bonifacio Ave., Marikina City
POEA (Main Office)
POEA – Blas F. Ople Bldg., Edsa cor. Ortigas Extension, Mandaluyong City
Duty Free Philippines
Ninoy Aquino Ave., Paranaque City
Alimall, Cubao
Alimall, Araneta Center, Cubao, Quezon City
Robinson's Ermita
Basement 1, Ermita, Manila
Robinson's Otis
Level 2, Guanzon Street, Paco Manila
Robinson's Metro East
Level 4, Marcos Highway, Pasig City
Robinson's Cainta
Level 2, Junction, Cainta Rizal
Robinson's Novaliches
Barangay Pasong Putik, Quirino Highway cor Maligaya, Novaliches, Quezon City
Robinson's Galleria
Basement 1, Ortigas Avenue, Quezon City
NBI Clearance Requirements
The NBI Clearance requirements are pretty simple and straight forward. The applicant are required to submit for the application of NBI Clearance Online are two VALID GOVERNMENT IDs only.
Passport
PhilSys ID or Philippine National ID
UMID or SSS ID
PRC Card
Birth Certificate Authenticated by PSA
Voter's ID or Certificate of Registration
TIN ID (BIR)
PhilHealth ID
PAG-IBIG ID (Not the Loyalty Card)
Driver's License
Postal ID
School ID together with current Registration Card
Alien Certificate of Registration
Senior Citizen ID
Police Clearance issued by Police Station where applicant is resident of the Station's Jurisdiction
Certification from the Local Civil Registrar
Certification From Malacanang in connection with Indigenous Groups, Tribal Membership, Foundling
Solo Parent ID
Company ID for Government Employees
Seaman's Book and SIRV
Marina
Please note that the applicant must make sure that the valid IDs that he or she will be presenting must meet the following criteria listed down below or else it may result to the denial of service or rejection of your NBI Online Application.
The valid ids must be:
Original Copies only. Photocopies of valid IDs are not acceptable.
Make sure it is in good condition, meaning, it is readable and doesn't have any major damage.
A clear and visible photo of the owner or the applicant.
and of course, the most important, the valid ID must not be expired.
Other IDs such as Barangay ID, Barangay Clearance or Company ID (Private) are highly discouraged to be submitted. These IDs are not honored and accepted in any NBI Clearance Branches.
How To Apply NBI Clearance Online
These are the step by step guide on how to apply NBI Clearance Online. We will assume in this tutorial guide that all of you reader of this tutorial don't have an account yet in NBI Clearance Online were we will start from scratch.
A different tutorial on NBI Clearance Online Renewal will be published later on for the readers who already have an account with the NBI Clearance Online Website.
In this tutorial, we will attempt to make sure that it will answer all your questions and guide you through out the process. We will make it comprehensive and educational so you won't get lost. This tutorial will be providing you text instructions accompanied by images so you'll find it easy to navigate when your applying NBI Clearance Online.
We will divide this tutorial on how to apply NBI Clearance Online into four (4) parts so you can easily navigate.
NBI Clearance Online Account Registration
The first step to the NBI Clearance Online Account registration is to visit the NBI Clearance Online Website to register an account.
Please note that Walk In Application for NBI Clearance is not allowed. An NBI Online Appointment is required before you start processing.
In this portion, we will discuss the NBI Online Registration. We already assumed that you don't have an account yet so we will start from scratch.
In your web browser, enter to the following web address https://clearance.nbi.gov.ph/.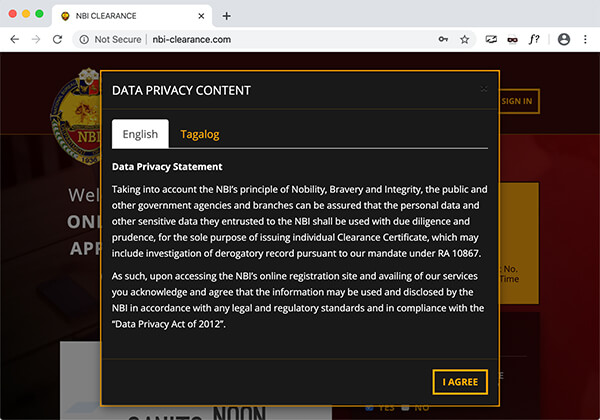 You have the freedom to read or not the Data Privacy Content shown to you. Just press the "I AGREE" Button to close it out.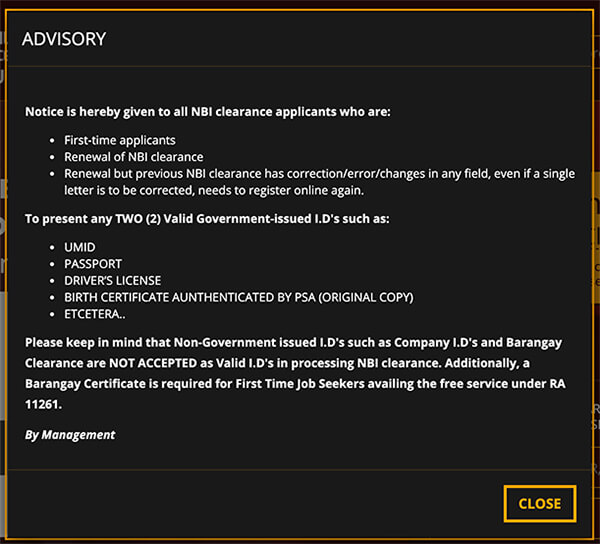 Again, you can close this pop out window by pressing the "CLOSE" button.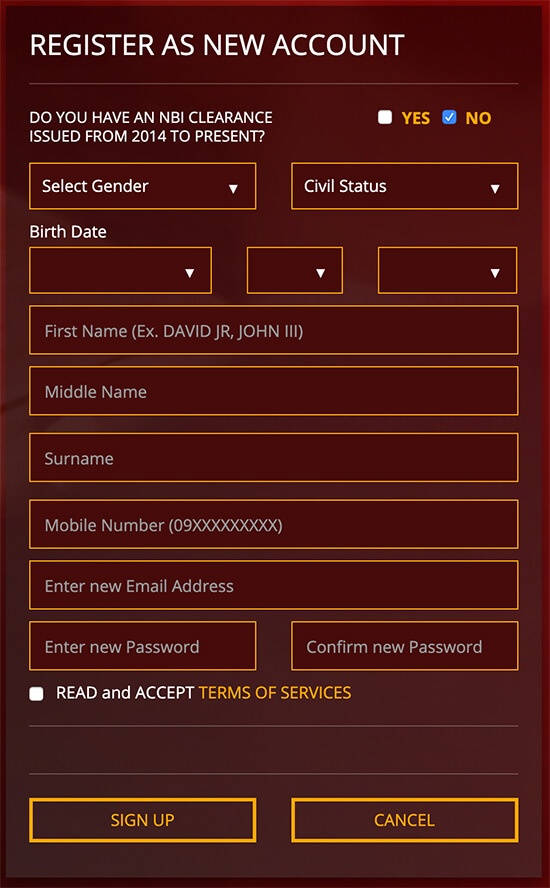 Since we already assumed that you don't have an account yet in NBI Clearance Online website, we want you to tick the "NO" checkbox next to the text "DO YOU HAVE AN NBI CLEARANCE ISSUED FROM 2014 TO PRESENT?"
Checking the NO will change your screen with different personal information fields to accomplish.
From there, start entering your personal information listed in the form. Correctly enter your:
Gender
Civil Status
Birth Date (Month, Date and Year)
First Name
Middle Name
Surname
Mobile Number
Your Email Address
Your preferred and secured Password
After typing your personal details, tick the checkbox before the text "READ and ACCEPT TERMS OF SERVICES".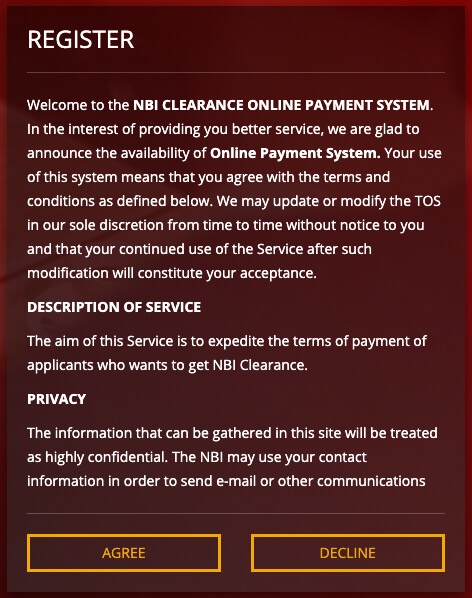 Another pop out window will appear which requires you to press the "AGREE" button.
Finally, click the "SIGN UP" button located at the bottom of the application form to submit your account registration.
A small pop up window will appear asking for NBI Clearance Online One-Time Password sent to your mobile number.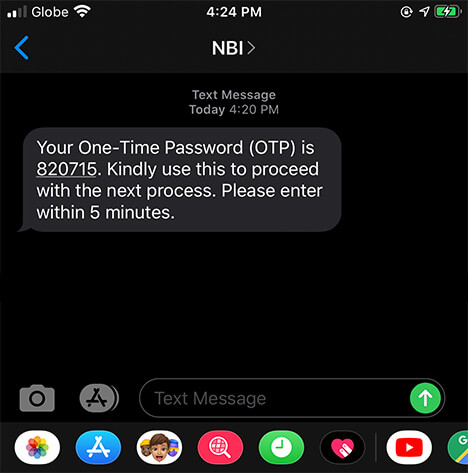 You will receive the text message immediately right after you clicked the "SIGN UP" button.
Type the NBI Clearance Online One-Time Password that you received correctly in the NBI Clearance Online Website.
Once you successfully entered the One-Time Password, you have already successfully registered an account with NBI Clearance online website.
Now, the next thing to do is to log in to your account and complete your application form.
At the top right corner of your screen, enter your registered email address and password. Click the "SIGN IN" button to submit.

When you logged in to your account, you will directly land on your NBI Clearance Online Application Form.
Your NBI Clearance Online Application Form only displays few personal information which you had provided previously in your account registration. You still need to finish the incomplete Applicant Information page to proceed with the application.
To complete the NBI Online application, enter the following information in the respective forms provided.
Middle Name – if not available, please type MNU which means Middle Name Unknown
Nickname
AKA/Other Name
Civil Status (if you want to change it)
Birth Place
Citizenship
Your Address – following this format Street / Unit / Bldg / Village
Your Mobile Number
Father's Name
Father's Birth Place
Mother's Name
Mother's Birth Place
Educational Attainment
Occupation
Religion
Height in centimeters
Weight in Kilograms
Complexion
Identifying Marks
You may see the sample NBI Clearance Online Application Form right down below.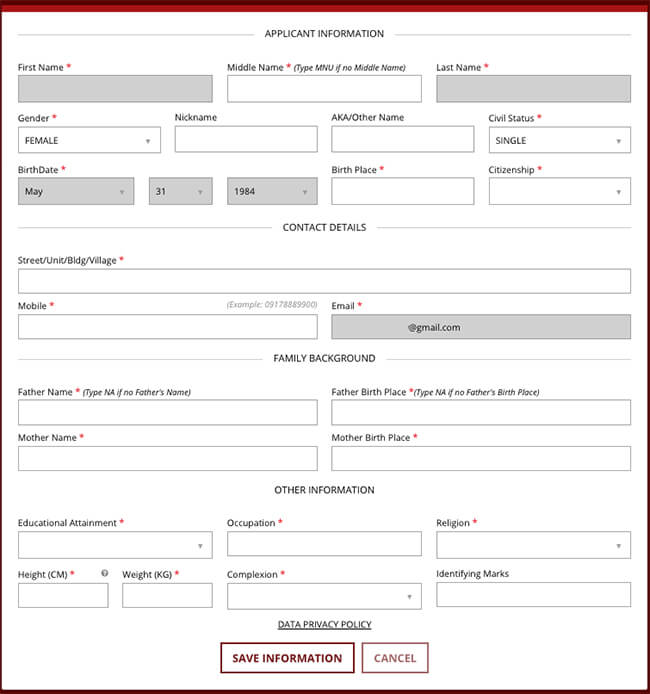 After completing the Online Application Form from NBI, click the "SAVE INFORMATION" button to save your progress.
The website will show you a Profile Preview where it will display your personal information. Please note that this is the same information you just recently typed in the online application form. All you have to do is review it for any errors.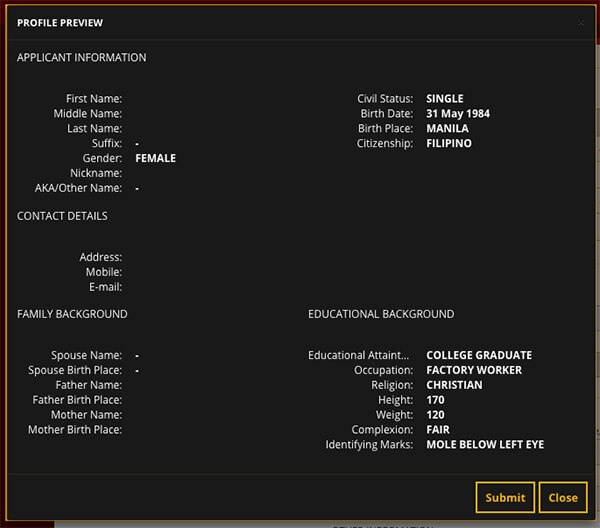 If you found an error, just press the "CLOSE" button to go back to the application form and correct it.
If there's none, press the "SUBMIT" button.
After submitting the form, you will now see your complete profile.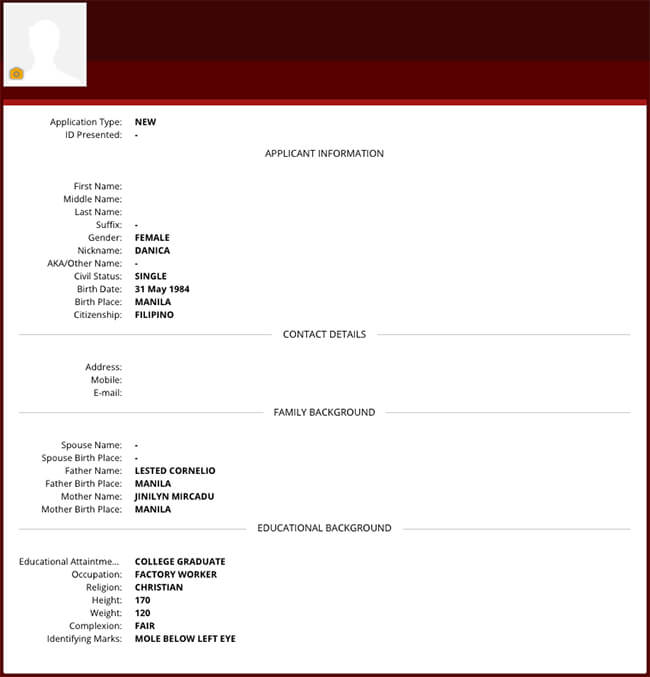 Please note that these information will be reflect in your actual NBI Clearance. If you still found any errors, you still have the option to correct it by clicking the "EDIT INFORMATION" button located at the upper right side of your screen.

The NBI Clearance Online Account Registration is done! You may now proceed with the next step which is the NBI Online Appointment.
NBI Clearance Online Appointment
The NBI Clearance Online Appointment is a process where you (obviously) set an appointment where and when (time and date) you are going to process your NBI Clearance.
This process will allow the NBI Clearance Branches to manage the daily volume of applicants that are processing their NBI Clearance.
To start this NBI Clearance Appointment, from your NBI Clearance online main page, click the "APPLY FOR CLEARANCE" button.

After clicking the said button, a small pop up window (CONFIRMATION) will appear asking for the Type of ID and ID Number.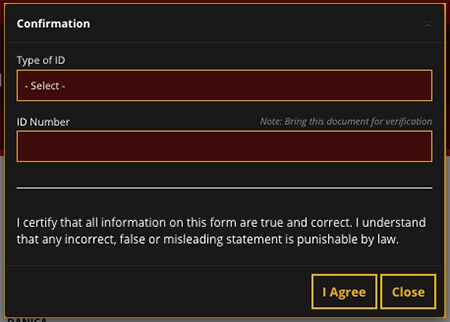 From the list, select the valid ID that you have and will be submitting as the requirement when you go to the NBI Clearance Branch.
The complete list of the NBI Clearance Requirements are written above, you may refer to it by scrolling up.
You also need to enter the ID number seen and displayed in your ID.
Press the "I AGREE" button to proceed.
An Important Reminder will be shown to you through a small pop up window. Please read it carefully. Just press the "CLOSE" button to proceed with the NBI Clearance Online Appointment.
This page will allow you to have your NBI Clearance Appointment. The first thing to do is type in the location of your preferred NBI Clearance Branch.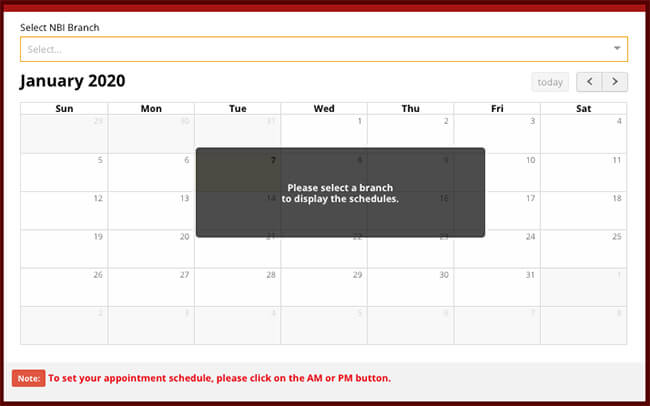 For the sake of this tutorial, we are scheduling an Appointment with NBI Clearance Branch located at Quezon City. In the "Select NBI Branch", we will scroll down using the down arrows to find any NBI Branch located at Quezon City.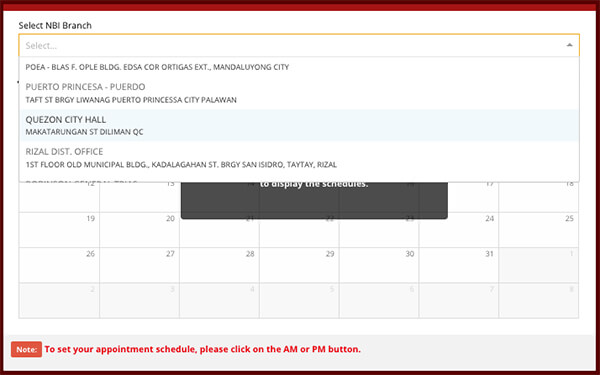 Now is the time to select the Date and Time of your appointment. From the displayed Calendar, you need to click the blue boxes assigned to each date.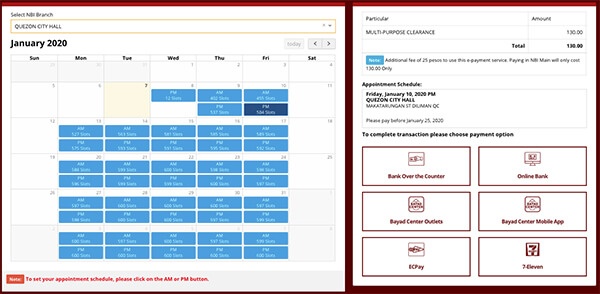 There are only two option for the time of the appointment in NBI Branch, AM and PM. Select the best and convenient schedule for you.
In this tutorial, I've chosen to schedule my NBI Appointment on January 10, 2021 PM at Quezon City Hall.
The step for NBI Clearance Online Appointment is now finished. You need to do the next step which is the NBI Clearance Fee Payment.
IMPORTANT! Do not close your web browser. The NBI Clearance Online Application is not yet finished! You still need to do the final and important step before you get to finish.
NBI Clearance Fee Payment
You're not done yet! You still need to complete your NBI Clearance Online Application by completing the transaction. All you need to do now is choose from the selection what Payment Option you prefer.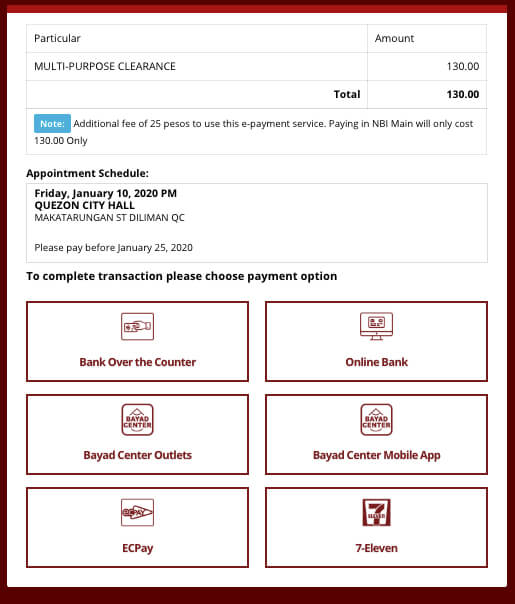 IMPORTANT! Please note that there will be additional fee amounting to P25 as E-Payment Service fee added to the P130 NBI Clearance Fee. Please make sure to pay the correct amount.
From the previous NBI Appointment, we have chosen the following schedule.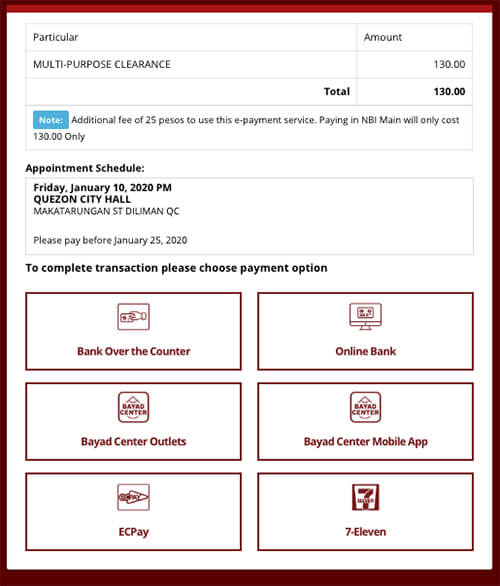 In the screenshot, it shows my appointment schedule which is:
Friday, January 10, 2021 PM
QUEZON CITY HALL
MAKATARUNGAN STREET, DILIMAN QC
Please pay before January 25, 2021
It also shows me the six (6) payment options allowed in settling your NBI Clearance Fee.
Select one from any of the payment options shown. For the sake of this tutorial, we will be choosing 7-Eleven in paying my NBI Clearance Online because its convenient and hassle free.
Click the 7-Eleven Logo to start the payment process.

This window will appear. Read the instruction for your reference and click the "PROCEED" button.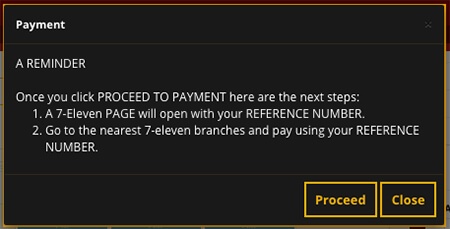 A summary of your transaction will be displayed. For now, all you have to do is review your NBI Clearance Online Appointment Schedule.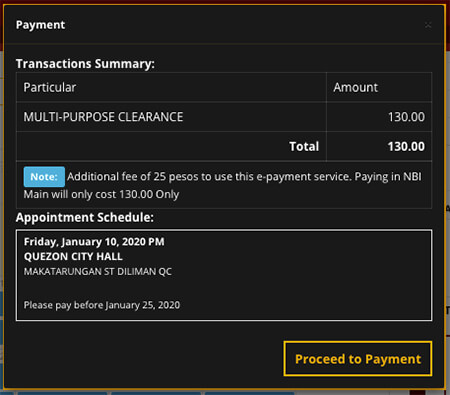 Your NBI Clearance Reference Number will be displayed. Take note of this because you will be using the Reference Number when paying for your NBI Clearance Online Fee.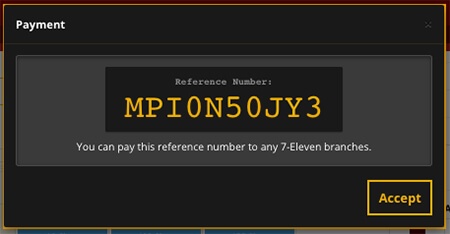 You may now click the "ACCEPT" button to finish the transaction.
The next thing you need to do is settle or pay your NBI Clearance Fee in 7-Eleven. We have written a comprehensive guide on HOW TO PAY YOUR NBI CLEARANCE APPLICATION IN 7-ELEVEN. You may follow this tutorial for your convenience.
Please note that there are several payment options for your NBI Clearance Fee you can choose from. These are the following:
Bank Over the Counter
Online Banking
Bayad Center Outlets
Bayad Center Mobile App
ECPay
7-Eleven
You can choose whatever payment option you like. We only chose 7-Eleven because its more convenient for us since we have a nearby 7-Eleven in our location.
Once the NBI Clearance Fee is paid, you can now proceed with the next and final step which is the NBI Clearance Application Processing.
But before we proceed, we have the option to check the status of our application in the NBI Website.
To do this, go to the "TRANSACTIONS" and find your NBI Clearance Reference Number.
As you can see, the status is already "PAID" and you can see a button that says "DETAILS". If you click it, you have the option to Print your NBI Clearance Online Application Form.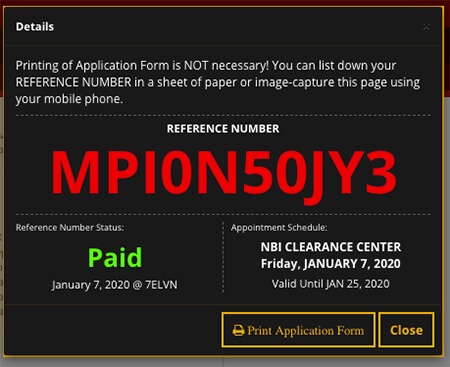 Printing of NBI Clearance Online Application Form is totally optional. You don't have to print it. All you need to do is just to present your Reference Number to the NBI Clearance Staff and you're good to go.
You can even take a screenshot or take a photo of your Reference number and show it to them!
Now, let's go to the final step!
NBI Clearance Application Processing
The NBI Clearance Application Processing will be the last and final step of the entire process of application.
This requires you (the applicant) to go to your selected NBI Clearance Branch during your scheduled date and time (AM or PM).
Here are the events that you will expect to take place when you arrive in you appointed schedule in NBI Clearance Branch.
Once you arrived at the NBI Clearance Center, present your Two Valid IDs.
Proceed to the Biometric and Image Capture Area and present your Reference Number.
Have you Photo and fingerprints as well as your signature taken by the NBI Clearance Personnel.
The Personnel will show all your information from his computer screen. The purpose of this is to double check the information that you have written in online NBI Clearance application for possible errors. By now you are confident that you have written the correct information right? If you found an error, you can simply ask to change it.
The NBI Clearance Personnel will instruct you whether you need to go to the Printing Area or not.
If the personnel will ask you to proceed to the Printing Area, then you're in luck! You don't have a hit and you will get your NBI Clearance printed in just a few minutes.
If the personnel will ask you to return some other day, this means that you have an NBI Clearance HIT. This means, further verification is needed before they release your NBI Clearance.
You may be interested in reading an article about the NBI Clearance HIT and Quality Control here.
Conclusion on NBI Clearance Online
You may find this tutorial kinda long but we made sure we covered every step to help applicants in getting their NBI Clearance.
Aside from that, we find the application process of NBI Clearance very easy and convenient compared to the previous years where the online application is not yet implemented. There are times that it will take you more than four (4) hours of waiting just to get one!
But now, thanks to the ever growing technology, NBI Clearance is now accessible to everyone.
Do you have any thoughts on our comprehensive guide on how to apply for NBI Clearance Online? If yes, don't hesitate to comment down below.
Oh by the way, We have just recently published the latest tutorial on how to apply for NBI Clearance Online in 2022, you may want to check it out!
We also encourage people to leave a comment or any question through the comment section. We promise to attend to your queries whenever we're available.
So from NBI Clearance Online Admin Team, Thank you and have a great day!