THIS POST WAS UPDATED ON SEPTEMBER 30, 2022
NBI Online Registration — Welcome to NBI CLEARANCE ONLINE. A page dedicated to help fellow Filipinos to apply for their NBI Clearance conveniently and avoid any hassle as much as possible.
Today, we'll be discussing the NBI Online Registration which all NBI Clearance Online Applicant must do.
To give you a context what is an NBI Online Registration, this simply means that the user needs to register first their respective NBI Clearance Online Account before securing one. He or She must submit an NBI Online Application form by completing all the required personal information such as Gender, Civil Status, Birth Date (Month, Date and Year), First Name, Middle Name, Surname, Mobile Number, his or her email address and their preferred and secured password.
The personal information mentioned above is just an initial requirement for NBI Clearance Online Registration. There are more personal details needed to be filled up but for the mean time, the NBI Clearance Online website will allow your NBI Clearance Online Registration application and have your account register.
But before the NBI Clearance Registration approves your application, it needs to be verified using a one time password.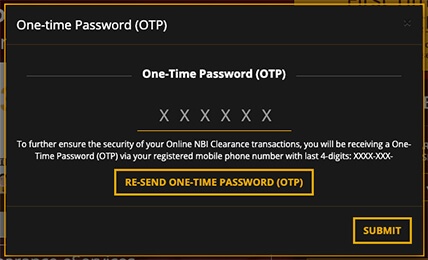 Failure to provide the One-Time Password (OTP) will result to rejection of your application. Though there's a work around here which is by clicking the "RE-SEND ONE-TIME PASSWORD (OTP)", a new and fresh OTP will be sent to your mobile number.
NBI Online Registration
How to do an NBI Online Registration — in this section, we will discuss how you can easily do an NBI Clearance Online Registration. Through this tutorial, we guarantee each and every one that they will be familiar at the NBI Online Registration procedures after reading our guide.
We will be providing text based instructions as well as images for everyone's reference so our discussion will be crystal clear. Right at this time, without hesitation or delay. Let's start the tutorial on NBI Clearance Registration.
NBI CLEARANCE WEBSITE
Before we begin, I just want to inform you that we have written an updated tutorial guide on how to apply for an NBI Clearance Online for 2022, you may want to consider reading it. 🙂
To get started, open your favorite browser and navigate to the NBI Clearance website, which is https://clearance.nbi.gov.ph/.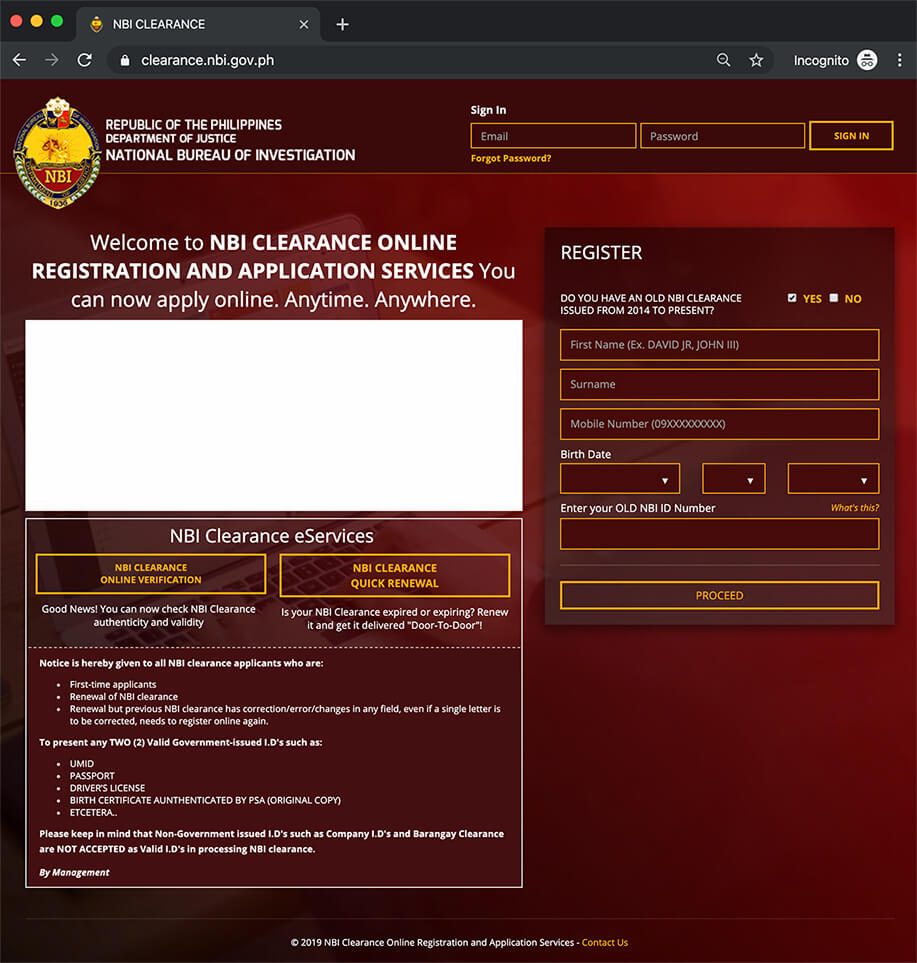 This is the official website of NBI Clearance Online Registration. When you arrive at the page, there are several pop out window that will greet you. All you have to do is just close it by clicking the "I AGREE" and "CLOSE" button respectively.
NBI ONLINE REGISTRATION
This is the start of your account registration. In the web page, at the right portion of your screen (if you are using a desktop), find the box that says "REGISTER".
The Registration process has methods of submitting your application, these are the following:
Renewal of existing NBI Clearance. (NBI Renewal)
No existing NBI Clearance.
So what's the difference?
The first method, the users has an existing copy of NBI Clearance that the user or applicant is required to enter his or her NBI ID Number in the Registration form.
This option is for the applicants who don't have an NBI Clearance Online Account yet but have an NBI Clearance or forgotten their log in details to their NBI Clearance Online Account but have an NBI Clearance.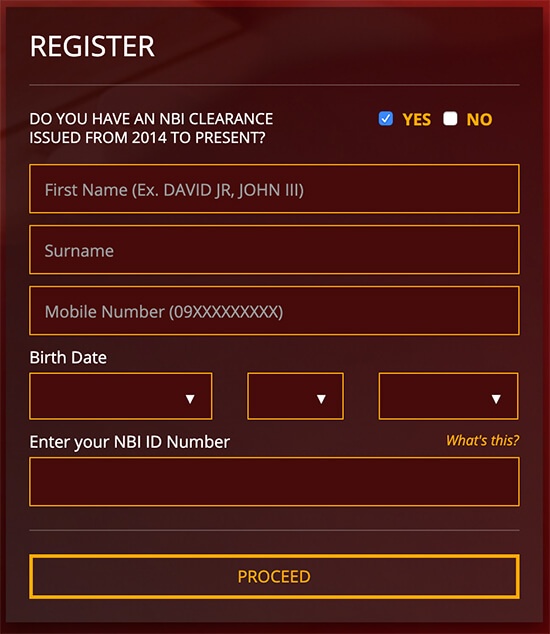 Though there are various incidents as told by our readers here that when they do enter their NBI Clearance, an error occurs that prevents them to register.
As we have experienced also, the website says that the NBI Clearance ID Number was invalid even though its correct. Our scientific hunch to this error is that the NBI Clearance ID Number was not found on their Database. There is no official statement for this from the Official NBI Website though as we mention, this is only our guess.
The second method is for the users or applicants who do not have an Existing NBI Clearance and do not have an NBI Clearance Online Account yet. For this procedure, the applicant doesn't need to provide any NBI ID Number. He or she just need to fill up the form with the personal information requested.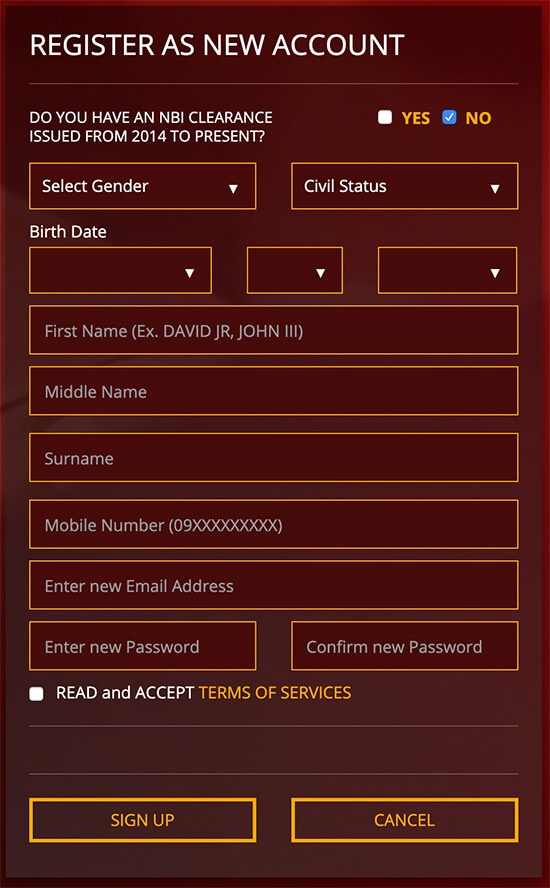 This is also the procedure for all first time applicant which we usually recommends to do.
So which one should you choose?
To be honest, it depends upon your situation. If you have an existing NBI Clearance with you, tick the check box that says "YES". If you already registered before but forgotten you log in details (ex. email address or password) and you have your NBI Clearance with you then you should choose "YES". If you don't have an NBI Clearance yet, tick the check box that says "NO".
Moving on… For this tutorial, we will tick the "NO" because we're assuming that you don't have an existing NBI Clearance yet.
Now, in the NBI Clearance Online Registration Form, enter the following details:
Gender
Civil Status
Birth Date (Month, Date and Year)
First Name
Middle Name
Surname
Mobile Number
Email Address
and your Preferred and Secured Password
Lastly, tick the check box next to the text that says "READ and ACCEPT TERMS OF SERVICES".
The website will present you the Terms of Service of the website.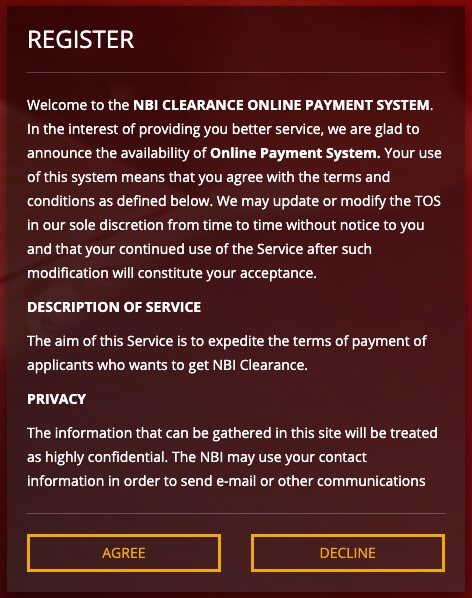 You have the freedom to read it. Once finished, press the button "AGREE" to continue.
It will return to your previous registration form, click the "SIGN UP" button found at the bottom to submit your NBI Online Application.
A One-Time Password (OTP) will be sent to your mobile phone. Its usually a six (6) digit number which you need to enter in the space provided by the NBI website. See example below.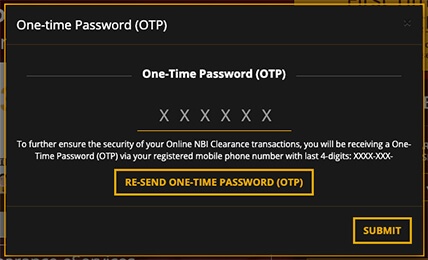 An exact example of the One-Time Password is the one shown in the screenshot below. This is the exact text message we received when we registered for NBI Clearance.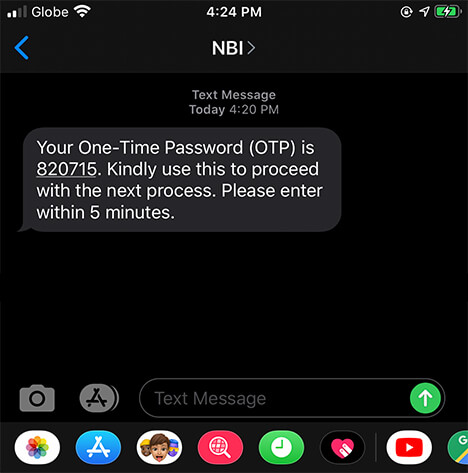 Now, the next step is enter correctly the OTP in the website. If, for any reason, you didn't received this OTP text message from NBI Clearance. You need to click the "RE-SEND ONE-TIME PASSWORD (OTP)" button so the NBI Website will send new a new one.
If you still didn't receive any texts, you should go back to your registration form and check the mobile number you entered for correctness. You should also consider your mobile phone signal or reception. Sometimes, text are delayed due to poor signals.
CONFIRMATION OF SUCCESSFUL NBI ONLINE REGISTRATION
Once you have entered the One-Time Pin, a small green box will appear located at the top right side of your screen. The message says that you have successfully registered an NBI Account.
Congratulations to you my dear fellow kababayan! You now have an active NBI Clearance Online Account!
This NBI Online Registration tutorial is now complete! Our goal to discuss the NBI Clearance Registration was achieved and we're glad you finished reading it up to here.
You may be interested in reading our article about: Can I Walk In for NBI Clearance Application?
But wait! There's more!
Yep! You've heard it right! What we've discussed above is only for the NBI Clearance Registration only. This is only a portion or part of the entire process of applying for NBI Clearance Online.
This is the first step for you. You still have to do the other three (3) steps.
To know more about the other three steps, we have written also a comprehensive guide on how to apply NBI Clearance Online
READ! How To Apply NBI Clearance Online in 2020 [UPDATED!]
NBI Online Registration
NBI Clearance Registration
NBI Clearance Online Registration