NBI Clearance 2024 — The NBI Clearance, or National Bureau of Investigation clearance, is a government-issued certificate in the Philippines that certifies an individual's good moral character. It is essential for various purposes like employment, travel, and legal transactions.
This document verifies that you have no pending criminal cases, making you a trustworthy citizen. In 2024, with changing job opportunities, travel requirements, and personal identification needs, the NBI clearance has become more vital than ever.
This blog aims to provide you with a comprehensive guide on how to apply for it, share tips for a smooth process, and address common questions. Whether you're a job seeker, a traveler, or need this document for any reason, we're here to make the application process easier and stress-free. Stay with us to explore the world of NBI clearances and their importance in 2024 and beyond.
NBI Clearance Purpose
NBI Clearance, a widely recognized document, serves multiple essential functions for individuals and institutions alike. It acts as a versatile means of confirming identity, fulfilling vital employment requirements, and facilitating international travel, all of which highlight its significance in today's society.
Valid Identification Document (Valid ID): NBI clearance serves as a government-issued valid ID, making it indispensable for financial institutions or companies seeking to verify an individual's identity.
Employment Requirement: In the employment sector, it has become commonplace for employers to request an NBI Clearance to ensure that potential hires do not have a criminal record, promoting a safe and secure work environment.
Travel Documents / Immigration: For Overseas Filipino Workers (OFWs), NBI Clearance is often a mandatory requirement when traveling to certain countries, particularly in the Middle East. It acts as a background check, reassuring host countries of the worker's integrity and trustworthiness.
This multipurpose document not only facilitates seamless transactions but also upholds the importance of accountability and transparency in various spheres of life.
NBI Clearance Requirements
Now, let's understand why having these Valid IDs ready is important. Having the necessary documents at hand simplifies and expedites the NBI Clearance application process. It helps ensure that your application is processed smoothly and without unnecessary delays. Additionally, it minimizes the chances of rejection or complications during the application, allowing you to obtain your NBI Clearance more efficiently. Therefore, it's crucial to prepare these documents (NBI Clearance Requirements) in advance to make your application experience as hassle-free as possible.
Valid IDs Accepted in Applying NBI Clearance
Social Security System ID (UMID) – Issued by the Social Security System, the SSS ID is a document used to verify the identity of its members. It was mandated by Republic Act No. 1161, known as the Social Security Act of 1997.
Government Service Insurance System ID (UMID) – The GSIS ID is the official identification card of the government agency, issued to all GSIS members and their dependents. It serves as a unique identifier for members and grants access to government benefits.
Passport – The Philippine passport is a travel document issued by the Government of the Republic of the Philippines, allowing citizens to travel internationally.
Philhealth ID – A personal identification document issued by the Philippine Health Insurance Corporation (PhilHealth) to citizens, permanent residents, and qualified overseas workers. It is used for identification purposes in PhilHealth-accredited facilities and private hospitals.
Voter's ID or Certificate of Registration – The Voter's ID is an official document issued to registered voters, serving as proof of identity and address for voting during elections.
BIR / TIN ID – The Taxpayer Identification Number (TIN) is a nine-digit number used in relation to filing and paying taxes. This ID is essential for tax-related matters, enabling the Bureau of Internal Revenue (BIR) to track taxpayers and their earnings.
PRC License – A professional identification document issued by the Professional Regulation Commission (PRC) after completing professional training and passing required exams.
Driver's License – A government-issued document authorizing individuals to operate a vehicle on public roads. In the Philippines, the Land Transportation Office (LTO) issues driver's licenses.
Alien Certificate of Registration (ACR) – An identification document for aliens registered with the Bureau of Immigration, serving as a temporary travel document when traveling abroad.
Pag-IBIG ID (not the Loyalty Card) – The identification card for members of the Pag-IBIG Fund, which provides housing and financing options to Filipinos, proving membership.
NSO / PSA-Authenticated Birth Certificate – A certified copy of a person's birth certificate, officially issued by the Philippine Statistics Authority (PSA).
Postal ID – An identification number issued by the Philippine Postal Corporation, used for mail recipient identification.
Police Clearance – A certificate issued by the local police department to verify an individual's criminal record status. It may be required for employment or other purposes.
Certification from the Local Civil Registrar – A document certifying an individual's civil status, birth, marriage, or other vital information registered with the local civil registrar, often needed for various legal transactions.
Certification from Malacanang – Issued in connection with indigenous groups, tribal membership, or foundling status.
School ID – An identification card issued to students currently enrolled in a school, serving as proof of student status.
Solo Parent ID – Issued by the Department of Social Welfare and Development (DSWD) to single parents who meet specific criteria, providing access to benefits and services.
Seaman's Book – Also known as a Seafarer's Identification and Record Book, it is a mandatory document for Filipino seafarers, containing essential information about their qualifications and sea service.
Senior Citizen ID – Senior Citizen of Registration (SCOR) is a government program providing discounts and benefits to senior citizens.
MARINA ID – Issued by the Maritime Industry Authority (MARINA) for individuals working in the maritime industry, signifying authorization to work in maritime-related roles.
Security License ID (for security guards) – An identification card for security personnel who have undergone training and obtained the necessary licenses to work in the private security industry, demonstrating their qualifications and authorization.
NBI Clearance Online Application 2024
Today, securing your NBI Clearance has never been more convenient. The online application process, now a requirement by the NBI Clearance Agency, streamlines the process of obtaining this vital document. Walk-in applications are no longer accepted, underscoring the importance of having a scheduled NBI Appointment for your NBI Clearance application.
Ease and Accessibility: One of the primary benefits of the NBI Clearance online application is its user-friendly nature. It can be completed from the comfort of your home, office, or virtually anywhere. All you need is a device, whether it's a laptop, desktop computer, or smartphone, to initiate the process.
One-Time Registration: Registering for the NBI Clearance online application is a one-time affair. Once you have created your account, you can easily log in for subsequent transactions. This eliminates the need to re-enter your information repeatedly, saving you time and effort.
For First-Time Applicants: The NBI Clearance Online Application process primarily caters to applicants who are new to the system and do not yet possess an NBI Clearance Online account. If you are a returning applicant with an existing account, we have a separate article dedicated to NBI Clearance Renewal to guide you through the process.
Throughout this section, we will provide a step-by-step guide to ensure a seamless experience with the NBI Clearance 2024 Online Application. We'll cover how to register an account, complete the NBI Clearance Form, schedule your appointment, make the necessary payment, and navigate the processing of your NBI Clearance. This comprehensive walkthrough aims to assist you in each phase of the application, making the entire process clear and manageable.

Now, let's dive right in.
NBI Clearance Account Registration
1. Begin by launching your internet browser and navigating to the official NBI Clearance website (clearance.nbi.gov.ph).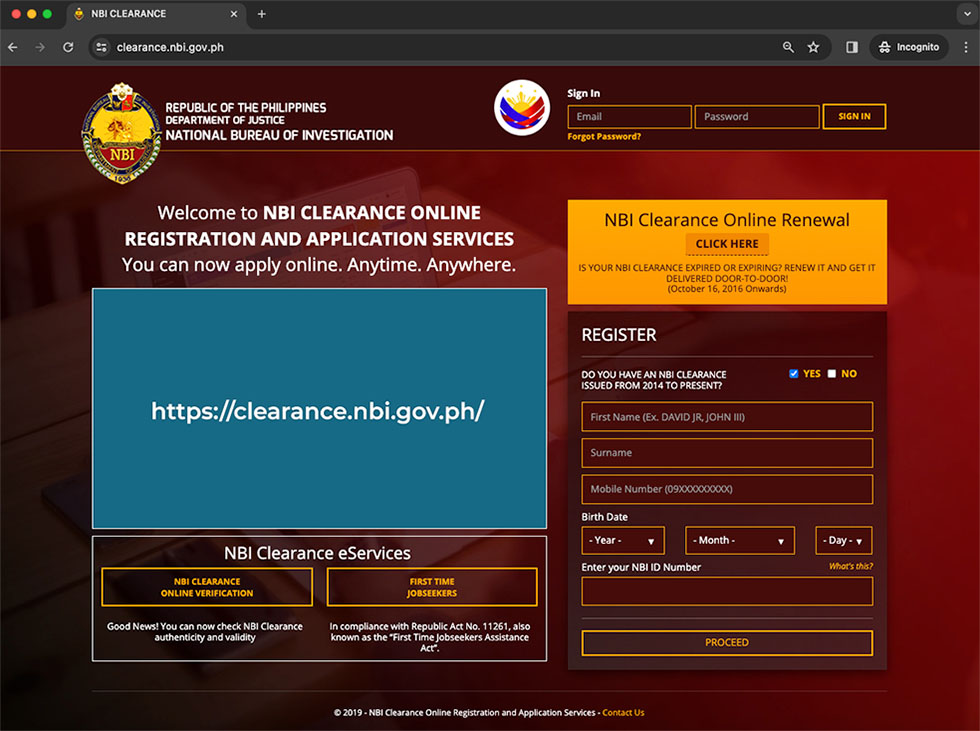 2. On the initial window prompt, simply click the "I Agree" button and then proceed to click "Close." You don't need to delve into the Data Privacy Content; it's merely a formality.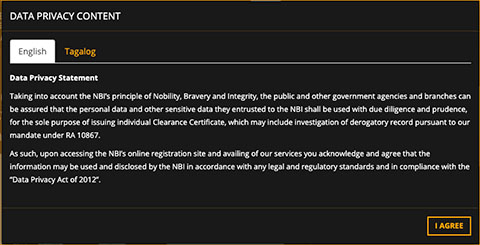 3. On the right side of the webpage, locate the "REGISTER" box, and that's where we'll focus our attention. Here, you'll find a "DO YOU HAVE AN NBI CLEARANCE ISSUED FROM 2014 TO PRESENT?" option. Tick the "NO" box to update the NBI Clearance Online Registration Form.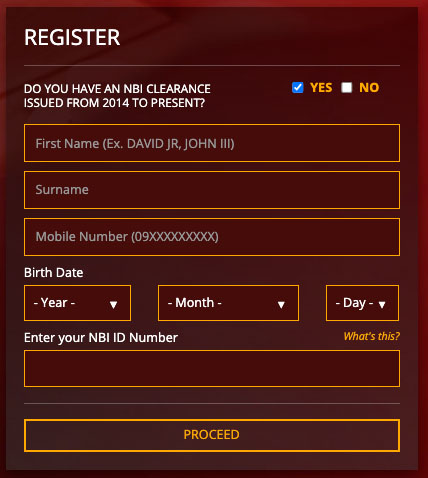 4. Now, let's begin filling out the form with your Personal Information. This includes details like Gender, Civil Status, Birth Date, your complete name (First, Middle, and Last name), mobile number, an active email address, and a secure password.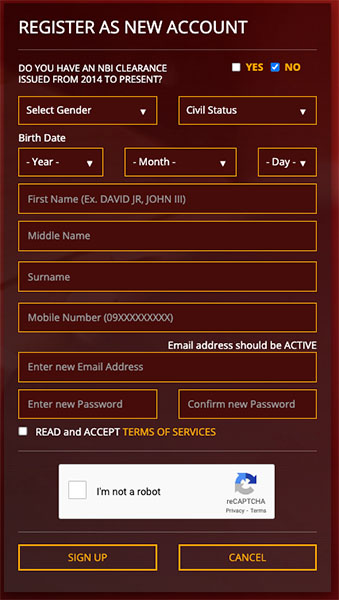 Once you've completed this section, check the box next to "READ and ACCEPT TERMS OF SERVICES," and then click the "AGREE" button. Next, you'll need to confirm that you're not a robot by ticking the "I'm not a robot" captcha. Lastly, double-check the information you've provided, ensuring its accuracy, as it's crucial for creating your account.
Keep in mind that these details cannot be edited or altered afterward. If you're satisfied, click the "Sign Up" button.
5. Shortly, you'll receive a One Time Password (OTP) on your registered mobile number. Once you've received it, enter it accurately in the designated field on the webpage, and click the submit button.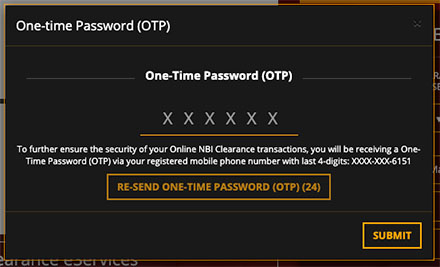 Note that if you haven't received the OTP within 5 minutes, you can request a resend by clicking "RESEND ONE TIME PASSWORD." Be aware that the OTP has a 5-minute expiration window.
6. A new window will pop up, indicating that an email has been sent to your registered email address.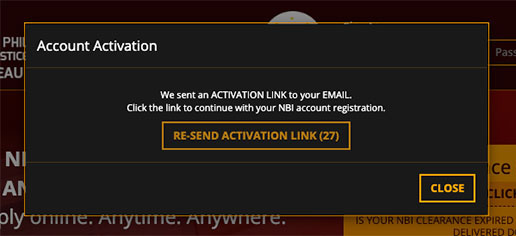 7. Now, open your email inbox (the one you used during registration) and locate the email sent by "NBI Online Services." Take a moment to read its contents.

8. Inside the email, you'll likely find a message similar to the sample email below. Here, all you need to do is click the "Activate Account" link. Clicking this link will redirect you back to the NBI Clearance website.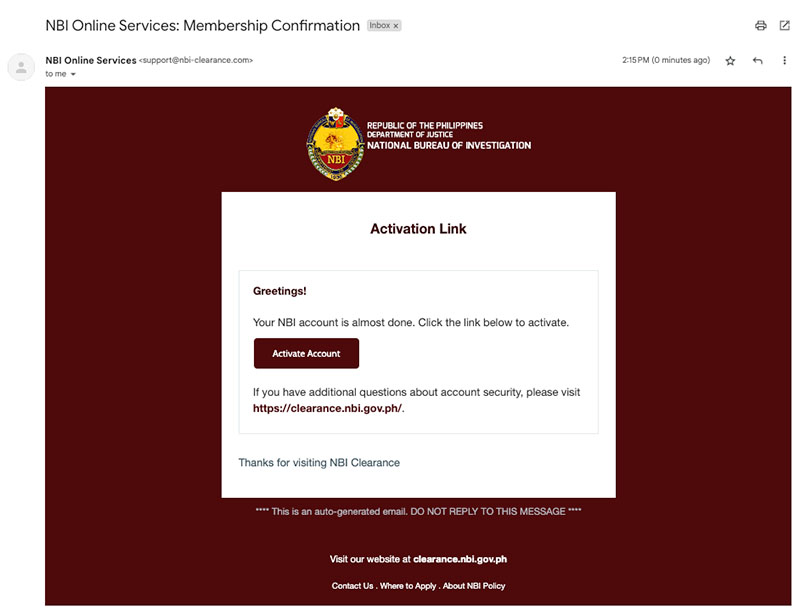 9. When you've successfully followed this step, you'll see a confirmation screen, as depicted in the image below. It will inform you that your NBI Clearance 2024 Account is now activated. Congratulations! You're now ready to log in to your account.

With that, you've successfully completed the NBI Clearance 2024 registration!
NBI Clearance Online Account Login
10. To continue the process, simply click the "Login" text link. This will take you back to the same page where you initially registered.

On the upper right side of your screen, you'll spot a "Sign In" section where you'll need to enter your registered email address and password. Fill in the required information and click the "Sign in" button to access your account.
NBI Clearance Application Form
11. As this marks your very first login or use of your account for NBI Clearance application, the website will prompt you to complete the NBI Clearance Online 2024 Applicant Information Form.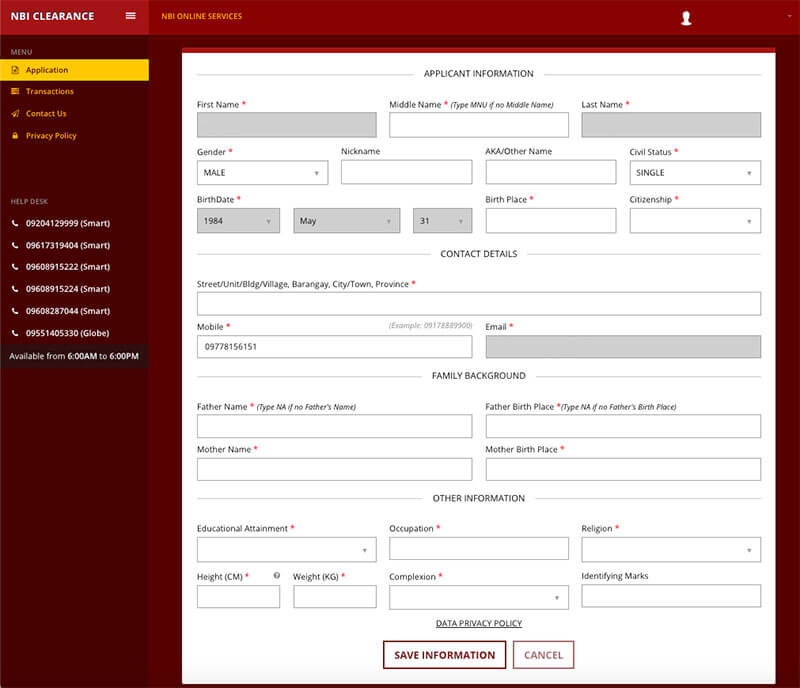 Enter all the missing personal information accurately. Once you've filled in all the required details, click the "SAVE INFORMATION" button located below.
12. A pop-up window will appear, displaying all the personal information you've entered. Take a moment to carefully review this data to ensure its accuracy. Remember that any inaccuracies here will reflect on your printed NBI Clearance. If you are certain and content with the provided information, click the "Submit" button.
With this step, you have successfully completed the NBI Clearance Online application form. The next step in the process is to schedule an appointment!
Schedule an Appointment for NBI Clearance Application
13. On the right side of your screen (for desktop users) or at the top of your screen (for mobile users), you'll notice a button labeled "APPLY FOR CLEARANCE." Click this button to initiate the NBI Online appointment process.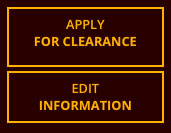 14. After pressing the "APPLY FOR CLEARANCE" button, a pop-up window will appear. Here, you'll be prompted to select a valid ID that you possess or currently have available. Utilize the dropdown list to choose the appropriate ID.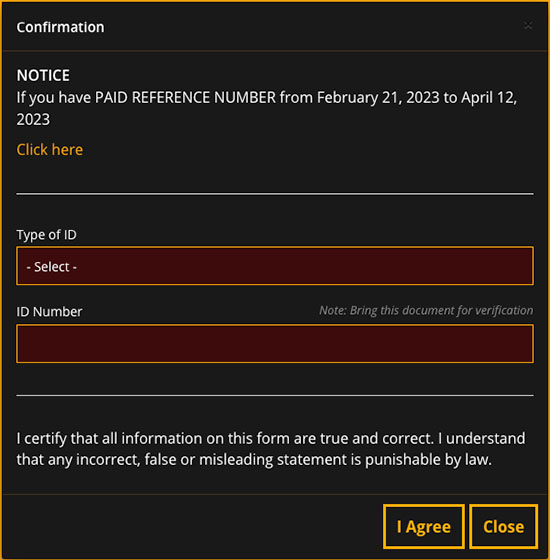 For instance, I'll select UMID (SSS and GSIS) for this example and input the ID number. Once done, click the "I AGREE" button.
15. Another pop-up window will appear, containing essential information. In summary, it states that after selecting your payment option, you'll receive a registration code or reference number, which acts as your pass for entry to the NBI Clearance Processing Area. To minimize waiting times, it's advisable to pay your NBI Clearance Fee using your reference number through the chosen payment option. Close this window once you've finished reading.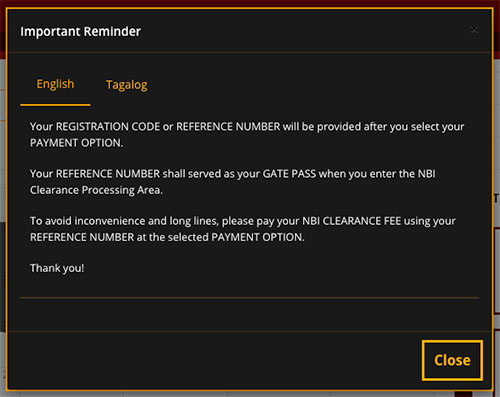 16. Following this, the NBI Clearance Appointment System will be presented, consisting of four key components: NBI Branch, Date and Time of your Appointment, NBI Clearance Fee, and the payment mode for your NBI Clearance Fee.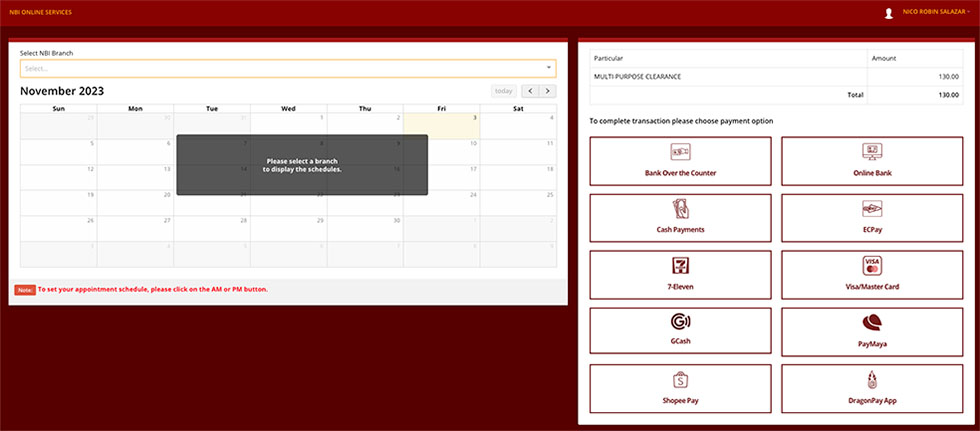 17. We'll begin by selecting the NBI Branch where we intend to process our NBI Clearance. Ensure you choose the most convenient location for your needs.

18. Once you've selected the NBI Clearance online branch, the available appointment slots will be displayed on the calendar. You can pick a date from the provided options by simply clicking on it. Available dates are highlighted with blue boxes, with time slots denoted as AM and PM. Opt for the time slot that suits your schedule.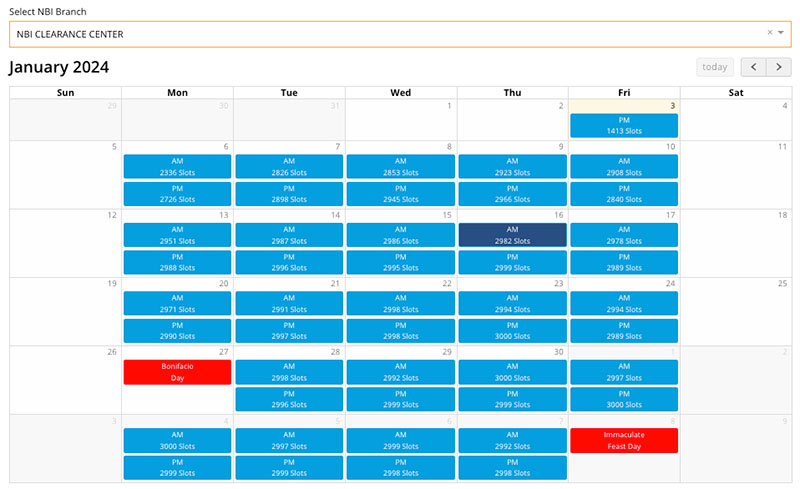 19. The next step involves verifying if the "Appointment Schedule" section has been updated after choosing the NBI Branch and the Date and Time for your appointment. You should observe the NBI Clearance Online Branch you selected, along with the corresponding day and date, displayed in the provided box. You can refer to the image below for an example.

20. To finalize your NBI Clearance Online Appointment, you'll need to select a payment option that suits your convenience. We strongly recommend using GCash or Paymaya as they are among the most convenient methods for settling your NBI Clearance Fee.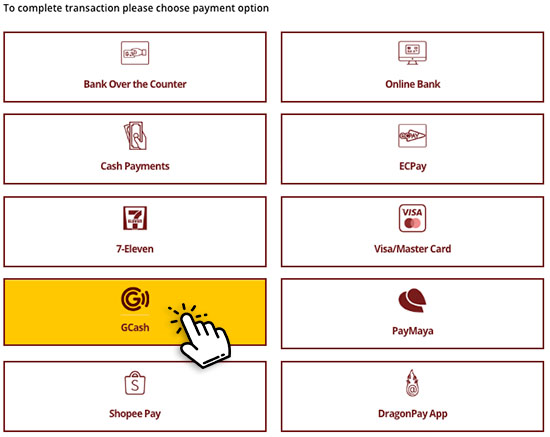 21. In this example, we'll utilize GCash for payment. Click the box featuring the GCash logo. A small pop-up window will appear; simply press the "PROCEED" and "Proceed to Payment" buttons. For now, disregard the displayed amount (P130), as this is not the final fee.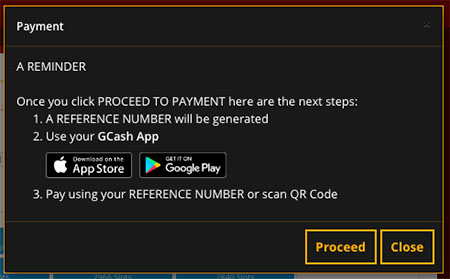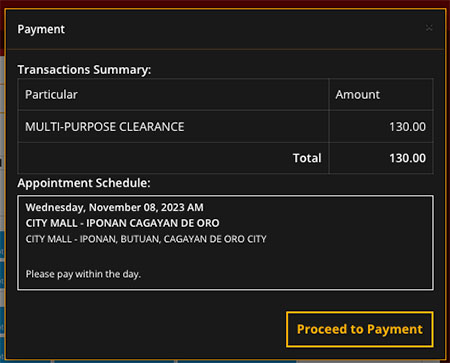 22. When you've clicked the mentioned buttons above, a window will display a QR code, which isn't necessary because we'll use the NBI REFERENCE NUMBER when making the GCash payment. Below, you'll find the fee breakdown, which includes the NBI Clearance Fee of P130 and a System Fee of P30, resulting in a total payment amount of P160.00.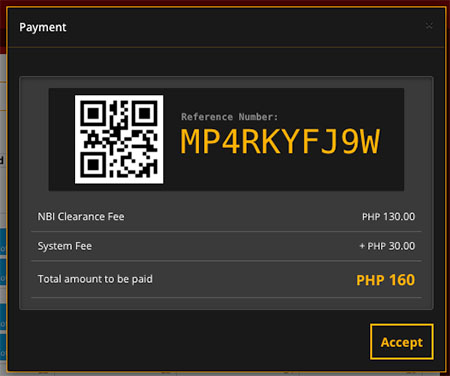 NBI Clearance Fee Payment
23. Open your GCash mobile application and log in.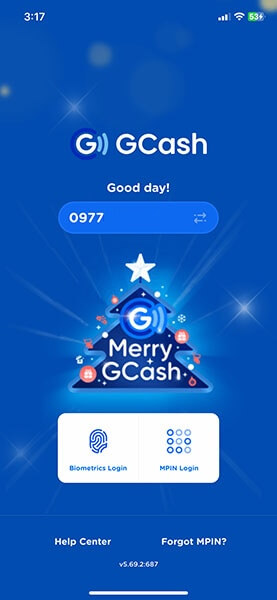 Ensure your GCash account has a balance of at least P160 to cover the NBI Clearance Fees.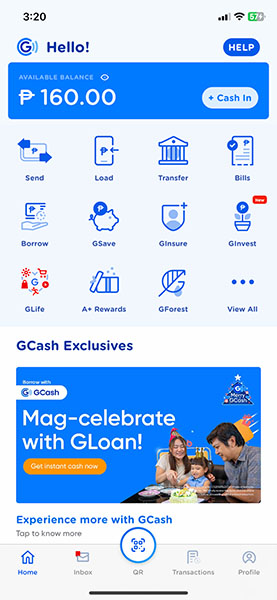 24. Next, tap the "BILLS" icon located on the GCash dashboard. (Include a screenshot of the GCash dashboard.)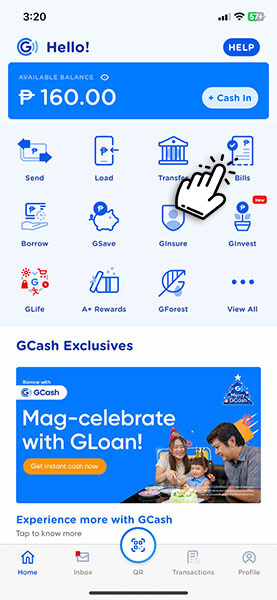 25. In the search box, type "NBI," and the NBI logo will appear. Select it.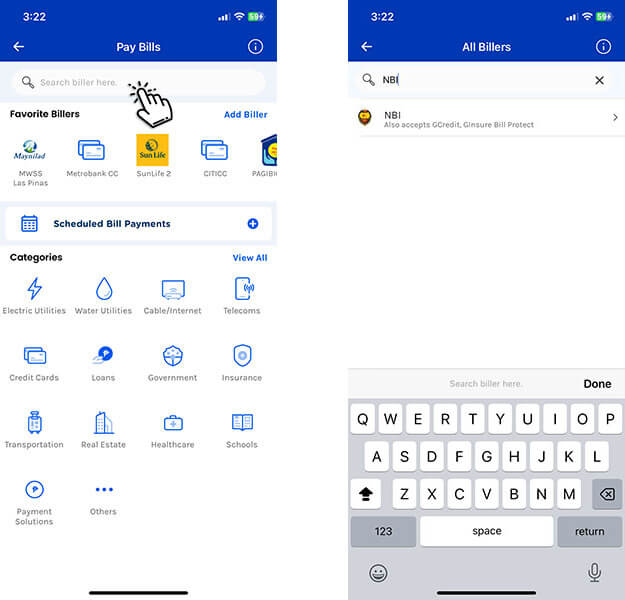 26. Enter the amount of P160, your reference number, contact number, and email address. Press the "NEXT" button at the bottom.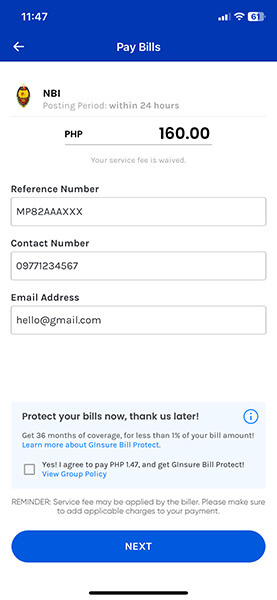 27. In the Payment Source page, select "GCASH" and then press "next."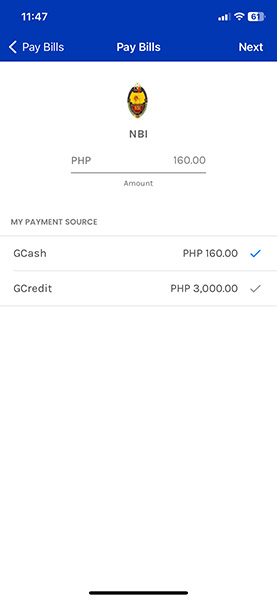 28. On the Confirmation Page, double-check your NBI Clearance reference number to ensure it is correct. Note that if you input an incorrect Reference Number, it may be challenging to obtain a refund. It's essential to be cautious in this step.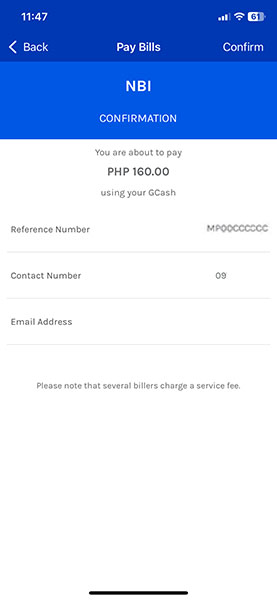 29. Once you're certain that your NBI Clearance Reference Number is accurate, press "confirm" to complete the payment.
30. After a successful NBI Clearance Fee payment, you will receive another SMS message on your registered mobile number, confirming that NBI Online Services has received your payment. A sample SMS message is provided for reference.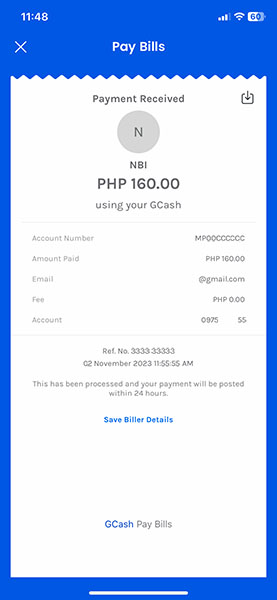 Congratulations! You have successfully paid your NBI Clearance Fee using GCash. Capture a screenshot of the receipt for your reference.
Verify Your Scheduled NBI Online 2024 Appointments and Payment Status (OPTIONAL)
31. (Please note that this step is only Optional) For your convenience, you can revisit the NBI Clearance website and navigate to the Transactions page. Here, you'll find a record of your booked appointments and their statuses.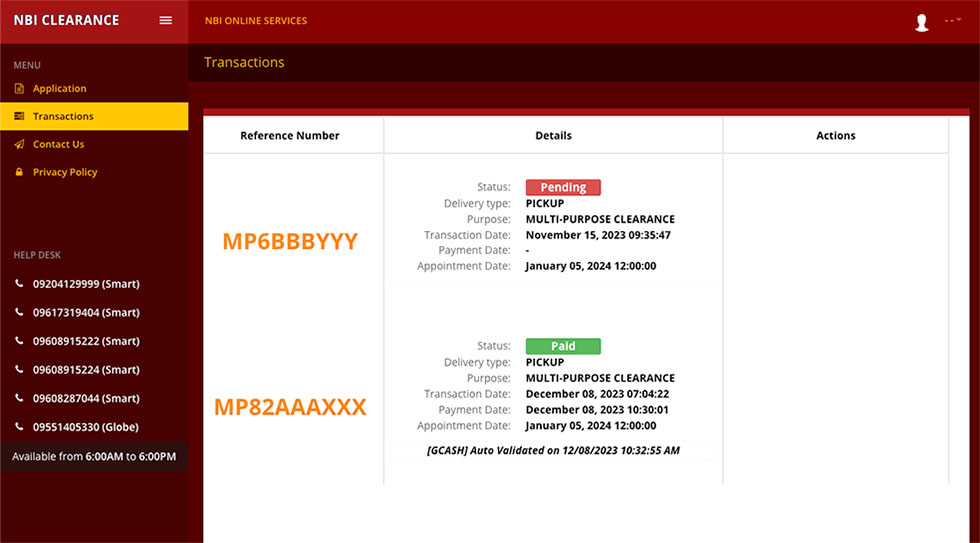 Take note that in the example, two appointments were booked (NBI Reference Numbers MP6BBBYYY and MP82AAAXXX) on the same day, January 05, 2024, at 12:00:00. The MP82AAAXXX appointment has a status of "PAID" with a note stating "[GCASH] Auto Validated on 12/08/2023 10:32:55 AM," indicating that the GCash payment was successfully received by NBI Online Services. As for the other appointment (MP6BBBYYY), it remains unpaid. Remember that you only need one confirmed and paid appointment.
NBI Clearance Processing
With all the necessary steps completed (account registration, form filling, appointment scheduling, and payment of NBI Clearance fees), the next and final step is to process your NBI Clearance at your selected branch. Simply await the appointed date and head to the designated NBI Clearance Branch.
32. On the day of your appointment, make sure to arrive at the NBI Clearance Branch during your scheduled time slot, either in the morning or afternoon.
33. Prepare your valid IDs, your NBI Clearance Reference number, and a screenshot of your NBI Clearance Fee receipt. In our previous example, we used GCash for payment.
34. Proceed directly to the NBI Clearance Staff counter and present your NBI Clearance Reference Number and valid ID. The NBI Clearance Staff will retrieve your NBI Online Application and initiate the processing.
35. You'll undergo fingerprinting and photo capture, which includes taking your fingerprints and other biometric data such as a photo, all used to verify your identity.
36. After this, the NBI Clearance Staff will display all the details you've entered and allow you to double-check for any errors or incorrect information. If you spot any errors, inform the NBI Clearance Staff, and they will make the necessary corrections.
37. Following confirmation that all personal information is accurate, your application will be submitted for initial quality control processing. During this stage, the NBI Online Services System will check whether you have a "HIT" or "No Hit" record in their database.
A "HIT" signifies "Hits: Identification of Two or More Persons Bearing the Same Name." When your NBI clearance application results in a "HIT," it suggests a possible match or similarity in your name or personal information with someone who may have a criminal record or pending case.
At this point, the NBI Clearance Staff will inform you of the expected release date of your NBI Clearance, which depends on whether you have a "HIT" or not.
In the case of a "HIT," the NBI will need to conduct further verification to confirm your identity and distinguish you from the individual with a similar name or details. This process typically takes 10 to 15 working days, during which you may be required to provide additional information or documents to resolve any potential discrepancies.
If you don't have a "HIT," you will be directed to the RELEASING SECTION of the NBI Clearance, where you can claim your freshly printed NBI Clearance. Simply wait for your name to be called, and it will be ready for collection.
Conclusion
While the online application offers convenience, one may argue that it adds an additional layer of complexity for those with limited access to the internet. Moreover, entrusting your personal information to digital platforms might raise concerns. In a world where applicants should weigh the convenience of digital application against the familiarity of the traditional process.
In conclusion, the NBI Clearance process in 2024 brings both advantages and concerns. Embracing the digital transition can lead to a smoother experience, but applicants should stay vigilant in protecting their data. Balancing the convenience and the comfort of the traditional process is pivotal as we step into this digital era.