In this tutorial, we'll be sharing how to change last name in NBI Clearance for Married Women. If you just recently tied the knot and planning to renew all the valid IDs you have using your married name, you might consider to have your NBI Clearance changed first because it's easier and cheaper compared to changing your name in your Philippine Passport. We have written a detailed tutorial down below on how to do it.
You may leave your question in the comments sections and we'll get back to you. So without further ado, here it is!
Requirements for NBI Clearance Application
Before setting an NBI Clearance appointment, make sure that you have all the requirements needed before the appointment date that you're going to set. If you missed the appointment you have scheduled, it will automatically be canceled.
The following are the NBI Online application requirements. You'll notice that the requirements below are the same with the normal application.
Additional NBI Clearance requirements for married women who would like to change their Last Name.
A Marriage Certificate in Security Paper (SECPA) issued by the Philippine Statistics Authority (PSA) or Certified True Copy (CTC) of MC issued by the Local Civil Registrar (LCR) and duly authenticated by PSA
Old NBI Clearance (if available).
Once you have completed all the requirements, scheduled an appointment and paid the NBI Clearance Application in any of the payment options available, you're good to go!
Change Last Name in NBI Clearance Process
Since our goal here is to change last name in NBI Clearance, the entire process is considered to be a new application. We can't classify this as a renewal because there will be changes from our old NBI Clearance.
To start the process of application, create a new account in NBI Clearance website. If you're wondering why you need creating a new one even if you have already an account in NBI Clearance, its because your old account have still carries your old name. Old name, meaning you still have your maiden name in that account and the website doesn't allow us to modify it. You may use another email address you have to register.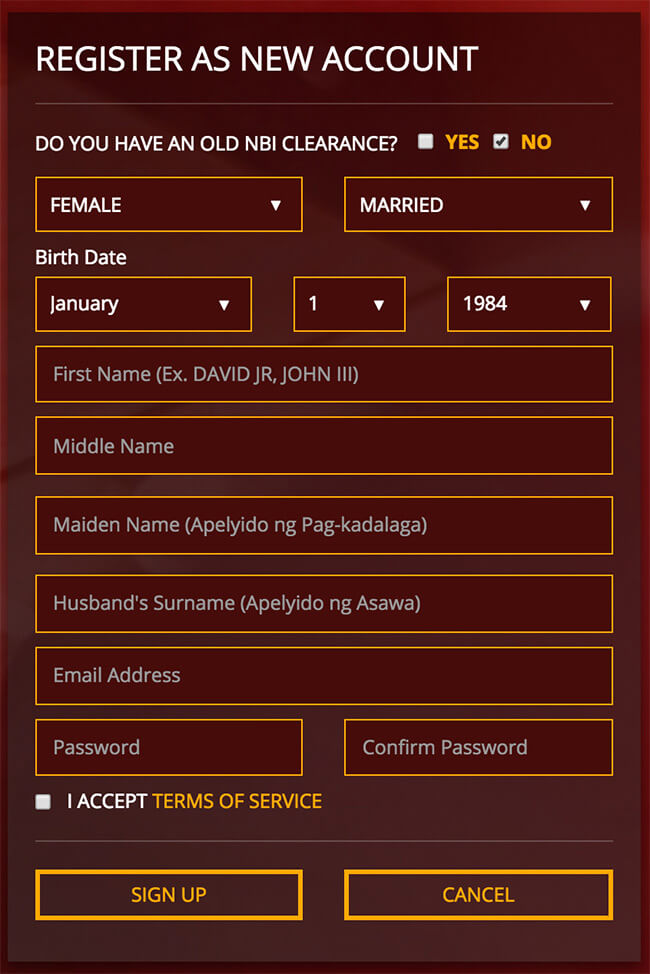 If you don't have an NBI Clearance account yet, then there's no problem. You may register using your name bearing the last name of your husband.
Complete all the needed personal information in the "Applicant Information" section.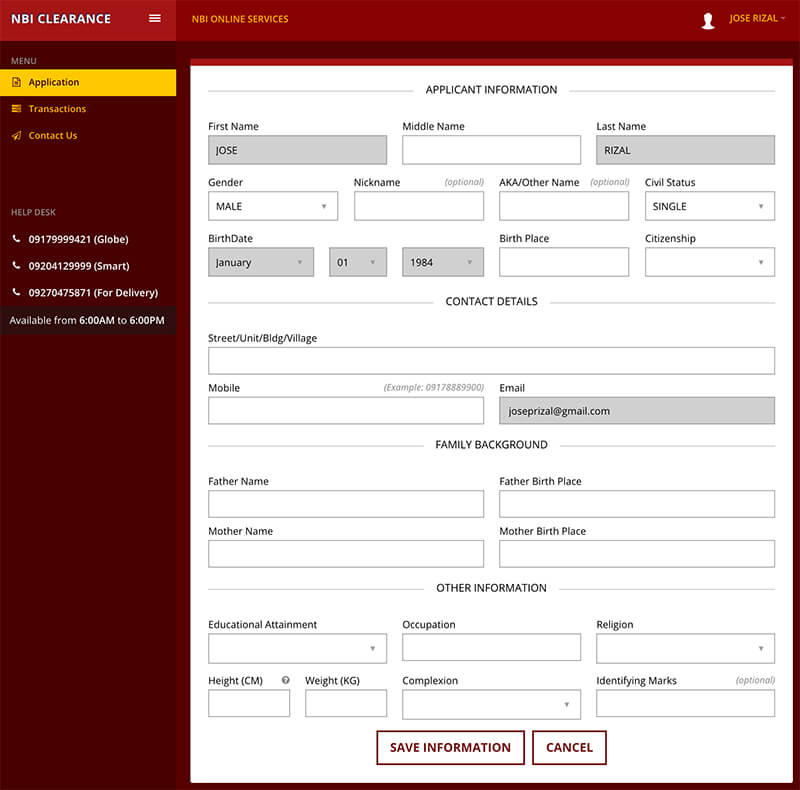 After successful registration of your new account, schedule your preferred appointment date and time. You may choose from the calendar shown in the website.
The last step would be to pay your NBI Clearance in any of the Payment option shown in the screenshot above. On the list you have Bank Over the counter payment, Online Banking, Mobile Payment, Bayad centers, MultiPay, ECPay and lastly 7-Eleven Payment. Choose what's more convenient for you.
When the appointment date arrives, make sure to appear in your selected NBI Clearance Branch. Please note that the NBI Clearance processing is strictly implementing the "No Appointment No Entry Policy" for NBI Clearance applicants. All NBI Clearance applicants are advised to register online and have their appointment date set in advance. So if you have no appointment there, then you don't have a right to be there. Don't beg the NBI Clearance personnel to accept you without an appointment, they don't need to hear whatever reasons you have.
It's a common knowledge that NBI Clearance have to queue applications due to volume. This always happen during biometrics and photo capture steps. Be patient and wait for your turn. There's usually a queue line so you have to get in line.
IMPORTANT: You may need to inform the NBI Clearance Personnel who will verify all the information that you've entered that you're going to change last name in NBI Clearance. Show them your married certificate as an evidence.
After data verification, photo capture and finger printing, you are now close to the last step which is claiming your NBI Clearance in the printing section. But before you celebrate, the NBI Clearance Personnel will provide you a feedback if you're going to receive your NBI Clearance the same day. This is due to the HIT status you may encounter. If you're not lucky, you may end up empty handed and asked to come back on the date they have indicated in your receipt.
But if you're lucky enough, then they will ask you to head down to the NBI Clearance printing section and claim it!
Overall, it was really quick and easy right?
You may be interested the latest article about How to Apply NBI Clearance Online.
Here are some (possible) questions you might ask while reading this tutorial.
1. Can I change my NBI Clearance to my married name even if it's not yet expired? Yes, you can!
2. I have valid IDs under my maiden name. Do I have to change all of them to my married name? Yes but it's not urgent and optional. But if you're travelling and you're going to use your Philippine Passport under your maiden name, then that's a different story.
3. I just recently got married, do I have to change last name in NBI Clearance to my married name immediately? As I have mentioned above, no. But it's really your call.
4. What if I don't have a copy of my Marriage Certificate, is that ok? No, it's best to bring a copy of NSO issued Marriage Certificate first before you change last name in NBI Clearance.
5. When I was single I have no hit but when I got married, I now got a Hit. What happened? Probably, you have a namesake. Don't worry, if you didn't do anything wrong that leads to a criminal case you don't have a reason to worry.
Hope this tutorial was helpful to you! See you again in our next blog post.