NBI ONLINE APPOINTMENT — Hello NBI Clearance Online Applicants! Today we're diving into to the popular topic and most searched question about the NBI Online Appointment.
NOTE: Step into the current year with our freshly updated guide. Unveiling the enhanced '[UPDATED] NBI Online Appointment 2023,' we ensure you're equipped with the latest information.
We have written numerous tutorial about the NBI Clearance but I think we didn't cover the topic related to NBI Online Appointment.
Our related articles that may help you in your NBI Clearance Online Application journey. For your reference:
To manage your expectation, the article explores the topic about the NBI Clearance Appointment. These steps are vital in the NBI Online Application so I suggest you to focus on reading the entire article.
NBI ONLINE APPOINTMENT: How to Schedule
To schedule an NBI Appointment, you need to have an active NBI Clearance Online Account.
If you don't have one, you can register an account in the NBI website. If you don't know how to or want to know how, you may read our article on how to do an NBI Online Registration. The article discusses all the steps that needs to be taken to complete the entire process on how to register an account in NBI Clearance website.
Read: How To Do An NBI Online Registration
Back to the tutorial, go to the official NBI Clearance website and log in to your account by entering your email address and password. You will be redirected to the main dashboard of your account which displays your NBI Clearance Online Application Form.

There is a working "Forgot Password" feature for the users who already forgot their password. Clicking this link will instruct the website to send a reset link to your active email address. Clicking the reset link will activate the reset your password feature where you will assign a new password for your account.
Please note that you can't retrieve your email address in the website if you forgot it.
You need to create a new account so you can apply for a new NBI Online Account.
If this is your first time to log in to your account, you will be asked to complete all the personal information in the application form.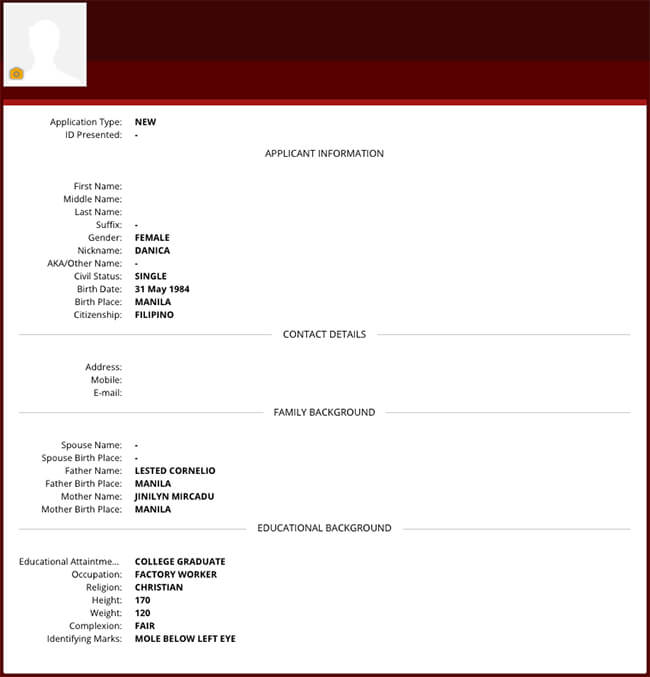 Complete all the details need such as:
Middle Name – if not available, please type MNU which means Middle Name Unknown
Nickname
AKA/Other Name
Civil Status (if you want to change it)
Birth Place
Citizenship
Your Address – following this format Street / Unit / Bldg / Village
Your Mobile Number
Father's Name
Father's Birth Place
Mother's Name
Mother's Birth Place
Educational Attainment
Occupation
Religion
Height in centimeters
Weight in Kilograms
Complexion
Identifying Marks
After filling up the form, you may now proceed with the next step.
If this is not your first time to log in then I'm sure that the NBI clearance application form is already filled completely with you personal information. This time you don't need to do anything and you may proceed to the next step.
The next step will be clicking the "APPLY FOR CLEARANCE" button.

The website will bring you to the scheduling of your NBI APPOINTMENT page.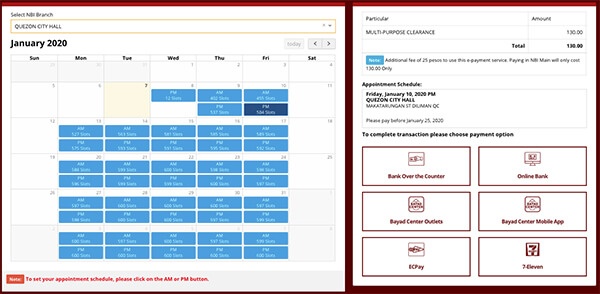 The page consist of three section. The first section is what I call the "scheduling" section where you can assign the date, time and NBI branch where you want to process your NBI Clearance.
Choose the best date and time that fits your busy schedule. I also encourage you that you choose the most convenient NBI Branch when processing your NBI clearance online.
For example, we will be choosing the NBI Main Building at Taft Avenue as our branch and we will be choosing the date January 14, 2020 at the afternoon as our scheduled date and time.
The second section is the "summary of your schedule". This will show you the summary of you scheduled NBI Online Appointment that you chose at the first section. The image below shows the exact example of a summary of your NBI Clearance Appointment that we have just placed.
It also shows you the amount to be paid which is P130 plus P25 (that is for the NBI Clearance Fee and E-Service Fee).
The third section is the payment option section where you can see the list of payment options available in paying your fees.
You may choose from the six (6) choices which ever is convenient to you and these are the following:
Bank Over the Counter
Online Banking
Bayad Center Outlets
Bayad Center Mobile App
ECPay
7-Eleven
Once you have selected your preferred payment option. The NBI Clearance Reference Number will appear. Take note of this as this will be use in paying your fees.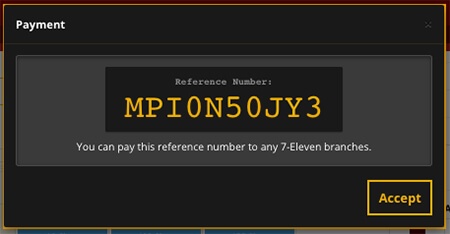 Please note that all scheduled NBI Online Appointments are not yet final unless you pay the fee.
When paying for your fees, as mentioned earlier, the one that you choose must be the most convenient payment option for you. For example, We will be choosing the 7-Eleven as our payment option because there's a nearby store.
We will be publishing an article totally focused on NBI Clearance Fee payment. But for now, we'll be skipping this.
The same NBI Reference Number will also be use when processing your NBI Clearance when you visit your chosen branch from your scheduled NBI Appointment
Common Questions about NBI Clearance Appointment
QUESTION: What if I missed my schedule in NBI Clearance?
You can still go the next day and process your application. Your Reference Number for the application have an expiration of fifteen (15) days including the weekends.
QUESTION: I have set an appointment and paid it, can I go one or several days earlier?
Let me just expand this question for better explanation. Say for example, I set an appointment on January 15, 2020. The question is can I go earlier, let's say January 5, 2020 or January 14, 2020?
The straight forward answer is NO.
The reason behind this is the National Bureau of Investigation implemented the automation and appointment system of NBI Application due minimize and manage the volume of applicants. Everyday, an NBI Branch has a quota or maximum number of applicants that it can cater to avoid the long queue lines and backlogs.
If you go early, you will be contributing to the unexpected volume of applicants. This is the same reason why walk in NBI Clearance applicants are not entertain.
Plus, an appointment is a formal arrangement between you (as an applicant) and the NBI to meet or visit at a particular time and place.
QUESTION: Can I go to an NBI Branch different from my scheduled NBI Clearance Appointment?
I'm expanding this question for better explanation. So for example, I have set an appointment in NBI Main Building located at Taft Avenue. My appointment is confirmed meaning I already paid it. But then I decided that I want to process this in Quezon City Hall, is this practice allowed?
The straight forward answer is NO.
Again, you may read my answer explanation to the above question.
You may be interested in reading our latest tutorial about NBI Renewal (published January 2022).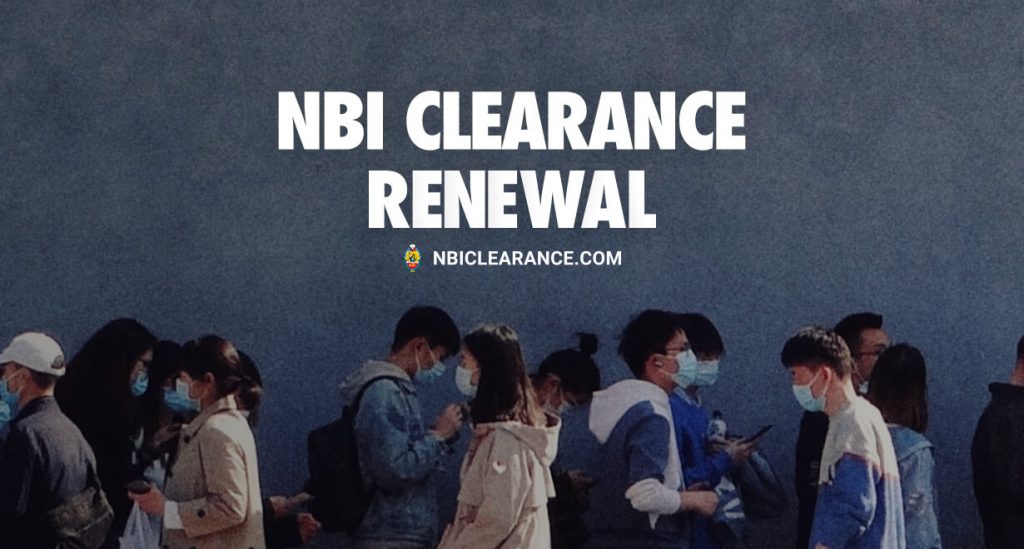 Conclusion on NBI Appointment
So after reading the entire tutorial about the NBI Clearance Online Appointment, have you noticed the important parts of the article? If not, let me give you a recap.
To set an NBI Online Schedule, you must do these.
You need to log in to your account. If you don't have one, sign up!
Click the "APPLY FOR CLEARANCE" button to start scheduling your appointment
Select the most convenient NBI Branch, Time and Date
Pay your NBI Clearance Fee to your chosen Payment Option
Have you also noticed that the entire process that we've discussed above is more like or the same as the NBI renewal process?
We have covered mostly every angle of the NBI Online Appointments. Did you find it helpful? Is there something missing or you might want to add something to this post?
Don't hesitate to leave a comment down below. We highly encourage our readers to ask us questions. We have an active community of (helpful) readers that are willing to reply to each comment every once in a while.