One of the most sought after Valid ID in the Philippines is NBI Clearance. Well, what's not to like about it? It's easy to get one, it has few requirements when getting one and its cheaper compared to Philippine Passport.
Due to the high demand of NBI Clearance Online, people start faking it. You'll see lot of them at the side street of Recto. The place is considered to be the black market of fake documents in the Philippines.
While walking along the street of Recto, just under the LRT railway, you'll see several displays of their work. From fake diploma, birth certificate, Employment ID and even NBI Clearance which appear to be issued by the legitimate NBI Clearance Online website but (trust me) its not.
No matter how frequent the authorities get to raid the establishment, they just disappear for a while and (sure) will come back the other day. I don't know how they do it but i bet its already a big industry which established itself that even our Government can't do anything about it.
The dilemma now starts when you're on the other side of the fence. What if you're an employer and the person you've hired handed you an NBI Clearance as one of his pre employment requirement? Will you doubt its authenticity or will you just accept it without hesitation? What if you hired a wanted criminal? A thief? or worst, a murderer?
Not to discriminate but you don't want to have that in your business. It's risky. Plus, you how you can trust someone with your business who lied from you in the first place?
Forged NBI Clearances are very rampant these days? I have no idea why people are still patronizing it but if (in my opinion) I was given a fake NBI Clearance by one of my employee, I would totally fire them for falsifying Government document. Plus, they betrayed my trust.
I think one reason is people are still availing the fake NBI Clearance is because they have something to hide. Something that their employer don't want to find out? Another reason is people don't have the time to go through the entire process. Especially if the person knows that he/she does have a HIT and it will take them ten working days before he get one.
However, forged NBI clearances had been rampant these days. And for a potential applicant to resort to counterfeiting probably has something to hide. Not to mention that forgery is illegal and considered as a 'Crime Against Public Interest.'
Please bear in mind that forgery is illegal and considered as a crime in the Philippines. You can get imprisoned with that!
So how do we deal with this problem? Easy, we just verify the authenticity of the NBI Clearance Online. But how?
Let's take a walk and discuss how its done!
How to Verify an NBI Clearance
To verify if an NBI Clearance is authentic and valid, we need the hard copy of the NBI Clearance we're trying to verify.
Now, go to the official website of NBI Clearance through your favorite internet browser. If you don't know, its nbi-clearance.com.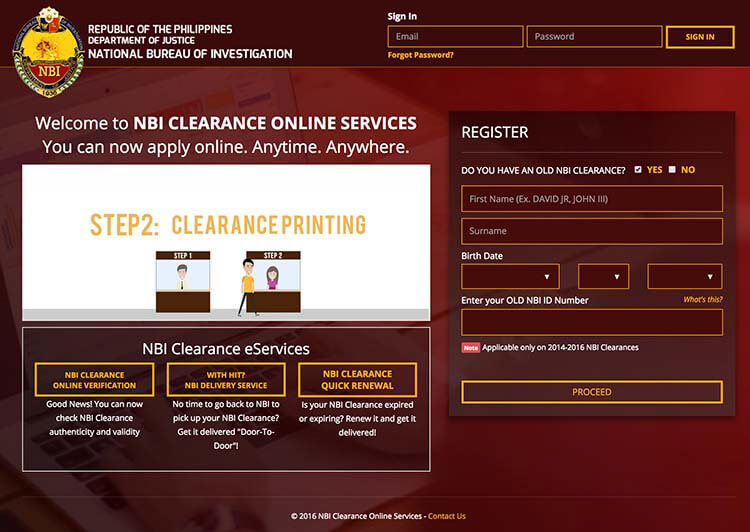 Once we arrived at the home page of NBI Clearance Online, at the bottom left of your screen, find the "NBI CLEARANCE ONLINE VERIFICATION". See image below for reference. Click the button to proceed with the verification!

You have two option on how to verify the authenticity of the NBI Clearance. It's either you enter manually the NBI ID Number or you scan the QR Code found which is both found in the hard copy of the NBI Clearance.
Note: There's also a new feature offered by NBI. It is the NBI Clearance Quick Renewal and Delivery. This means that you can just apply for a renewal of your NBI Clearance, pay the NBI Clearance Fee and wait for it to be delivered. You can read more about it here: https://www.nbiclearance.org/nbi-clearance-quick-renewal/
I prefer manually typing in the NBI ID Number because sometimes the "SCAN QR Code" doesn't work very well.

After typing in the NBI Clearance ID Number, click the verify button to (finally) see if the NBI Clearance you have is authentic or not.
For the sake of this tutorial, I won't disclose any personal information. I have edited the image below to protect the privacy of the owner of the NBI ClearanceI've verified.
Anyway, if the NBI Clearance is valid or authentic, the same window will show you the image below.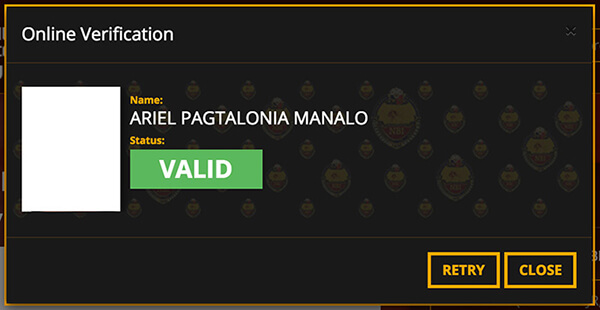 The image above shows you the complete name of the owner of the NBI Clearance and if it's valid.
If the NBI Clearance is not, it will prompt you saying these messages:
The system cannot find the given NBI ID Number
It is very important to verify the authenticity of the NBI Online Clearance. As the old saying says, "Prevention is better than cure.". Imagine if someone you're handing your trust will deceive you? So before making a big decision, have it verified first to save yourself from troubles in the near future.
You may want to read: NBI Renewal in 7 EASY Steps [COMPREHENSIVE GUIDE!]
Help us spread the news and share this post to inform everyone about the verification process. You may leave your question or any comments about NBI Clearance. We're looking forward hearing from you! Thank you and see you in my next blog tutorial!