Clearance NBI.GOV.COM.PH — Ladies and gentlemen, Are you tired of being mistaken for a criminal at every turn? Want to prove to the world (or at least the Philippines or even your potential employer) that you're a law-abiding citizen? Look no further than the National Bureau of Investigation's NBI clearance! It's like a badge of honor for the not-so-nefarious among us. And the best part is, it's super easy to apply for. So put down that "Most Wanted" poster and let's get started on your application!

The NBI Clearance is a government issued document that proves you have no criminal record and is a requirement for many things in the Philippines, including getting you a job (majority of the company requires it!), applying for a passport, and even opening an account with the local bank.
And guess what? Applying for one is easier than you think! So, let's get started on your path to becoming a law-abiding citizen and say goodbye to those pesky background checks.
The process of applying for an NBI Online has been made easier and more convenient in recent years through the use of the NBI Clearance Online Appointment System. Here is a step-by-step guide on how to apply for an NBI Clearance online:
Clearance NBI.GOV.COM.PH Online Account Registration
The registration of Clearance NBI.GOV.COM.PH Account is really simple process that typically involves providing some basic personal information and creating a username and password.
Registering for an NBI Clearance Online is a quick and easy process that can be done in just a few simple steps.
Here are the simple steps to follow when registering an account for Clearance NBI.GOV.COM.PH Online:
STEP 1. Visit the official website of NBI Clearance which is https://clearance.nbi.gov.ph/
STEP 2. Fill Out NBI Clearance Application Form. You can find the registration form at the right side of your screen (if you are using a laptop/desktop) and at the mid bottom if you are using your mobile device (just scroll down!).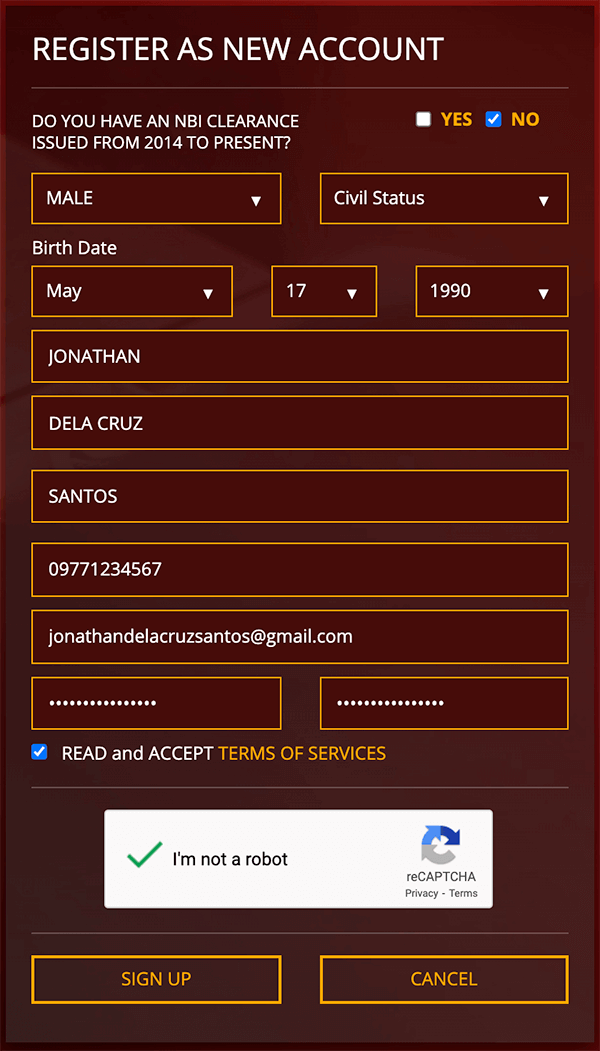 Enter correct all the required personal information being asked. These includes your gender, civil status, Date of Birth, First Name, Middle Name and Last Name, your mobile number, email address and make sure to nominate a secure password.
Tick the check box before the text that says "READ and ACCEPT TERMS OF SERVICES".
Now, press the sign up button to submit your registration application.
STEP 3. After submitting your NBI Registration application, you will receive an OTP (one-time password). This OTP will be sent to your mobile number you have entered in the registration as well as your email address. So make sure that you have decent mobile signal to be able to receive it.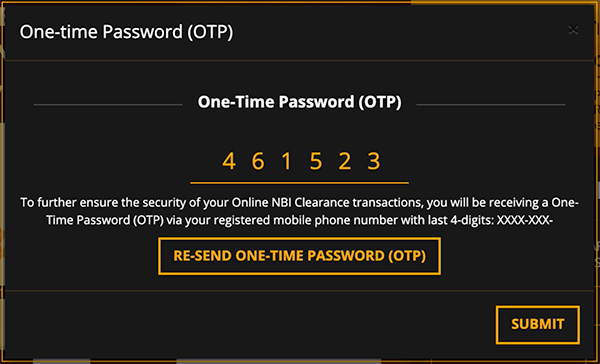 Enter the one-time password you have received in the space provided by the Clearance NBI.GOV.COM.PH website and press submit!
If successful, you will see this small pop out window that your registration application is submitted and you are already registered.

This means that you will now be able to log in to your NBI Online account through the WWW.NBI Clearance.GOV.COM.PH Log In and will be able to start the second process which is the NBI Online appointment scheduling.
NBI Clearance Online Appointment Scheduling
Booking a schedule in NBI Clearance can be a daunting task, but with the right tools and enough knowledge, it can be a breeze. One of the most convenient and user-friendly ways to schedule an appointment with NBI Clearance is through their clearance.nbi.gov.ph appointment online portal. These applications make it easy to find the schedule to all applicants. Here's how to use the scheduling application of NBI Clearance Website:
STEP 1. Log in to your account using your registered email address and password.

STEP 2. If this is your first time to log in to your account, you will encounter this form. If this is not your first time logging in, you may skip this part and move to STEP 3.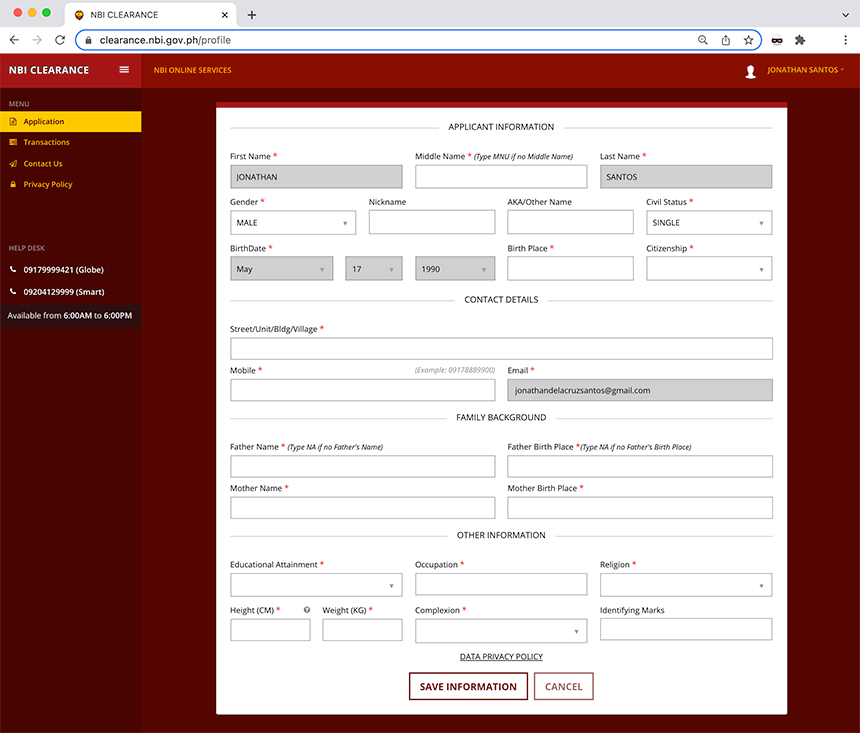 This simply means that you have to complete all the missing personal information for your www.nbi clearance.gov.ph application form. This part is easy because you just need to type in your personal information.
Press the SAVE INFORMATION button to submit your completed application form.
STEP 3. Since we are already done with the NBI Online Registration, now is the time that you will schedule your appointment with NBI Clearance. Find the "APPLY FOR CLEARANCE" button. It's usually located at the right side of your screen.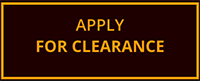 Press the button and it will show you a small pop out window asking for your Valid ID.
In the window shown to you, select from the dropdown list of your available valid ID. If you are unfamiliar what valid IDs are accepted in apply NBI Clearance, we have written a separate tutorial about this (NBI Clearance Requirements 2023).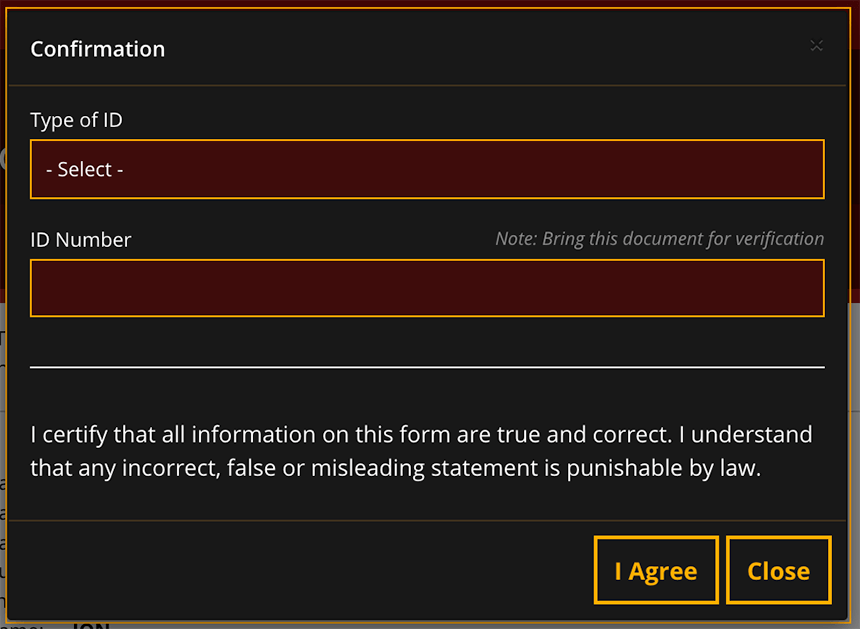 Press the "I Agree" button if you have selected the valid ID you are presenting when processing your NBI Clearance
STEP 4. Right after the steps above, you will be directed to the clearance.nbi.gov.ph appointment schedule portal where you can select the NBI Branch you prefer, the date and time (AM or PM) and the payment option you want in paying your NBI Clearance Fees.

First thing to do is to select the NBI Branch, from the drop down list, select the NBI Branch that is convenient to you.
I always select the NBI branch which is near to me to avoid heavy traffic and long hours of commute.

STEP 5. Once you have selected the NBI Branch, the available slots for the upcoming days will be shown to you. Select the blue boxes respective to the date you are willing to go to the NBI Clearance Branch to process your NBI Clearance.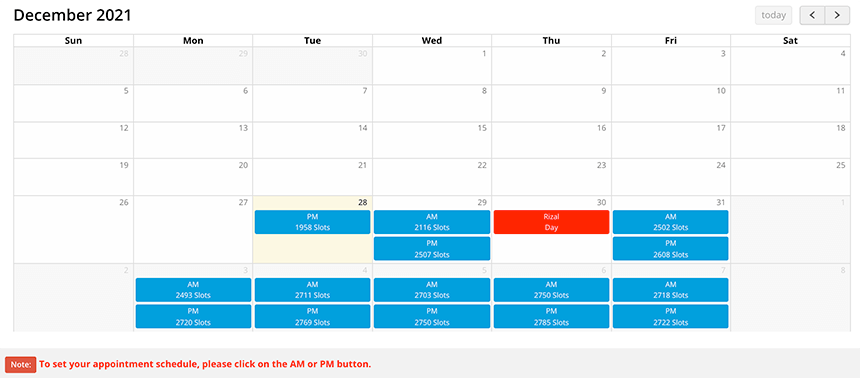 Please note that there is no specific time you have to select. The only choices are AM (Morning) or PM (Afternoon).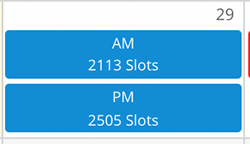 After you have selected your NBI Branch and www.nbi.gov.ph online appointment 2023, you will now move to the next steps where you have to pay for the NBI Clearance fees.
NBI Clearance Online Payment of Fees
Paying your NBI Clearance Fees has never been more fun! With the advent of payment portals such as GCASH and Maya, you can now say goodbye to long lines and say hello to the convenience of paying online. You can do it all with just a few clicks of a button. So, if you're ready to elevate your payment game, here's how to use payment portal integrated to the NBI Clearance.gov.ph website,
STEP 1. To pay for the fees, you can choose for the wide selection of payment options readily available at the www.nbi.gov.ph online. Here's a screenshot of the complete list!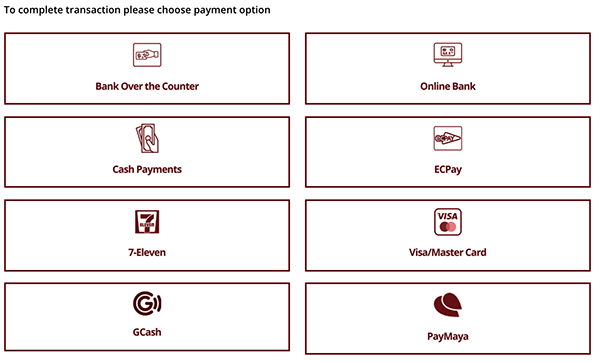 For this tutorial, I will choose GCash as my payment option since I'm very familiar using it. You may choose what ever you want and convenient for you!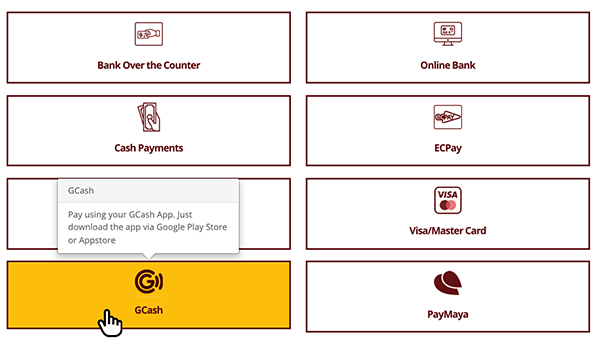 The Transaction Summary will be shown to you. Please review it to ensure that your NBI Online Appointment details are correct.
Push the "Proceed to Payment" button.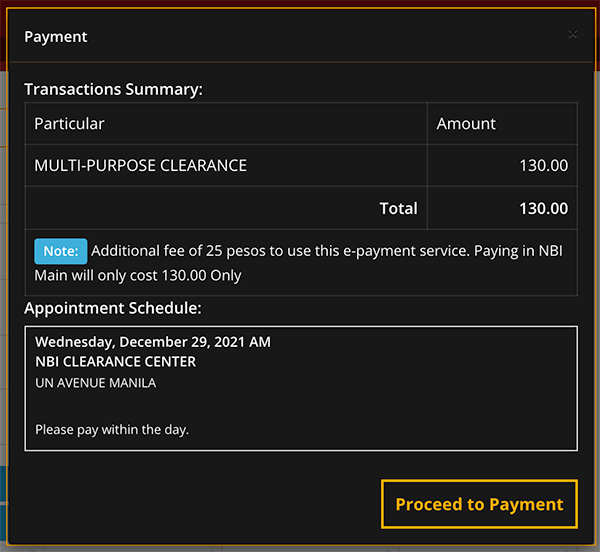 The NBI Clearance Online Payment Reference Number. Take note of this because you will use the reference number in GCASH Payment.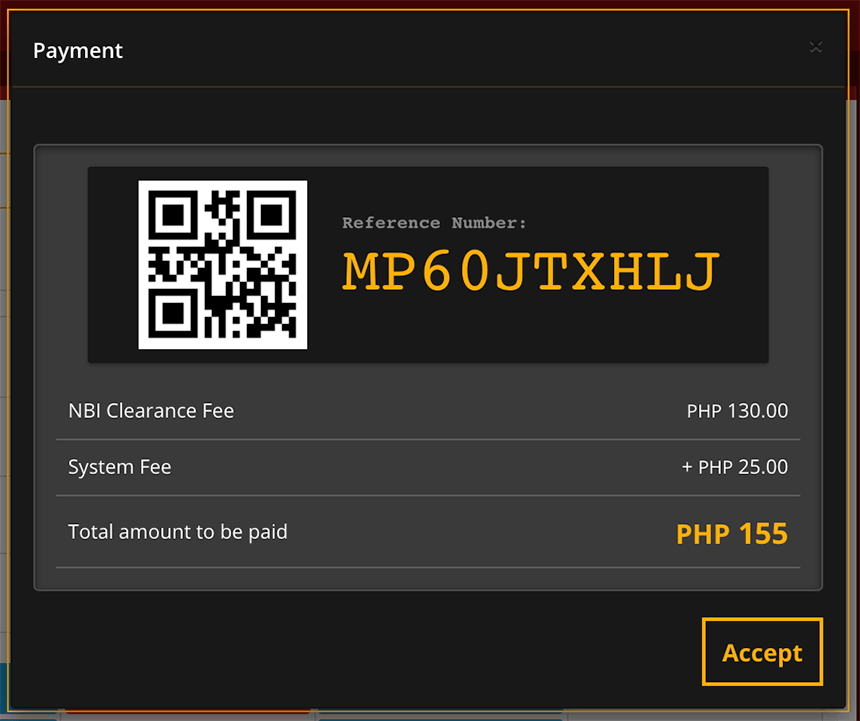 Again, take note of the Reference Number shown because you will also use this when processing your NBI Clearance in the Branch. You need to show it to the NBI Clearance Staff. Also, take a screenshot of the receipt from GCASH as proof of your payment.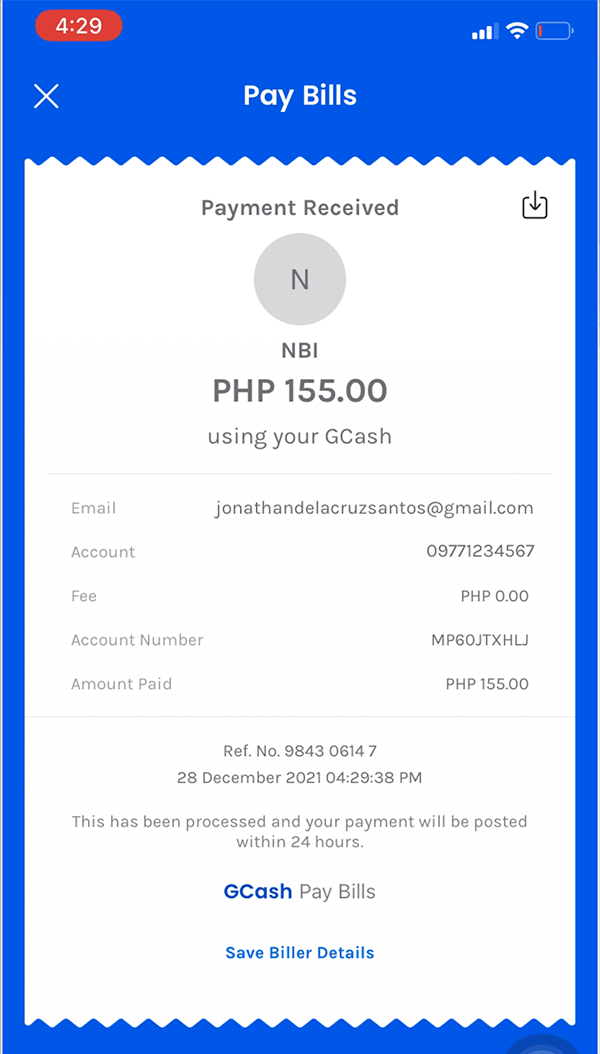 Here's a detailed tutorial on How To Pay Your NBI Clearance Fee Application In Your GCash
The payment of your fees will confirm your appointment. Non payment of your NBI Clearance Fee means that your appointment is not scheduled and unconfirmed.
NBI Clearance Processing
Obtaining an NBI clearance is like going on a mini adventure, accompanied by several processes like fingerprints, photo captures, and the ultimate prize of a shiny new NBI Clearance. It may sound daunting, but with the right attitude and a little bit of patience, it can be a breeze. On this part of the tutorial, I'll take you through what you need to do and what to expect when processing your NBI Clearance in the Branch..
STEP 1. On the day of your appointment date, go to the NBI Branch you have selected for your appointment.
STEP 2. Bring all the requirements! Make sure to bring a copy or screenshot of your NBI Clearance Fee payment, your NBI Clearance Reference Number and two (2) valid IDs.
STEP 3. Head down directly to the Biometrics section where you will have your fingerprints scanned and photo taken. This is where the fun begins, you'll get to have your fingerprints and photo taken. Think of it as your passport to the NBI clearance world.
STEP 4. After the photo capture and fingerprint scanning, it's time to sit back and relax. The NBI clearance staff will work their magic and process all the information you've provided. Make sure to double check your information you have written is correct. Don't worry, you will be asked by the NBI Clearance Staff to check it through the monitor shown to you. If there's an error, you can easily ask the staff to modify it.
STEP 5. Once the processing is done, it's time for the release. This is where you'll finally get your hands on that shiny new clearance. Think of it as the NBI clearance treasure chest that you've been searching for. Congratulation, you have now your own NBI Clearance!
So there you have it, the step-by-step guide on how to apply for your NBI clearance. Don't let the process intimidate you, it's simple and straightforward. Remember to gather all the necessary documents, submit your NBI Clearance Online application accurately, and pay the required fee. And most importantly, don't forget to bring a valid ID (which we already have enumerated earlier). So go ahead, take action, and get your NBI clearance now! Don't wait, do it today and make sure you're ready for any opportunities that come your way. Trust us, it's worth it. Thanks for tuning in and we'll see you next time.