NBI Online Registration — We've been through a lot of tutorials about this topic but we can't get enough o people asking for help. One of the article we have written before is the [UPDATED GUIDE] How to Apply NBI Clearance Online.
But still, here are we! Still writing the same guide to help the public with their concerns on what really is the NBI Online Registration process.
Though we have said it a dozen of times, NBI Online is easy and convenient for all of us.
The thing is, if you can spend several hours of scrolling your mobile phones on your favorite social networking sites, I'm sure you can do the NBI Online registration.
If you are one of the thousands of people who want to get an NBI Online registration, you are lucky that you choose our website because we can teach you easily.
Our only request is that you read this article carefully so that we can guide you through the entire process of NBI Online Registration.
Before we begin this tutorial, let me first explain what is really NBI Online Registration.
The NBI Online Registration is the process that every applicant who wants to get their NBI clearance should do. NBI Online Registration is suitable for any application client such as NBI Renewal or even for the first time applicants.
All NBI Clearance are provided to all qualified FILIPINO and Foreigners who currently reside in the Philippines.
Before the NBI Online applicant gets his or her NBI Clearance, he / she is required to submit all the relevant documents or NBI Requirements to verify his or her identity.
All applicants are also required to present two government issued identification cards as proof of identity.
Every applicant must be 18 years old and above to be allowed to obtain NBI Clearance.
Failure to comply with the aforementioned reminders in the preceding paragraphs shall not be provided with the services offered by the NBI clearance branch.
So if you are missing, do not have or don't have enough government issued valid id for your NBI Online registration. There is a good chance that you will not be accommodated or let you get inside premises of the NBI Branch to process your NBI Clearance Online for 2023.
I'm a bit lost on my goal to teach all of you how to do this (NBI Online Registration) because of writing several reminders, I wish you hadn't been bored. But don't worry, we will start the tutorial on how to Online Registration immediately!
How to Apply NBI Online Registration
As I promised, here is the tutorial for our beloved NBI Online registration. I repeat and remind everyone to read the instructions below carefully to make your experience of applying your NBI clearance effective, safe and clear.
If you have any questions to read, please leave your comments in the comment section (down below) and we will answer them as soon as possible.
Before we begin it, it is best to split each parts to make it easier to navigate.
You can jump from one step to another if you already know it using the links related to NBI Online.
The steps for applying for NBI Clearance Online are as follows:
NBI Online Website
The NBI Clearance website is designated by the NBI agency to collect data on all those who wish to apply for NBI clearance. This website also oversees all the NBI online appointments of all applicants to facilitate the flow of people in each branch and to avoid over crowding.
READ THE TUTORIAL ABOUT CLEARANCE.NBI.GOV.PH REGISTRATION
First Time Job Seekers
If you are a first time job seeker applicant, (meaning) that you are first time applicant for an NBI Clearance because you are a new graduate either from high school, college or under graduate who seeks and want to get your first job. You are entitled to the first time applicant republic act where the NBI Clearance fees are waived.
To avail this service, you must visit this link (https://firsttimejobseekers.nbi.gov.ph/).
You need to fill up the Registration form shown in the image below.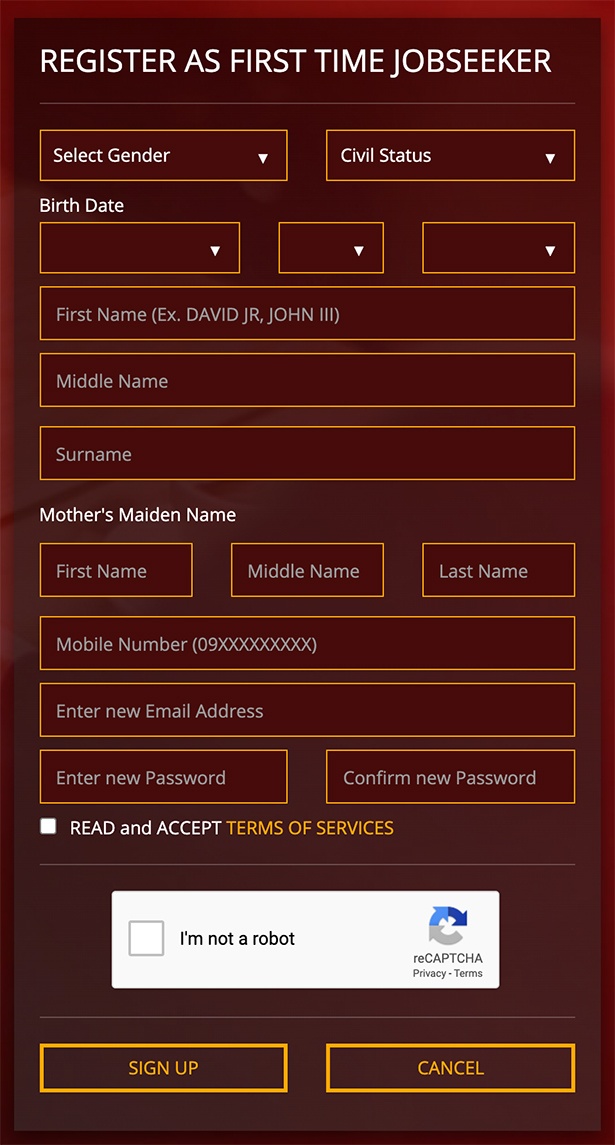 NBI Online Renewal or NEW Application
If you are an NBI Renewal Applicant or New Application, you can go to this website: https://clearance.nbi.gov.ph/
Note that we have mentioned the process of NBI Online Renewal in our previous articles here in our website.
For those who do not have an NBI Online Account, on the right you will find the NBI Online Registration Application form.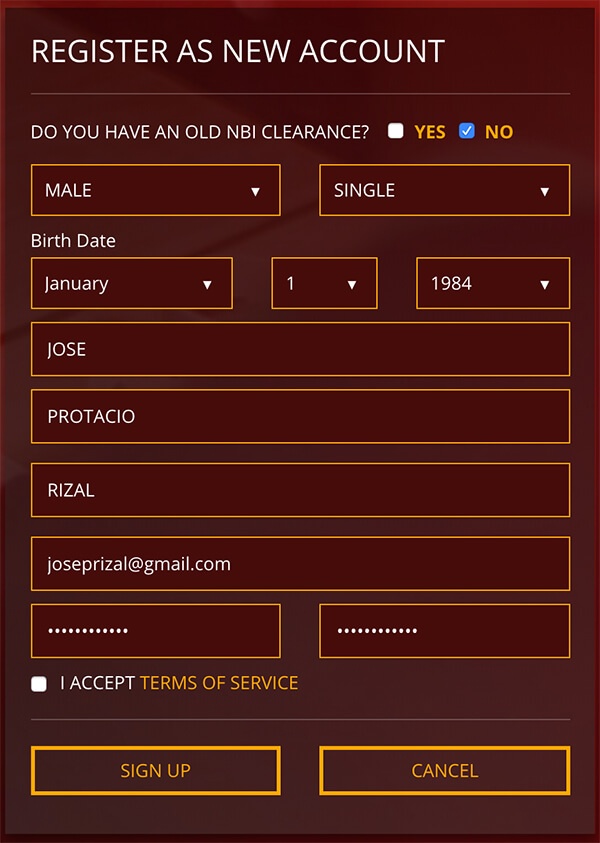 If you already have an NBI Online account, you can use the NBI Online login to your account with your email address you previously used and your nominated password.

If you have forgotten your password, you can use the "Forgot Password" feature of the website. While you may have forgotten your email address, the fastest thing you can do is create a new NBI Online account.
Just fill out the NBI Online Registration form we display.
Enter all required personal information and tick the "I am not a robot" captcha as well as a check box that says "Read and Accept Terms of Services".
I accept the Terms of Services by clicking the "Agree" button.
After that, just hit the "Sign Up" button.
NBI OTP or NBI One Time Password
Wait for the NBI One Time Password (OTP) message that the NBI Online Website will send to your mobile phone.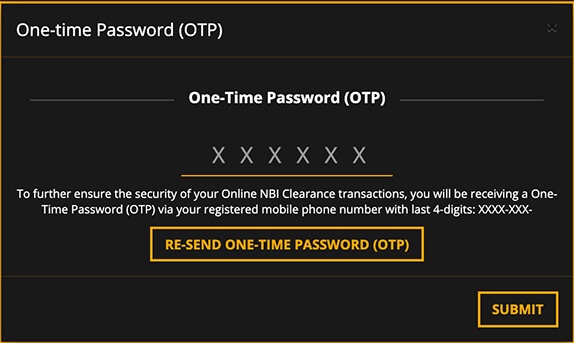 Enter the six numbers mentioned in the text message and click Submit.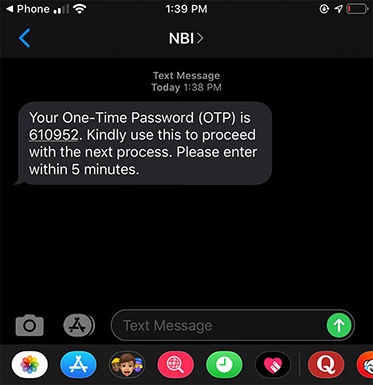 You can click the "Resend One-Time Password (OTP)" button if you do not receive the text message from the NBI Online Website to send you a new one.
NBI Online Registration Application Form
After completing the steps above, all you need to do is fill out the NBI Online Registration Application Form.
If you are successful in entering the NBI Online OTP, you will see a small pop up window saying you are successful in creating your account.
The next step is to log in to your account using your email address and password.

You will be taken to the Dashboard of your account where you will find the NBI Online Application form.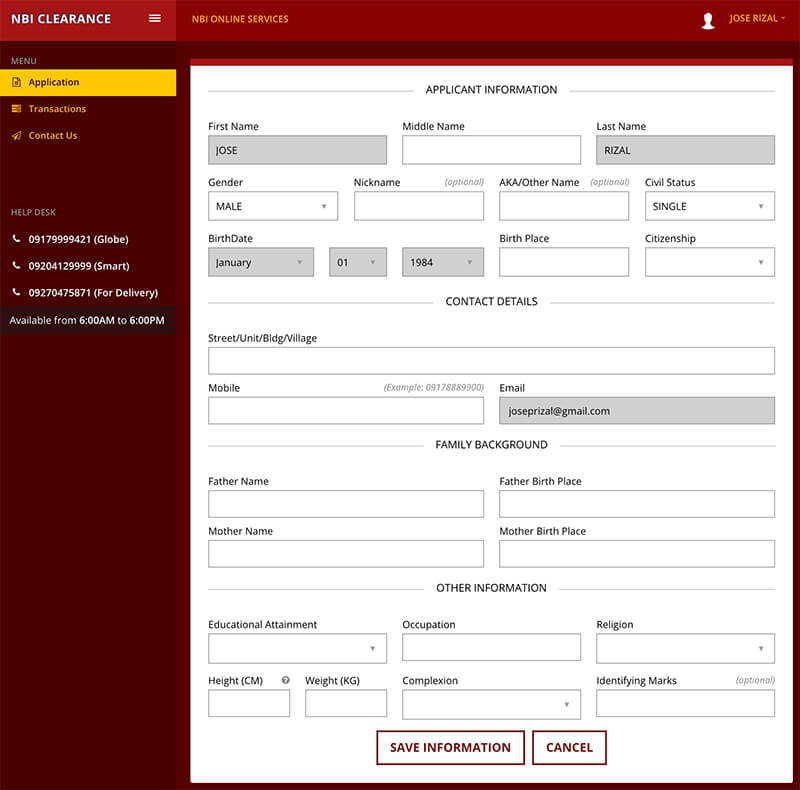 The NBI Online application form you will see is not yet finished. There are additional personal information you need to write down so you can start scheduling your NBI appointment.
Again, write down all the required personal information on the NBI Online Registration form.
These personal details needed are as follows:
Middle Name – if not available, please type MNU which means Middle Name Unknown
Nickname
AKA/Other Name
Civil Status (if you want to change it)
Birth Place
Citizenship
Your Address – following this format Street / Unit / Bldg / Village
Your Mobile Number
Father's Name
Father's Birth Place
Mother's Name
Mother's Birth Place
Educational Attainment
Occupation
Religion
Height in centimeters
Weight in Kilograms
Complexion
Identifying Marks
Please take note that all personal information that you've written on your NBI Online Registration Application Form will reflect your actual NBI Clearance so just make sure all of them are correct.
In case you made an error or mistake in writing your personal information, you can still edit it using the "EDIT" button after you have clicked the saved button.
The only ones that are not allowed to edit on the NBI Online Website are your Complete Name (First and Last name), your Birth Date and the email address you used.
All personal information that you have written may be edited or exchanged except as noted.
After finishing the NBI Online Application Form, click the Save Information button at the lowest part of the form.

After you save it, a pop up window will appear showing all the personal information you have entered on the NBI Online Registration Application Form.
Please double check all of them to avoid the wrong details.
Now you are done with the NBI Online Registration Application Form. You can go to the next step.
NBI Online Appointment
The NBI Online Appointment, as we mentioned in the previous paragraphs, is one way to make our NBI Clearance Online easier to apply.
To continue our process of applying for NBI Clearance, we will go to the step where each applicant is required to schedule an appointment with NBI Online before going to the NBI branch.
To do this, simply click the button that says "APPLY FOR CLEARANCE" which you will see on the right if you're using your desktop or laptop.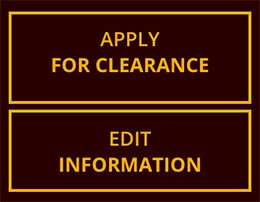 After pressing the said button, a confirmation window will appear asking you what type of ID and ID number you will present when applying NBI Online.
Just press the "I Agree" button to continue the NBI Online process.
A window will appear again mentioning some import reminders. You may read it or not. Click the "Close" button after reading.
From the long list of NBI Branches, select one using the drop down arrow. It is best to choose the closest and most convenient NBI Online Branch from where you currently live.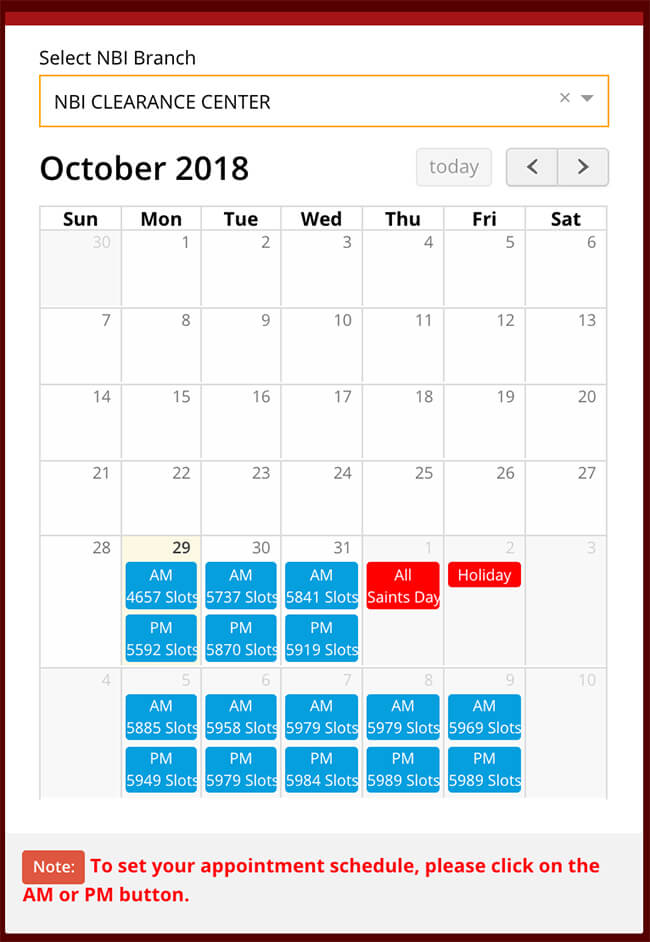 After choosing the NBI Branch, its time for you to choose the day and what time you should go to the NBI Branch.
In the calendar displayed on the NBI Online website, you can choose your preferred day. All dates highlighted or colored in blue are available. In one day, there are two slots to choose from. This is the AM or PM. Just choose the time you have the ability to go to the branch.
Payment of NBI Online Registration
After you have set the schedule for your NBI Online Application, you can choose which payment method you want.
You have six payment method options to choose from, these are the following.
Bank over the Counter
Online Bank
Payment Center Outlets
Pay Center Mobile App
ECPay
7-Eleven
From the above options, just choose the payment option that you know will be easy and convenient for you.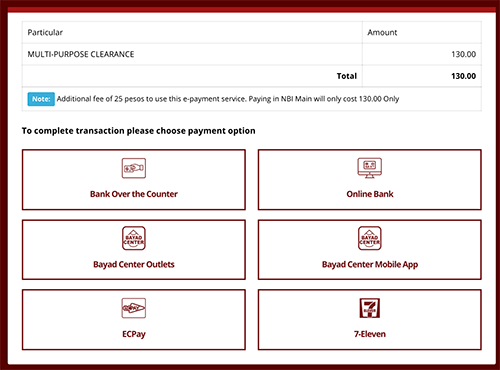 If I were to ask, the easiest and fastest would be to pay NBI Clearance Fees at 7-Eleven.
But you can also choose Bayad Center because of its many branches spread throughout the country.
If your bank has the capability to pay NBI Clearance Online through their website or mobile app, it's a good idea to use it. Since you don't have to leave your home. Just make sure to check with your bank if they allow NBI Online payments using their facility.
You can also use the Bayad Center App if you have one.
Lastly and my least favorite, is to pay your NBI Clearance Fee by going to the bank. I do not recommend this because first and foremost, there are many people in the bank trying to do their own transactions. There are usually long queue lines.
Unlike Bayad center and 7-Eleven where customers or clients' payment are processed quickly.
Going back to our tutorial, just choose one of the six options mentioned.
Click the boxes containing the payment method selected. For this tutorial, our choice is 7-Eleven.
A small window will appear, just press "Proceed" button.
Another window will appear where it will show you your transaction summary and how much NBI Online Fee is.
Please note that this is not the final amount of the NBI Clearance Fee. This will change due to other charges.
Now, press the "Proceed to Payment" button to continue.
After the last button is pressed, another small window will appear showing your NBI Reference Number.
Please write it down or take a picture or screenshot.
This NBI Reference number will be used or will be presented when you pay at 7-Eleven or Payment Center. Please provide your NBI Reference Number to the cashier so that it can be encoded and processed.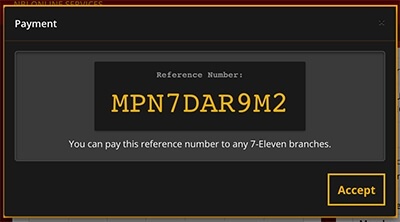 This is the final step in NBI Clearance Online after you pay your NBI Online Fee.
The next is the actual process of your NBI Clearance where you are required to go to the NBI Clearance Branch on the day and time of your choice.
Processing your NBI Online Application
This section is designed to discuss the most important part of the NBI Clearance Online Application.
Before you go to the NBI Clearance Branch of your choice, make sure you have two valid IDs and your NBI Reference Number.
If you do not have a Valid ID, you will not be allowed to the enter the gates of NBI. All applicants who doesn't have an NBI Reference Number are also not entertained because Walk In for NBI Clearance Application is prohibited.
Note that NBI Online Requirements must be presented.
You may be interested in reading: Can I Walk In For NBI Clearance Application
In this step, here we will experience the following activities:
Photo capture
Biometrics
Final Verification and Quality Control
and Releasing of NBI Clearance
For Photo Capture, just like any other normal Valid ID. You, as an applicant will stand in front of the camera to take your photo. This photo will be printed on your actual NBI Clearance. You have nothing to do here but to listen to the NBI Clearance Staff's instructions. Don't forget to at the camera!
You may be interested in reading our recently published tutorial in 2022 about the NBI Renewal.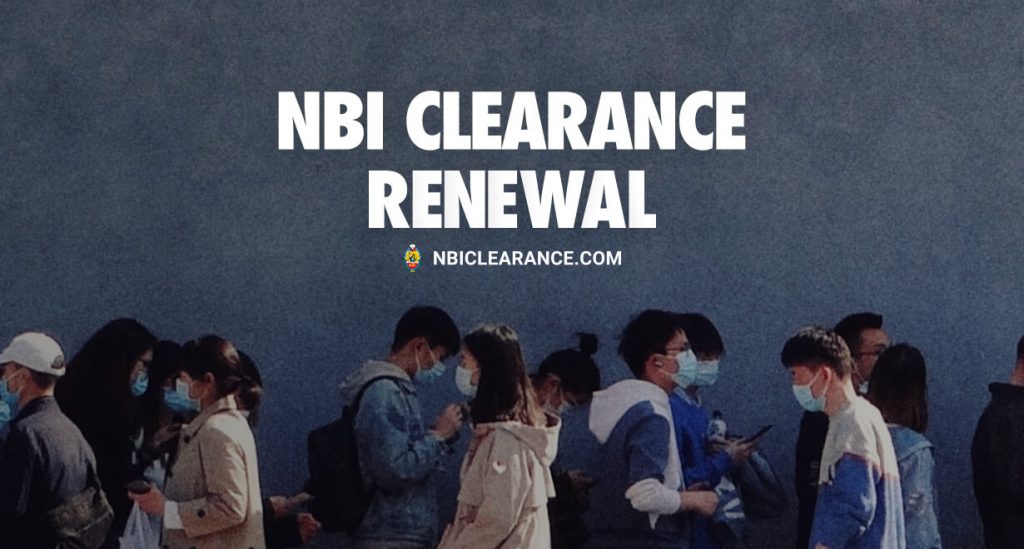 For Biometrics, you will be guided by the NBI Clearance Staff to get your finger prints. Your fingers will be placed on their finger print scanner and will be digitally mapped to be placed in their database.
For Final Verification, all of your written personal information on the NBI Online Website will be displayed on the NBI Clearance Staff's computer screen. Please double check every personal information.
If you find something wrong or want to change it, here's your chance. Just tell the NBI Clearance Staff what details you would like to change or correct and they will help you gladly.
Confirm that all the personal information encoded are correct so that it can be submitted and processed.
In this step, you will also know if you have HIT or None.
If you have HIT, the NBI Clearance Staff will tell you immediately and advise you to return someday to claim your NBI Clearance.
If you do not have HIT, you will be advised to go to the Releasing Section to claim the NBI Clearance printed.
For more details about the NBI Clearance Quality Control and HIT, you may read our previous article: NBI Clearance Quality Control.
Conclusion
Isn't it not that difficult to apply for NBI Clearance?
The only important thing is that you really need to know how to do the NBI Online Application so you will not be confused.
If you have any questions, you can leave a comment below and we'll answer them.