NBI Online Application — Do you want to know how to do an NBI Online Application? Lucky for you, this website might be the answer to all your NBI Clearance Online questions.
In this article, we'll cover every corners of your NBI Clearance application where any applicant will experience.
We have tackled the following topics below but we just want to be sure that you get it right to avoid any mistakes while doing your NBI Application. For your reference, we have listed down below the individual topics so you'll find it convenient in reading our article.
Actually, what we're discussing here is a summary of the topics or steps that we have written in the individual post listed above.
NBI Online Application
NBI Clearance Application shouldn't be that difficult. All you need is a decent internet connection and a mobile phone or desktop or laptop computer. You can do the application anytime and anywhere. It will only take a minimum of 15 minutes before you can submit your application.
Anyway, we won't keep this long. We want you to start immediately. For the first step, I want you to go to the https://clearance.nbi.gov.ph/ sign up website.
In your browser, type in clearance.nbi.gov.ph, just pick one. They're both the same and leads you to the NBI Clearance Online Application website.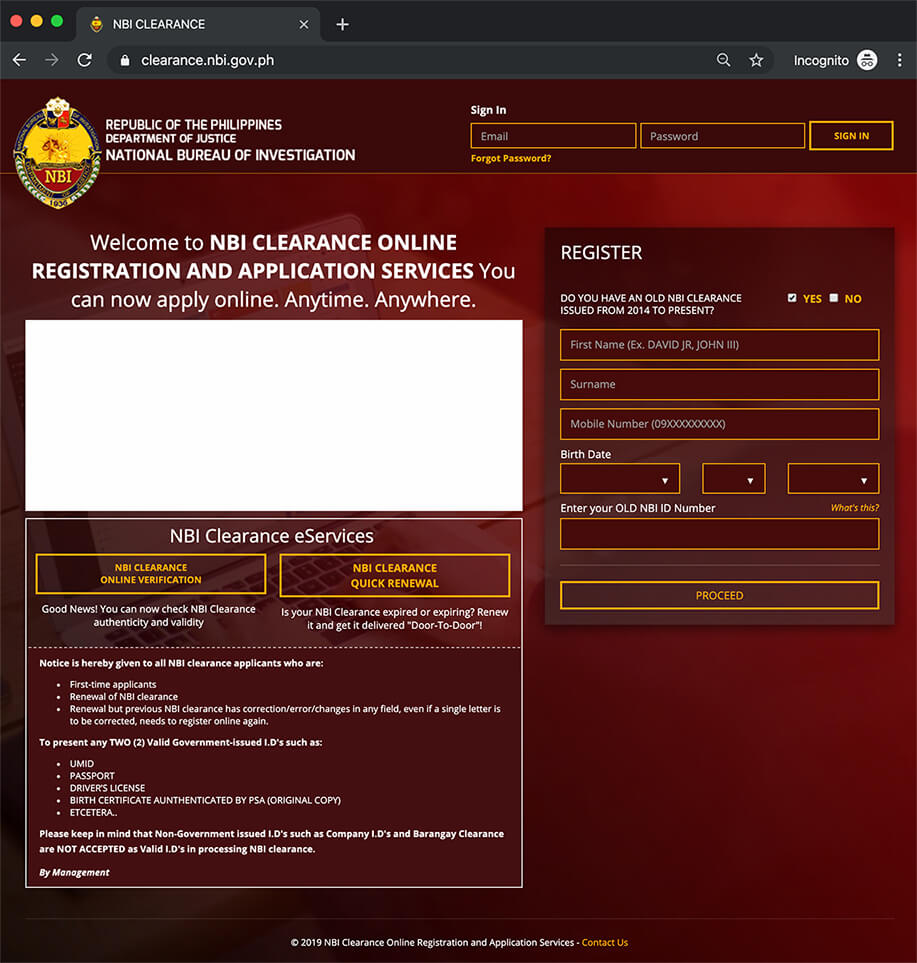 For those people who's asking if walk in application for NBI Clearance is allowed, you may wanna read this article.
Do you have an account already?
The website requires a registered account, if you don't have one yet then its best that you register first. To do that, fill up the registration form shown in the website. It looks like the image down below.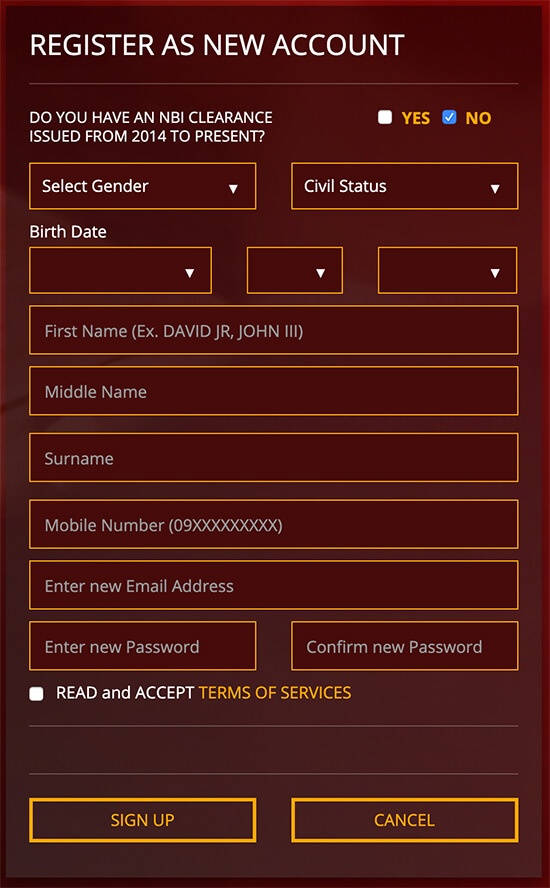 Enter all the required personal information to accomplish your application form. Tick the "Read and Accept the Terms of Services" checkbox and click the "SIGN UP" button to complete the registration.
Before it lets you register, it will send you a one time password to your mobile phone.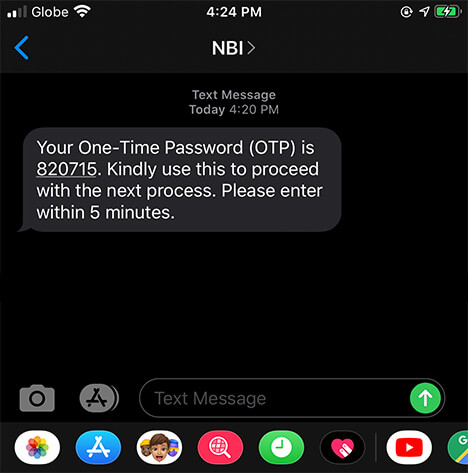 Enter correctly the One-Time Password provided to you to finish the registration. Yeah, the one that you just received in your mobile phone. So if you entered your mobile phone incorrectly, then you have to repeat the steps that you have taken above.
If your registration is successful, it will notify you by showing you a small pop out box saying "Your registration is successful". Unfortunately, we forgot to take a screenshot of this confirmation box. It will show up for a split seconds and will be gone. But don't worry, you'll notice it when it show up.
Fill up the NBI Clearance Application Form
You may be asking why are you doing this again, actually, you're not. This application form is the continuation of the required personal information in the NBI application form.
These additional information will be reflected in your printed NBI Clearance.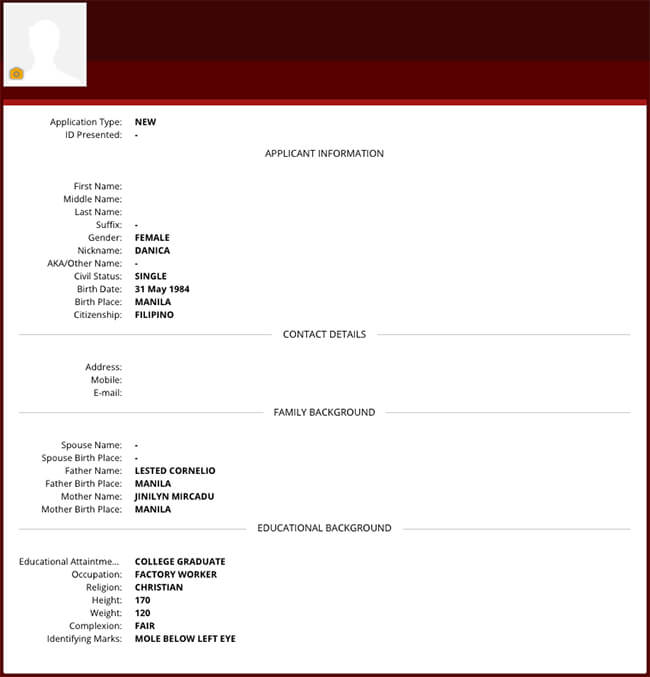 Enter the details listed below in their respective fields provided.
Middle Name – if not available, please type MNU which means Middle Name Unknown
Nickname
AKA/Other Name
Civil Status (if you want to change it)
Birth Place
Citizenship
Your Address – following this format Street / Unit / Bldg / Village
Your Mobile Number
Father's Name
Father's Birth Place
Mother's Name
Mother's Birth Place
Educational Attainment
Occupation
Religion
Height in centimeters
Weight in Kilograms
Complexion
Identifying Marks
Once you're finished, you may now proceed with the NBI Clearance Appointment by clicking the "APPLY FOR CLEARANCE" button.

NBI Clearance Online Application Schedule
Here's how you can schedule an appointment to process your NBI Clearance.
When you arrive at this page, you have four (4) task to do. The first one is select the NBI Branch you want to process your NBI Clearance. Our advice is to choose the most convenient branch for you. We have experienced a fast and convenient processing in NBI Main Building located at U.N ave corner Taft Ave.
Now scroll down and up using the arrow button to show the list of NBI Clearance Branches and select what you preferred.
The second and third task is to choose when and what time you will process your NBI application. This means that you will be choosing a date in the calendar of what's your preferred day. Each day is enclosed to a white box just like a regular calendar.
The next is to choose whether you're going to the branch in the morning or the afternoon. There are two (2) option for this, AM and PM. Just click the blue boxes shown in the calendar within the date you have chosen.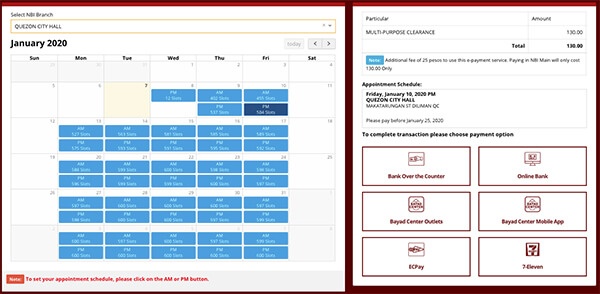 The last thing will be to choose the payment option. You know that NBI Clearance Application comes with a fee, right? Well if not, then it will cost you at around P155 plus service fee.
But before you select the payment option, make sure to do double check and verify the summary of your NBI Clearance Online Application. Its something like this:
Appointment Schedule:
Friday, January 10, 2020 PM
QUEZON CITY HALL
MAKATARUNGAN STREET, DILIMAN QC
Please pay before January 25, 2020
Back to the payment option, you have six (6) payment option to choose from:
7-Eleven
Bank Over the Counter
Online Banking
ECPay
Bayad Center Outlets
Bayad Center Mobile App
We usually recommend paying your NBI Clearance Fee at the nearest 7-Eleven because its hassle free. You just have to find a 7-Eleven equipped with Cliqq booth and you can pay your fees instantly!
Once you've selected the payment option, it will show you the summary again. Click the Proceed to Payment button to generate a Reference number to be used for payment.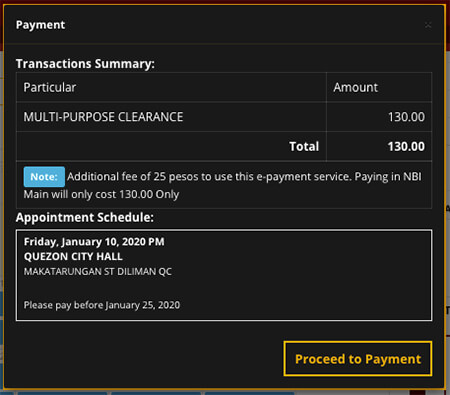 The NBI Reference Number looks like this: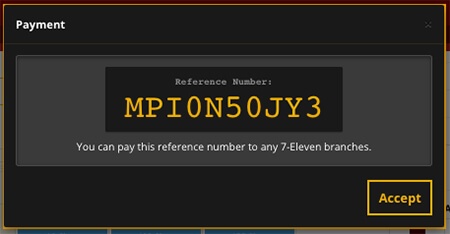 All you need to do is copy this and bring it to the 7-Eleven or whatever payment option you have chosen and pay it there.
After payment, all you need to do now is to wait for your schedule appointment for your NBI Clearance application.
Remember your schedule? Yes, even if you already paid your fees, it doesn't mean that you just just go to the branch and barge in to process your application. They will not entertain you and ask you to leave!
You can't process your NBI Clearance Application earlier than your scheduled NBI appointment!
When your appointment date arrives, make sure to go to the NBI Clearance on time. That is, if you scheduled an appointment in the morning you must go there in the morning. Not afternoon!
NBI Clearance Application Expectation
When you arrive in the NBI Branch, you should expect to do the following:
Photo Capture
Biometrics
Signing (Signature)
Final verification of your Personal Information
Possible Releasing
Possible HIT Status on your NBI Clearance
Photo Capture, Biometrics and Signature
The aforementioned activities will be instructed to you by the NBI Clearance Staff. He or she will guide you on how to do this especially the biometrics. It's a no brainer and all you need to do is just follow their instruction.
Final Verification of NBI Personal Information
Right after the things that you have done above, you will instructed to double check the personal information written on the screen. Make sure to check it for possible errors. If you found one, you an politely ask the NBI Staff to do the correction for you.
If you want to change any information written such as your Name (First, Middle or Last), you should present at least one valid ID showing the correct information.
NBI Clearance Releasing
Ideally, NBI Clearance will be released right after the final verification of NBI Personal Information. The staff will ask you to proceed to the Printing Area where all you need is to wait for your name to be called. This is the time where they will print your NBI Clearance and hand it over to you.
Congratulations! You succeeded in your NBI Clearance Online Application journey!
NBI HIT
We've already tackled this topic in our previous blog "YOU'VE BEEN HIT: REASONS WHY YOU CAN'T AFFORD A ONE DAY PROCESSING NBI CLEARANCE!" but for the sake of others who haven't read it, we'll be discussing this briefly.
There are time that you will be asked by the staff to return some other day to claim your NBI Clearance. They will mention that you have a "HIT" status and go back after ten (10) working days.
That is because you have a hit status wherein you have a namesake and further verification will be done before they release it.
Don't worry about it. All you have to do is to wait and return when the assigned or instructed date arrives.
Conclusion: NBI Clearance Online Application
We've noticed that several people are leaving comments in our blog that they find it hard to apply an NBI Clearance.
I have no idea what they're talking about, because the truth is the entire application is really easy!
Many people asks these question most of the time:
What should I do?
How to apply NBI Clearance?
How to Apply NBI Clearance Renewal Online?
Where is nbi.gov.ph Online Application Login?
How to do an https://clearance.nbi.gov.ph/ sign up?
What is NBI Renewal?
To be honest, these questions can be answered if they just read the article. They won't miss anything. All they have to do is just read! They can find the answers.
We don't discourage readers asking questions or leaving a comment but its better for us reading a valid question and answering it than replying to an obvious question that can be answered by just reading the article for a few minutes.
This article is all about the following topics:
NBI Clearance Application
NBI Online Application
NBI Clearance Application
NBI Clearance Renewal Online Application
NBI Clearance Online Application
We hope you find it helpful. Leave a comment down below for any concerns you have and we're more that willing to help!
Have a hassle free NBI Clearance Online Application experience!