NBI Clearance Quick Renewal — Today, we're going to discuss the NBI Clearance Quick Renewal. A new feature added in NBI Clearance website where the applicant of NBI Clearance can just request it online and wait for it to be delivered at the specified home address.
Announcement! The NBI Clearance Quick Renewal feature of the website is TEMPORARILY UNAVAILABLE for unknown reasons. You may continue using the website and have your NBI Online Registration.

To all applicants, you may try the NBI Renewal process.

www.nbiclearance.org/nbi-clearance-online-updated
You've heard it right. The NBI Clearance will be delivered to your doorsteps. No more personal appearance. No more queue lines. No more PhotoCapture and Biometrics. Nadah! All you have to do is wait!
The drawback about this thing NBI Clearance Quick Renewal is its not available to all. That means, NEW Applicants of NBI Clearance are not allowed to avail this service.
The Quick Renewal of NBI Clearance Online is only available to all applicants who have their own NBI Clearance issued between 2014 to present AND to those NBI Clearance ID Numbers can be found in the website.
Unfortunately, missing NBI Clearance ID numbers can't avail this service.
Another disadvantage of this service is its much more expensive because it includes delivery fee. Unlike the conventional method of NBI Clearance Renewal which only costs you P170.
Before we start our tutorial, I need to inform everyone that the process of NBI Clearance Quick Renewal won't work if you don't have your NBI ID No.
The NBI ID No. is vital to NBI Clearance Quick Renewal because it will be used to pull your NBI Clearance from the Database of NBI to facilitate your application. There's no way you can't proceed with the steps in NBI Clearance Quick Renewal if you don't have your NBI ID No.
Below is the sample of an NBI Clearance showing where to find the NBI ID No. that you can use when applying for NBI Clearance Quick Renewal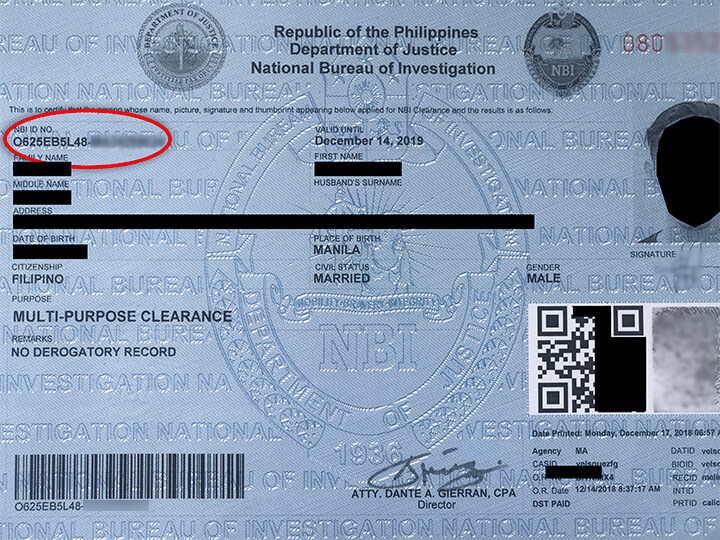 How to apply for NBI Clearance Quick Renewal
Visit the official website of NBI Clearance (https://clearance.nbi.gov.ph) and locate the button for NBI Clearance Quick Renewal feature.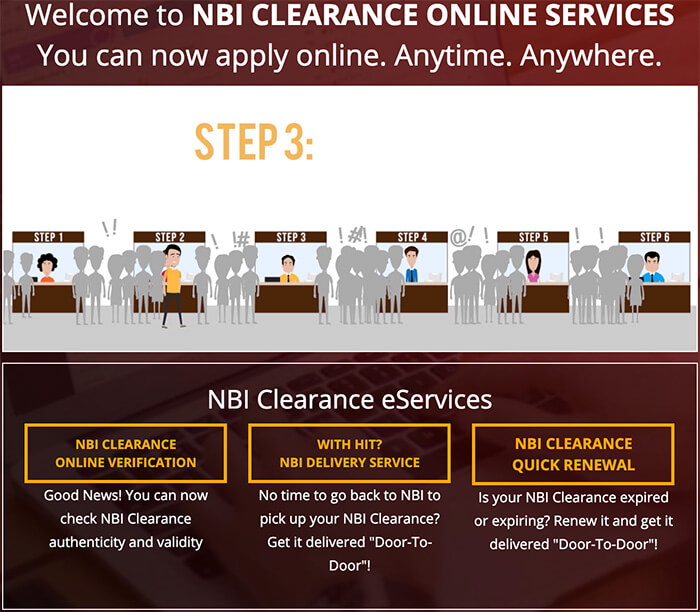 Click the button that says "NBI Clearance Quick Renewal" to start your NBI Clearance renewal process.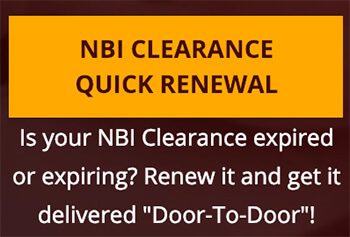 After that, it will open a small pop up window where it will ask you to enter your NBI ID Number.
As mentioned earlier, this only works to all NBI Clearance issued 2014 to 2018.
You can refer to your old or expired NBI Clearance for your NBI ID number.
Click the "VERIFY" button to continue.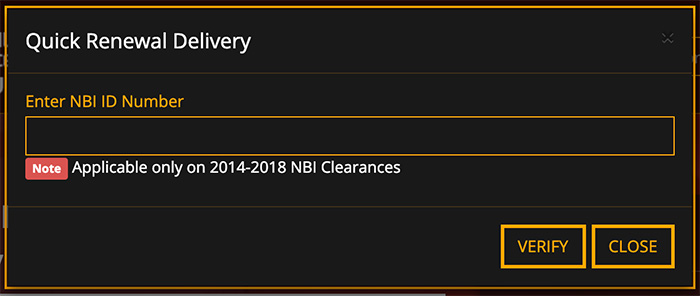 Note: If after entering your NBI ID Number, you encountered an error saying "The system cannot find the given NBI ID Number", this means that you can't use with the NBI Clearance Quick Renewal.
For some unknown reasons, there are NBI Clearances that are missing or not saved in the database of the NBI. If you're one of the few who encountered this, then you can't proceed with the process.
My advice to you is to apply for an NBI Clearance as a NEW Application and not as a Renewal.
Unfortunately, the Application of a NEW NBI Online Clearance requires personal appearance from your selected NBI Branch. You can read more about our updated article on How to Apply for an NBI Clearance in 2019.
Going back to out tutorial…
The next window will display your personal information such as your First name and Last name.
It will also show you the photo taken when you previously applied for an NBI Clearance.
This is the same exact photo taken and reflected in your printed NBI Clearance.
In the window shown above, you need to provide the following to proceed with the NBI Clearance Quick Renewal:
Purpose
Purpose Detail
Province
City or Municipality
Barangay
Street, unit, Bldg / Village
and lastly, your Zip Code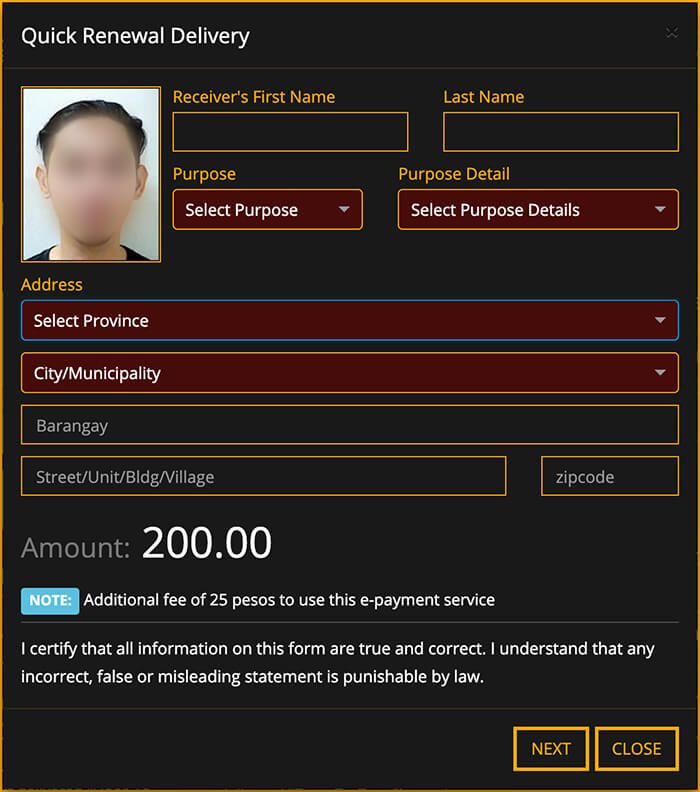 Ignore the amount for the mean time as this is not the correct amount that you should be paying.
Right after you finished filling up the form, the amount will change.
If I'm not mistaken, the price depends on your location. The reason for this is the total amount includes delivery fee of your NBI Clearance.
Related Topic: Can I Walk In For NBI Clearance Application?
Take note of the NBI Clearance Fee that you will be paying. If you're just located within Metro Manila, its P355. It may change if you're outside of Metro Manila.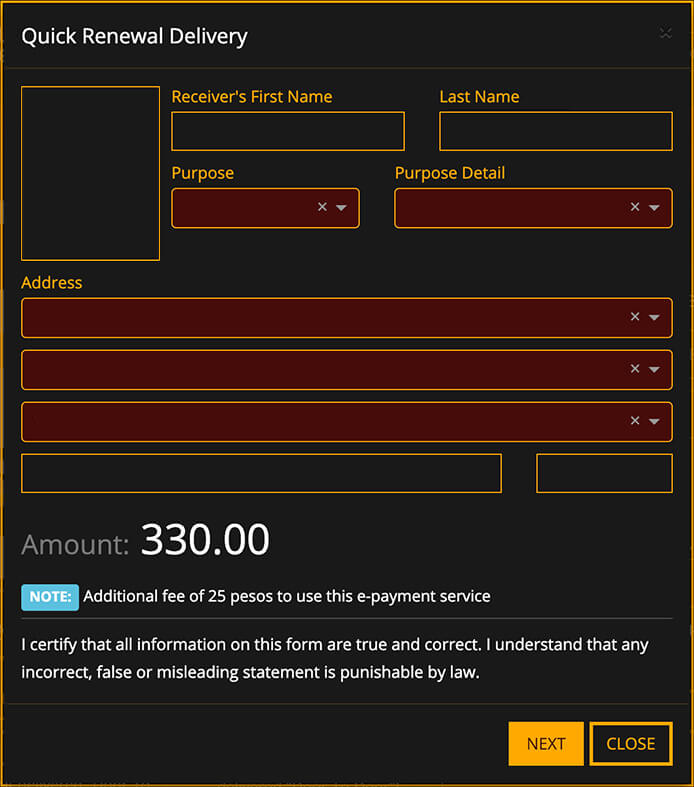 The amount you're seeing (P330) is not final yet. Ignore this for the meantime.
If you're going to pay this in Bayad Center, Multipay or ECPay, expect that there's additional charges.
Press the NEXT button to proceed to the next step.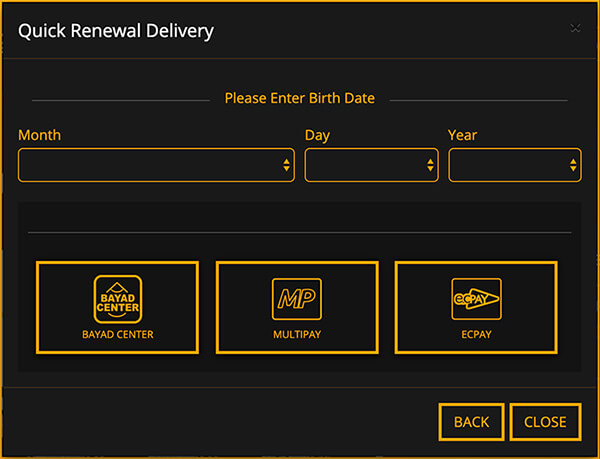 Enter your Date of Birth (Month, Day and Year). Now select from the three Payment options provided. There's Bayad Center, Multipay and ECPay.
For the sake of this tutorial, we'll select Bayad Center to pay for our NBI Clearance.
Click the icon/logo of Bayad center shown from the screeshot above.
You will be directed to another small pop up window. It contains a reminder, please read it carefully.
Press the "NEXT" button to proceed with your NBI Clearance Quick Renewal.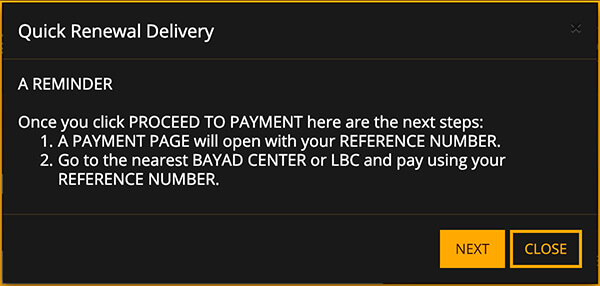 The next window will show you again the amount you'll be paying.
Noticed that it shows you P330 but if you look at the bottom, there's a note stating that an additional fee amounting to P25 will be charged.
As of this moment, your NBI Clearance Fee is now P355.
Press the "PROCEED" button.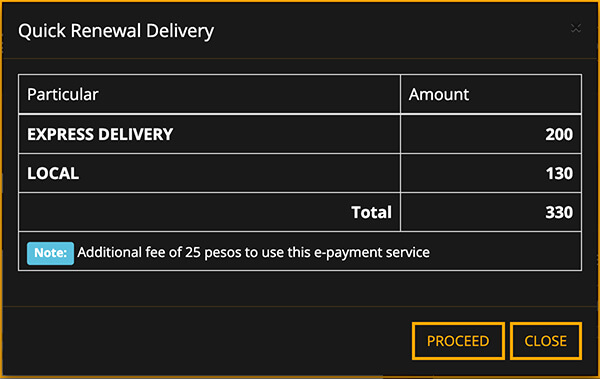 Once you pressed the proceed button, the NBI Clearance Reference Number will be shown.
The NBI Clearance Reference Number will be used when you pay your NBI Clearance Fee in Bayad Center.
Show this to the cashier and pay the appropriate amount.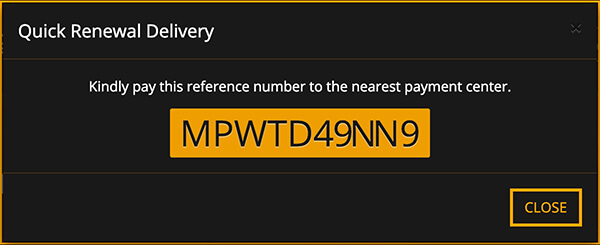 Again, there's additional fee charged to the original NBI Clearance Fee (P355) by Bayad Center.
NBI Clearance Fee Payment Online
Bonus Tip! You can now pay Your NBI Clearance Fee Online!
That's right, you can now pay your NBI Clearance Fees Online without leaving your home!
But (yes, there's a but), this feature is not available for all. The requirement to avail this NBI Clearance Fee Online Payment is that the user must have a Bayad Center Account and (the most important) a Verified Paypal Account.

To be able to have a Bayad Center account, you just have to register an account through their website. Just go to https://domestic.bayadcenteronline.com/account and start your account registration.
The next requirement for this process to succeed is to have a verified Paypal account. To have a Verified Paypal Account requires a credit card. If you have a credit card then you can easily create a paypal account.
Anyway, we will not discuss how to register an account with paypal more deeper.
To continue the tutorial, go to the Bayad Center website (https://domestic.bayadcenteronline.com).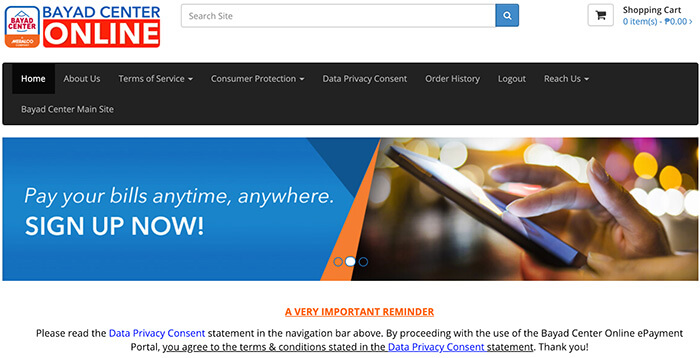 Browse or scroll the page down and find the "GOVERNMENT" icon. Click the "View Items" button.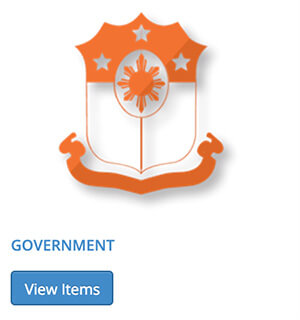 This opens a new page showing all the Government agencies accepted by Bayad Center to process various payments.
Look for the logo of NBI. It's usually the second from the list.
Click the "View Details" button.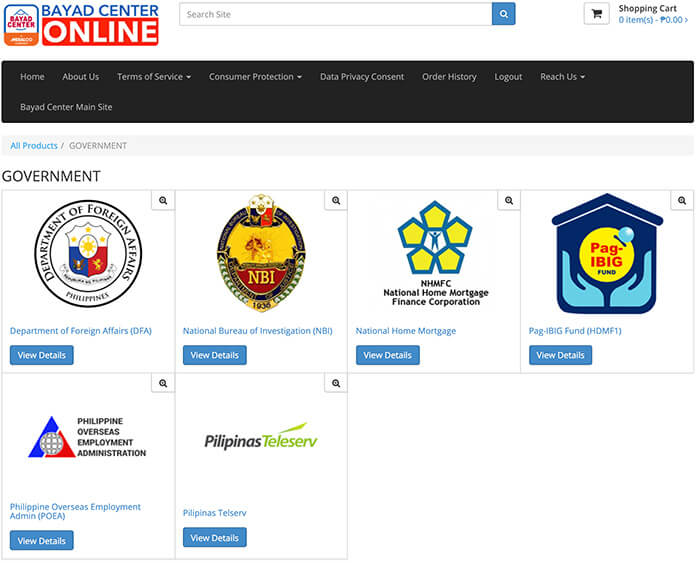 It will direct you to the NBI Payment Reference Details page where you have to input the Reference Number (usually 10 characters), the amount due (P355) and your contact number.
Note: You have to enter the Amount Due twice. That is the two blank spaces located at the left (under Reference Number) and the Amount to Pay (under National Bureau of Investigation – NBI).
In the "Additional Instructions" field, you don't have to input anything in it. You may leave it blank.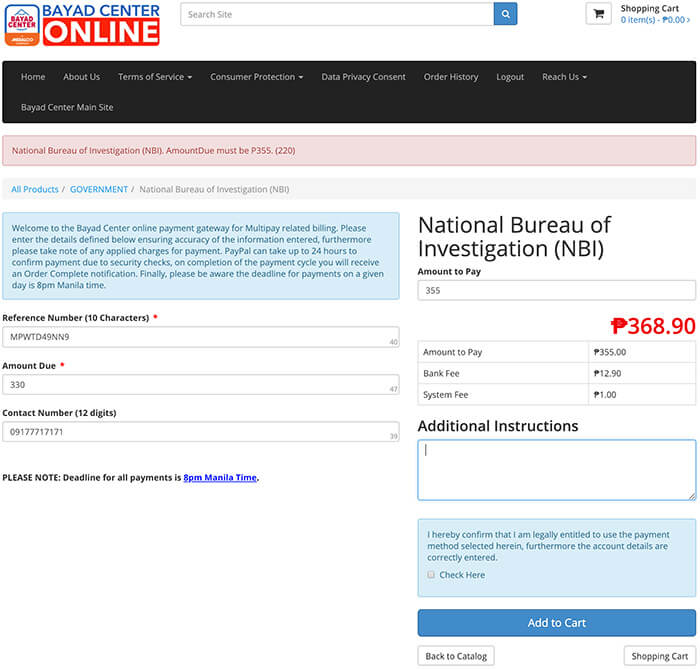 Press the "Add to Cart" button.
It will bring you to the "Checkout" page where there's the final summary of your payment.
One button exist and that is the "PAY NOW" button. Click it to finalise your payment.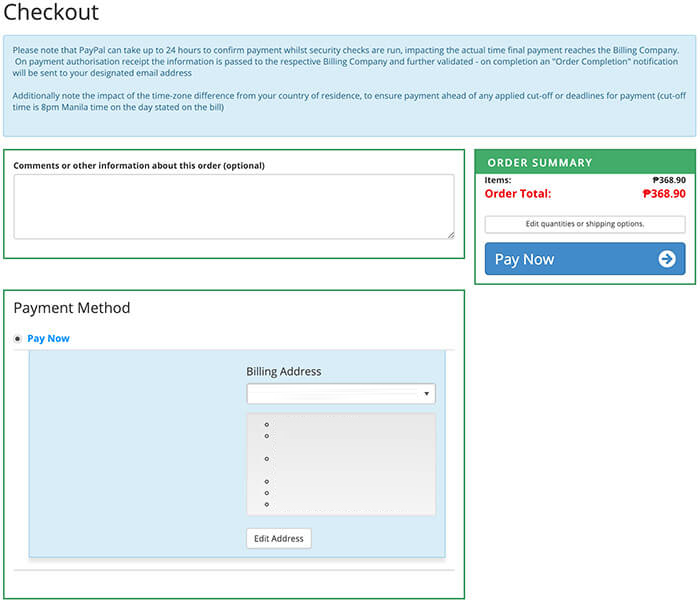 NBI Clearance Fee Payment Using Paypal
The "Pay Now" button will redirect the page to a Paypal login. Log in your email address and password.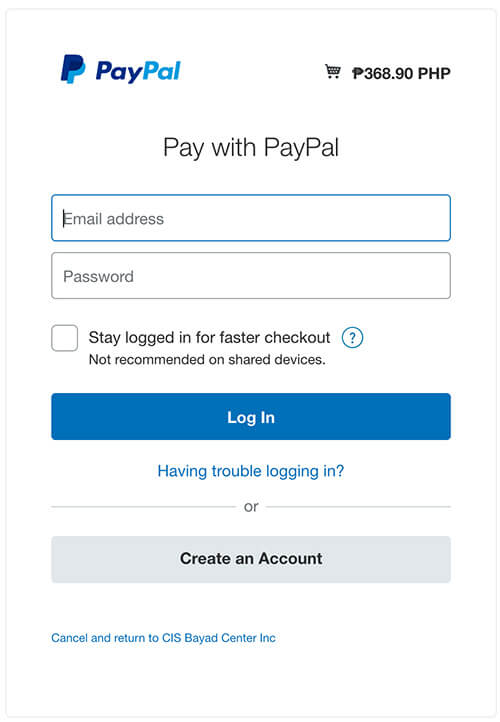 When you successfully logged in, it will show you the same page where it contains how much you'll be paying using your Paypal Account.
Press "Pay Now".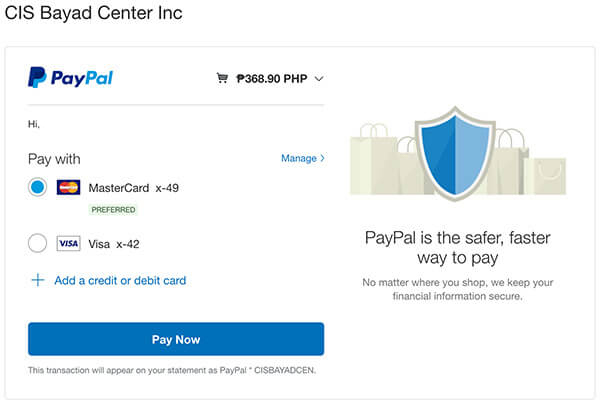 A confirmation page will show up after the previous step.
If you're seeing the the same screenshot below, that means, you've successfully paid your NBI Clearance Fee using your Paypal.
Hoooray!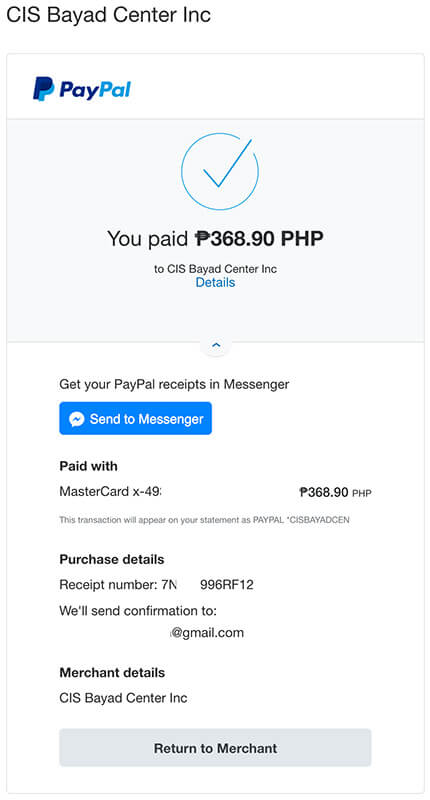 If you click the "Return to Merchant", it will bring you back to Bayad Center Website showing your Order.
Your order will show you that your payment is still pending for the mean time. All you have to do is to wait at least five (5) to thirty (30) minutes.

After a few minutes, the status of your payment will change from PENDING to COMPLETE.

Check your email address. Bayad Center Online will be sending you an email stating the confirmation of the completion of your Order.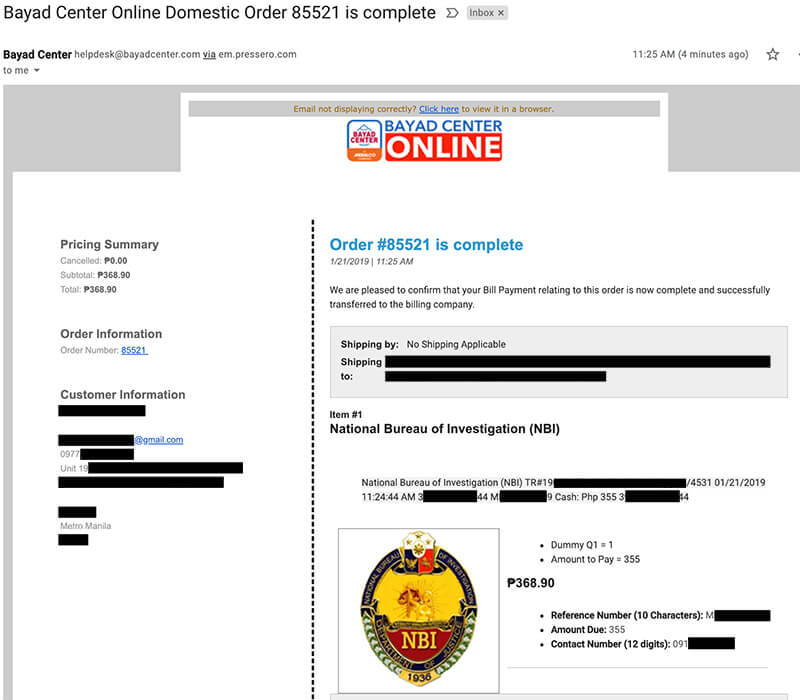 This concludes our tutorial on how to apply an NBI Clearance Quick Renewal feature of the NBI Clearance Website.
All you have to do now is to wait for your NBI Clearance Quick Renewal to be delivered at your door steps. It usually takes five (5) to ten (10) working days before it gets delivered so be patient.
Before we go, the only thing missing in this process which the NBI Clearance Agency forgot to include is the ability of the applicant to verify or track the status of the delivery of his or her NBI Clearance.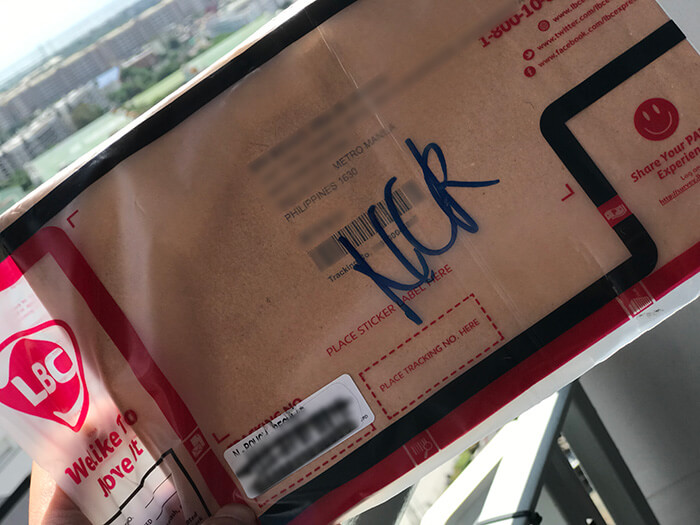 Three (3) working days have past and I was surprise that there's a knock on my door. It was the delivery man from LBC and handing me this small brown envelop!
It seems that LBC is handling the delivery of all NBI Clearance Quick Renewal Applications.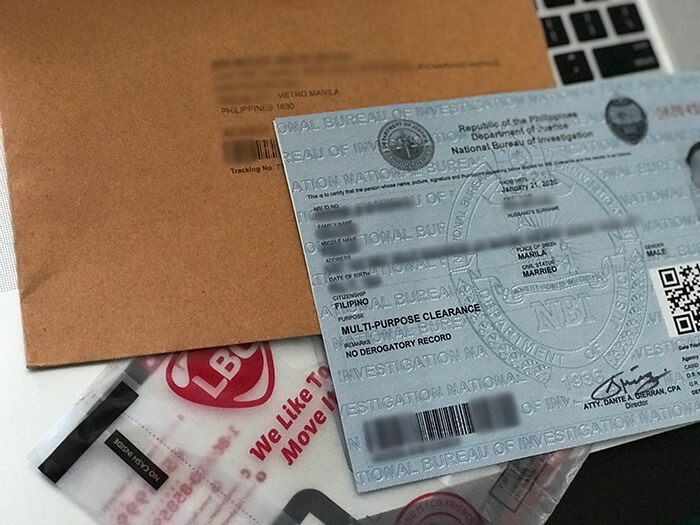 When I opened it, it was my NBI Clearance! Hoooray! I got my NBI Clearance Renewal hassle free! That was easy right? I didn't have to schedule an NBI Online Appointment and leave the house.
If you prefer the old method or process in NBI Clearance Renewal, you can read our latest article about this.
If you have questions, don't hesitate to leave a comment down below and we'll be glad to help! 🙂