NBI Appointment — Good day NBI Clearance Applicants!
The NBI Clearance Appointment website is convenient, easy-to-use, secure and really user friendly. However, if it's your first time to use their site to schedule your appointment, you may find it confusing!
Don't worry, we got your back!
Setting an NBI APPOINTMENT with NBI Clearance Online Website
We will be discussing today the steps on how to schedule your NBI Appointment using their official website CLEARANCE.NBI.GOV.PH. But before we do that, we need you to ask yourself if you have an account already or it's your first time.
So what's the difference if it's my first time to schedule an NBI Appointment?
Well, it's simple. If this is your first time to schedule an appointment with NBI, We will be needing you to register an account to be able to use their online nbi appointment feature. If you didn't have one yet, this tutorial will not be possible.
So without further ado, let's have a quick look on the steps you are about to take!
TLDR;
Register an account with NBI Appointment website
Log in to your account
Schedule an NBI Appointment
Choose a branch that's convenient for you!
Choose a date and time that works best for you.
Go through the payment process and pay for your NBI clearance fees
NBI Online Registration
We already have a long tutorial on how to do an NBI Online Registration previously but today, we will do it again. This one will be much shorter than before to focus on the real task of NBI Appointment.
To register an account with NBI Clearance Online, go to their website https://clearance.nbi.gov.ph/ and fillout this form from the website Clearance NBI.GOV.COM.PH.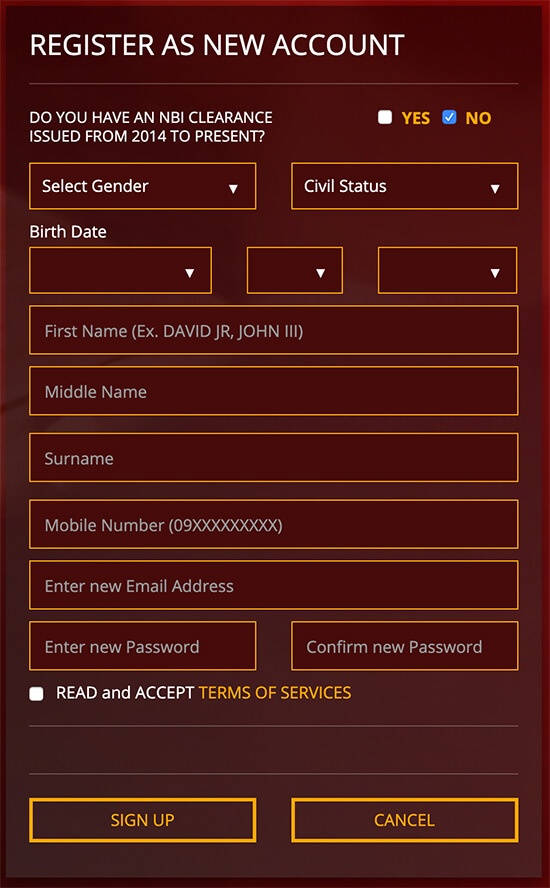 Once the form is filled out, press the sign up button down below.
A One Time Pin (OTP) will be sent to your mobile number. Enter it correctly to finalize your NBI Online Registration.
Once you have submitted the correct OTP, you will be notified that your registration is complete and successful! This means that you are now registered!
You may now proceed with the next steps!
Schedule your NBI Appointment
Assuming you are now done with the registration, the next thing to do now is to schedule your NBI Appointment.
If you already have done your registration of your NBI Online Account in Clearance.NBI.GOV.PH, then getting an NBI Appointment will be much easier for you. All you have to do is to do the listed task down below.
Log in to your NBI Clearance Online Account
Schedule appointment by selecting a date, time and the branch
and lastly, Paying the respective NBI Clearance fees
Let's deep dive on each item I have mentioned above.
Log in to your NBI Clearance Online Account
The start of setting an NBI appointment is to log in to your account. To do this, go to the official website of NBI Clearance Online.
When the website is displayed, look for the "Sign in" section (please refer to the image below). Now, since you already have an account, just key in your email address and password then press SIGN IN!

Schedule an NBI Appointment
When you successfully logged in to your account, try to look for this button (refer to the image shown below). It says "APPLY FOR CLEARANCE". Press it so it will start your process of scheduling an NBI Online Appointment.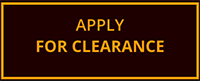 It will lead you to this page where you are required to (1) choose your preferred NBI Branch where you are going to process your NBI Clearance, (2) your preferred date and time of your appointment and lastly (3) the payment method for your NBI Clearance Fees.
Before you can do that, there's a small pop up window asking for your Valid ID. The purpose of this is the NBI Clearance Online Website is asking what valid ID you have that must be presented when you are applying.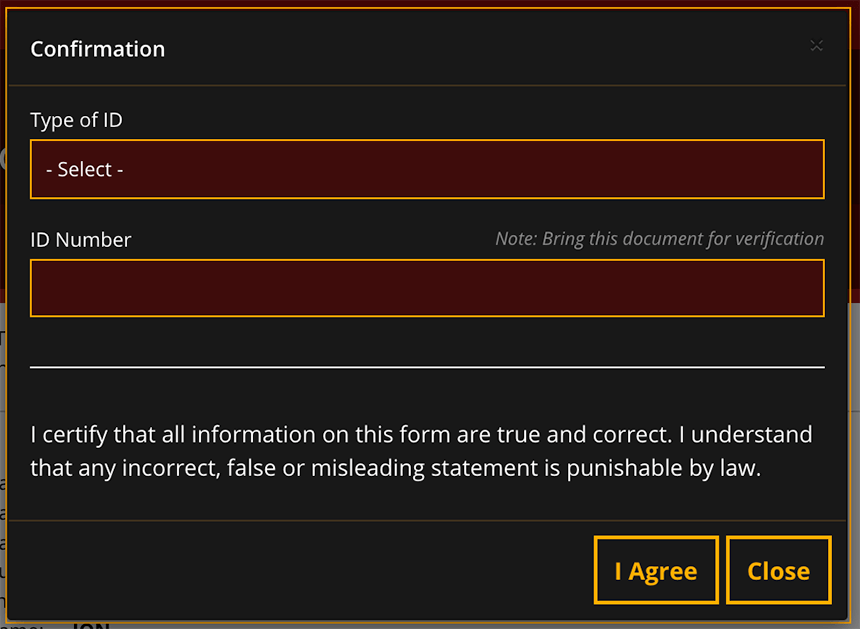 You will now be redirected to this page where you can now select the NBI Branch, choose the convenient date you want to process your NBI Clearance and (lastly) pay for the fees.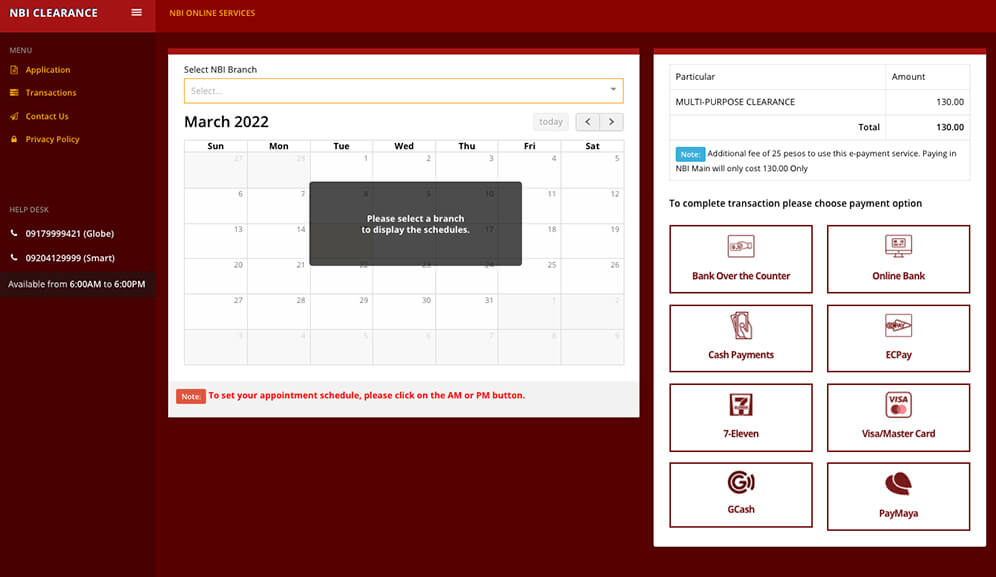 Choose an NBI Branch that's convenient for you!
To choose the NBI Branch, simply click the dropdown arrow to show the list of available NBI Clearance.

Choose any NBI Branch that is near and convenient for you.
Choose a date and time that works best for you.
Now choose the Date and Time of your NBI Appointment. I recommend that you select the date that best fits your schedule.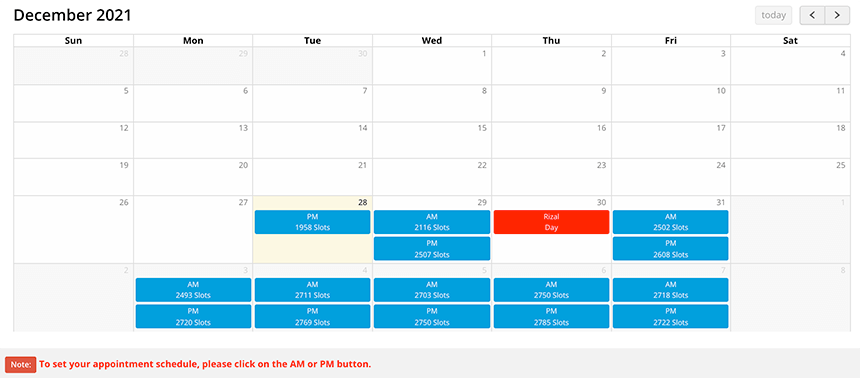 Note that in the calendar shown above, the boxes in blue are available slots. While the red ones are either Holiday or the NBI Branch is closed.
To set your NBI Appointment schedule, please click on the AM or PM button.
Go through the payment process and pay for your NBI clearance fees
There are several ways to pay for your NBI Clearance Fess but my I always choose paying my NBI Clearance fees using GCASH because its convenient.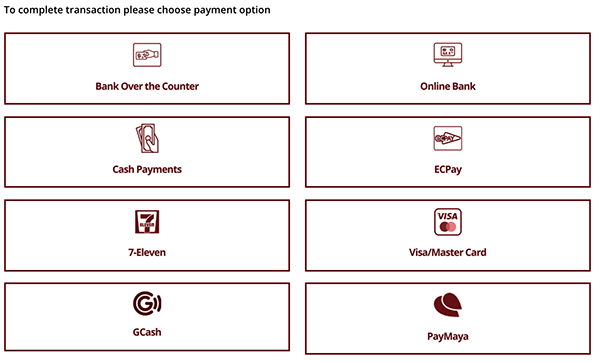 I only need to open my GCash app in my smart phone, cash in the amount and paying the reference number of my NBI Clearance.
Take note of the NBI Reference Number that will be shown to you.
IMPORTANT: The NBI Reference Number will be used when paying your NBI Clearance Online Application. This will be also asked to by the NBI Clearance Staff when you are processing your NBI Clearance when you go to the Branch.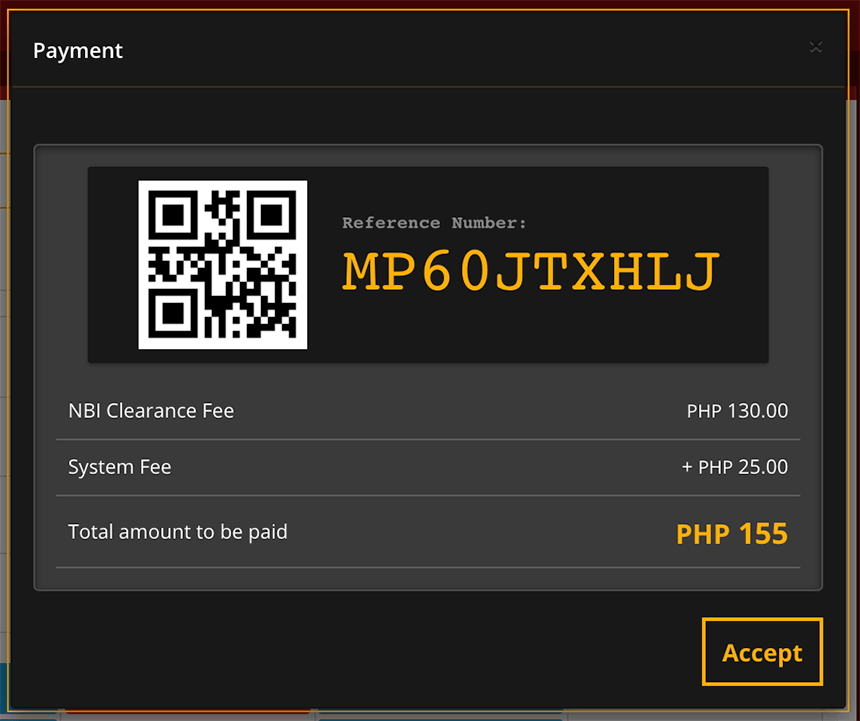 Once the payment is done, make sure to take a screenshot of the receipt in case the NBI Clearance Staff will ask you to show it.
Conclusion on NBI Appointment
That's about it! You have just learned how to schedule an NBI Appointment quickly and efficiently.
As you can see, most of your items that need to be discussed and all the issues have already been solved by this post, plus, you got an interesting story to tell whenever you someone you know is asking how you can schedule an NBI Appointment!
Have a great day!